A somatic sensation of Beauty. Imagine Pink Floyd fused with evocative melodic Black Metal
Imagine an immense landscape of uncontaminated nature. Imagine a fresh breeze which brings a lot of petals that magically morph into drops of blood on your skin. A somatic sensation of Beauty. And now imagine the atmospheric elegance and the evil claw of melodic Black Metal fused with the Pink Floyd attitude of the "A momentary Lapse of Reason" era, and with many dark and gloomy influences from Dark/Gothic/Synthetic: you have that magical touch which is the unique music of Vigred , an authentic brilliant mind of the Slovenian extreme metal scene (ex Noctiferia, Greygap). Incredible talent, incredible immediate catch, incredible "charme" and energy, yet full of sorrow and desperation, very evocative and visual. Vigred is ethereal though pitiless, a diabolic seductive contrast from a musician who doesn't know limits to his inspiration and perfidiously conquers your mind through the perfection of every chord, of every note.
Vigred's fiery vocals also contribute to this brilliant contrast in beauty, and set on fire the whole album. But remarkable is also the discrete participation of the angelic clear feminine voice of Valentina Lacovich (Novo telo), in tracks like Emanation, Kres, Dekadent . Lyrics are both in English and in Slovenian, and this adds a further mysterious stroke to this opus.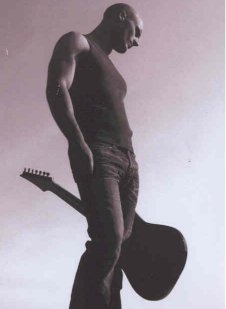 All eight tracks are for the soul, between metal fierceness and touching chill out. It's 7-string and 5-string bass most of the time and mostly slow tempo. Freaky keyboards in the background and vocal that are an abrasive scream of agony. "Manifestation of seasonal Bleeding" carry you away down to the red river of your passions and feelings. It is not only an exquisite experience for Black Metal lovers, but awesome for everybody who adore dark intense and infinite desperation expressed through force and excellent melodies. Indeed i underline again that melody combined with fierce Metal is the key to Vigred's high emotional spell. Nonetheless Vigred will mesmerize Rockers too, thanks to his vein of romantic-almost psychedelic Rock.
A romantic psycho emotional touch that starts immediately with the short instrumental intro Emanation, enriched by a sharp feminine chant who opens the vastness of Vigred's horizon , a vastness carried on by the more thunderous and immense Dissident Dream, based on long echoed loops and sudden fluent bursts of hate, long enthralling psycho-romantic pink floyd-ian solos and spiky hits of synth/piano, immense sounds à la "Learning to Fly".
Utrip, that means "heartbeat" in Slovene, is the song where ferocious and sinister vocalism meet a cold tenebrous refrain and again eruptions of pink floyd-ian emotional anthems.
Kres is also a Slovene word, Vigred says: "Kres is that huge fire that it's set on holidays here, I used it for certain symbolic and metaphoric matter. Kres was being used long ago on top of the mountains to make a warning". And the faster Kres is again contrast between dramatic melodic Black fire and anguished melody.
The Divine Penalty is great Melodic Black /Gothic sadness where slow anger and sorrowful sweet phrases meet a metropolitan and modern alienation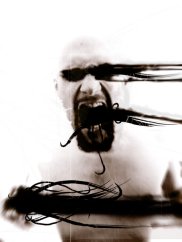 Dekadent is a bit different from the rest of the stuff , it is the more cadenced and rhythmed, it is the outsider and the variation in the gloomy vision. With synthetic guitar distortions Dekadent delivers also a taste of Industrial and totally modern Black (a true blasphemy for the purists, i know), and could be a fully successful club song.
Seasonal Bleeding is extreme sorrowful and again another vast immense picture where tremolos are mixed with a certain orchestral feel and synth cosmic atmospheric sounds , pounding bass, strong synthetic guitars and a feel of never ending agony. So is Blind Finale too, with a major intense melodic sequence propelled by relentless smooth drumming and diabolic obscure vibes that range from almost far eastern sounds to American ones like they would embrace the whole world. The guitar solos occupy a significative part of this 7 minutes long and monumental finale


This album, which also showcases the videoclip of the song Dekadent", is cyanide and delicate scent, opium and amphetamine, an endless caress and a fist, it's cold tears under a warm sun. Vigred is autumn and spring, death and life. Imagine blood on your skin.