TWENTIETH CENTURY FOX

Presents

In Association with

MARVEL ENTERTAINMENT

and DUNE ENTERTAINMENT

Directed by........ MATTHEW VAUGHN

Screenplay by ..............ASHLEY EDWARD MILLER &

ZACK STENTZ

JANE GOLDMAN & MATTHEW VAUGHN

Story by........... SHELDON TURNER and BRYAN SINGER

Produced by....... LAUREN SHULER DONNER

BRYAN SINGER

................ SIMON KINBERG

........... GREGORY GOODMAN

Executive Producers. STAN LEE

TARQUIN PACK

.................... JOSH McLAGLEN

Director of Photography................... JOHN MATHIESON, BSC

Production Designer.. CHRIS SEAGERS

Film Editors.. LEE SMITH, A.C.E

.................. EDDIE HAMILTON

Co-Producer JASON TAYLOR

Associate Producer.... TOM COHEN

Music Composed by ........... HENRY JACKMAN

Visual Effects Designed by JOHN DYKSTRA

Costume Designer.............. SAMMY SHELDON

UK Casting by........... LUCINDA SYSON, CSA/CDG

US Casting by................. ROGER MUSSENDEN, CSA

JEREMY RICH

CAST
Charles Xavier (24yrs)... JAMES McAVOY
Charles Xavier (12 years)........ LAURENCE BELCHER
Erik Lensherr........... MICHAEL FASSBENDER
Young Erik.. BILL MILNER
Sebastian Shaw . KEVIN BACON
Moira MacTaggert.... ROSE BYRNE
Raven/Mystique........... JENNIFER LAWRENCE
Mrs. Xavier BETH GODDARD
Young Raven (10 yrs).... MORGAN LILY
Man In Black Suit OLIVER PLATT
Janos Quested/Riptide................... ALEX GONZÁLEZ
Azazel..... JASON FLEMYNG
Angel Salvadore.. ZOË KRAVITZ
Emma Frost.......... JANUARY JONES
Hank/Beast......... NICHOLAS HOULT
Cassidy/Banshee CALEB LANDRY JONES
Darwin/Armando Muñoz........... EDI GATHEGI
Chief Warden................. COREY JOHNSON
Alex Summers/Havok...... LUCAS TILL
Levene DEMETRI GORITSAS
Synopsis
X-MEN FIRST CLASS unveils the epic beginning of the X-MEN saga, at the core of which lies a secret history behind the Cold War capable of altering the course of world events. As the first class discovers, harnesses and comes to terms with their formidable powers, alliances are formed that will shape the eternal stand-off between the heroes and the villains of the X-MEN universe.
Mutant and proud
Involving start of the X-Men Saga, between friendship and revenge and behind the curtains of the Cold War,
in James Bond style
"The first order of business in conceiving the story," says story-writer Singer, "was figuring out the era in which both Charles and Erik would have met, when they were in their mid-twenties. We decided that would be the early '60s – the height of the civil rights movement and the Cold War. Both aspects of that period provided an exciting opportunity to explore events that would shape our modern world."
The very begin of the X-Men Saga is revealed: we will finally know how and when Charles Xavier and Erik Lehnsherr discovered their powers. We will know how and when they met becoming friends in an union of intent. How they took the name Professor X and Magneto or, better said, who gave them these names, is also unveiled, along how and when they became enemies. We will see how Charles finds Raven, the blue-skinned shape-shifter; we will know why Charles is on a wheelchair. We will know how and why Charles and Erik looked for and recruited the first group, that "first class" of mutants, all young people who are so confused about those their very own characteristics, which are difficult to be tamed. With the help of the covert U. S. agency within the CIA, known as Division X, Charles and Erik want to organize this group of mutants because they represent the only hope in order to save the world from one of the biggest threats ever: a nuclear war, architected, behind the curtains, by another, evil and extremely powerful mutant: Sebastian Shaw. Sebastian Shaw is represented as a kind of mastermind behind the Cuban missile crisis, determined to let escalate the situation even if this would bring to a total extinction of humanity. Not a problem for him, from the moment that he can absorb and re-channel energy... But Sebastian Shaw, the antagonist villain, is not only a dangerous enemy of mankind. Indeed, he was the one who triggered Erik's powers. How? The movie introduces a very young Erik at the Auschwitz concentration camp, in the 1940s. The separation from his family, in particular from his mother is a sorrowful moment of trauma at the point that Erik reveals his mutant ability and only with the force of his rage tries to bend a camp's metal gate, just in order to hold his mother 's hand again. Erik's reaction doesnt remain unobserved., so Erik is then brought to a certain Dr. Schmidt, who definitively unleashes Erik's fury after killing his mother. Erik will get his perfect revenge, he will hunt Dr. Schmidt until the end of the world, until Pig Bay, until the ultimative fight. You are not surprised when i say that DR. Schmidt of the Nazi camp is Sebastian Shaw behind the Cold War, are you?. A kind of Spectre-figure. And indeed a James Bond feeling makes this movie attractive, as a kind of Goldfinger nostalgia.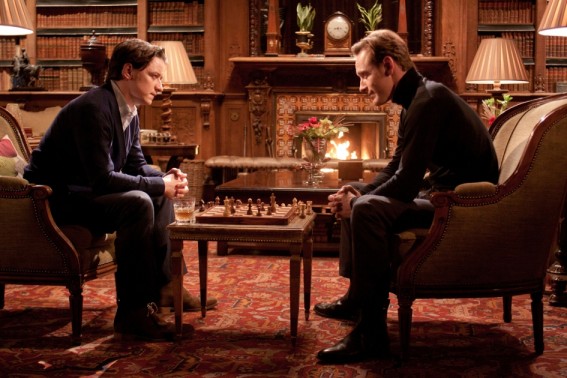 "Shaw is an extremely powerful man and essentially a sociopath," Bacon continues. "But he sincerely believes that he is trying to create a better world, without humans, run and populated entirely by mutants. Conventional morality does not apply to Shaw. In his mind he believes that mutants and humans will never be able to live together, so it is survival of the fittest, and Shaw is determined to protect the mutant race. He is driven by his firm belief that he thinks he is the right leader for the new world."
Important themes of the film are the social issue of the mutants, the concept of friendship, alliance, loyalty to mankind and of course Erik's personal revenge which is for him the only one mission. Will ever mutants be accepted by humanity? Should mutants create a superior species of their own? Around this point Charles and Erik have total different opinions and eventually they will go total different ways.
Prejudice and fear affect mutants themselves. The mutants of the first class must learn to accept themselves, to have self-esteem. Pity that they will have to face a choice. To be mutants and proud by following Erik, or to be mutants and proud yet still human after all by following Charles. Erik takes practically the place of Sebastian Shaw, becoming similar to the monster that killed his mother , after all...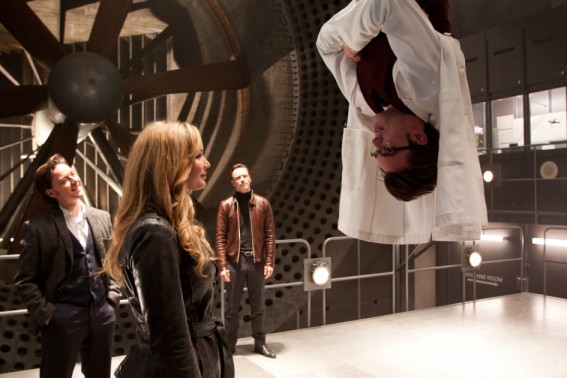 The question could be if the actors can stand the comparison with the previous classics, with their older counterparts. Well, it's a personal thing. Not bad anyway. James McAvoy gives to the young Professor X a bit ironic and even undecided look, always inspired by the point who lies between serenity and rage. On the contrary Fassbender (300, Inglourious Basterds) shows an driven attitude. "Michael gives Erik an interesting attitude, and Erik is really straight-up cool," says the director. "Michael's work in this film is reminiscent of Sean Connery's interpretation of James Bond. Erik is like the ultimate spy – imagine Bond…but with superpowers."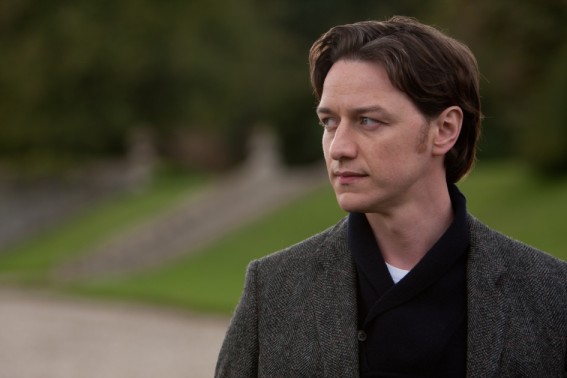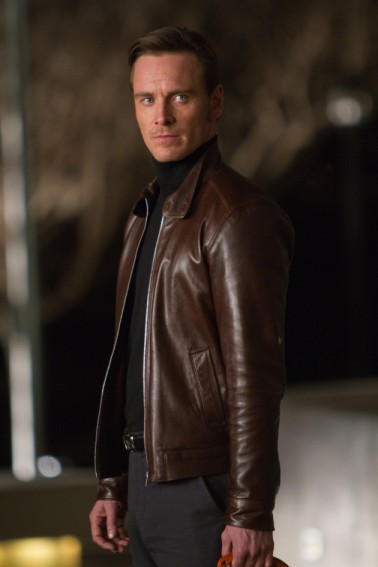 In spite of some exaggerations and a couple of cartoon-y scenes (it's a Marvel!) , the movie is good, worth to be seen on the magnificent theater-screen. "We looked at some of the iconic designs of those films, like Cerebro, the X-Jet, Magneto's helmet, as well as the characters themselves, and asked ourselves what would their prototypes have looked like," explains visual consultant Russell de Rozario. "We felt a responsibility to make the evolution of the designs credible."

Huge visual effects, humor and, above all, different places, different situations create an extensive agreeable, involving, coherent action story in James Bond style.

Ah...yes, when still friends ad recruiting mutants (with the help of the early Cerebro prototype) Charles and Erik meet Wolverine too! Not to be missed ;)!

8/10

written by dalia di giacomo

editor in GM since 2001

08.06.2011