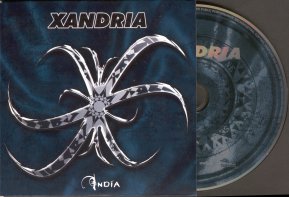 India
Now & Forever
In Love With The Darkness
Fight Me
Black & Silver
Like A Rose On The Grave Of Love
Widescreen
The End Of Every Story
Who We Are (And Who We Want To Be)
Dancer
Winterhearted
Return To India
Lisa Middelhauve - vocals, piano
Marco Heubaum - -guitar, programming
Philip Restemeier - -guitar
Nils Midelhauve - bass
Gerit-drums
India.
I am still in shock about this track!
I must say I had semi-low expectations for this album. I liked their last one, but it was just ďOkayĒ and nothing too spectacular, after all, they didnít have a full time bass player. But now they do! I popped the CD into my carís CD player, and as I was listening to the first track, ďIndiaĒ, I kept thinking that this would be another lovey-dubby song from the band to make me sadder than I already am. The intro was rather long, but appropriate.
India. I am still in shock about this track! Just listening to the song I can tell that the band decided it wanted to go into a completely different direction! Their overall sound has improved ten fold! India sounds like a song Nightwish could have done! I canít really tell what the singer is singing about, but the just of the song from what it sounds like, is the mysteries and magic of India. Awesome track, my new favorite track from the band! The next track, Now and Forever sounds a bit like their previous songs on their other albums, but again, it seems like the bandís overall cohesiveness has improved dramatically. Now and Forever invokes emotions of love on a grandeur scale and it something to sit back and listen to with your significant other. The singing on this song is brilliant, I donít know if I would want anyone else to sing this song, she captured me with her voice and believe me, thatís hard to do.
The next track is a little weird unless your gothic or a hopeless romantic or bothÖoh shit thatís me. HA! In Love With The Darkness is one of the most unusual love songs Iíve ever heard, itís hard to explain really, I have a hard time picturing this song during the day, but as the title mentionsÖlove with the darkness. So at night, I can see this song a lot clearer, it has something to do with relationship with songs. In a way, the song is thought provoking, I would rate this song very highly and I think it should be heard by all. Itís an interesting combination of love, darkness, and nighttime. Usually, people associate love with lighter things, like sunshine and all that happy bullshit, this song is different. I love it.
The rest of the songs on the CD are typical of Xandria except that thereís a bass player, really playing on the tracks and playing as a stand-alone instrument as opposed to following the guitar lines.
Production of the album was rather interesting to say the least. At first, Xandria was sounding like other bands, like Within-Temptation, Nightwish or other bands from the Symphonic metal genre. It shows how much the band has grown and what kind of identity the band holds. The one thing I didnít like production-wise was the inconsistency of the drumming. The snareís sound would change from song to song. Sometimes the snare would sound very open without a gate on it and it would sound like Lars Ulrich was behind the kit. The bass would go in and out of various mixes. The singing was micíd and recorded flawlessly as was the guitars. The quality could have been a smudge better but I wouldnít say go back and re-do it.
Overall I liked the CD and I think everyone should go and buy it.
rating: 8,5/10 24.11.2005