"Horror. Horror has a face, and you must make a friend of horror. Horror and mortal terror are your friends. If they are not, then they are enemies to be feared".
Colonel Kurtz' monologue in Apocalypse Now could describe well what i think about Yyrkoon's intention. I think Yyrkoon are here to stay in order to picture horror through music. And fear. With brutal heaviness and resolute melodies. They know the horrors that seem morbidly inscribed in our genes, and , as such, very fertile for fiction and myths . It might appear no new intent, yet Yyrkoon have the potentiality to become technical, compact, menacing titans in the future, dealing with lyrics around complex and fearful topics. No matter if fiction-based or not. With this new fourth album, follow-up to 2004's Occult Medicine, recorded again at the Danish Hansen Studios, this French band makes an important step. Unhealthy Opera is aggressive New Breed Thrash, influenced by the German combos of the genre, mixed with fierce Death a bit in Florida style, and with an active Melodic Death, plus a noticeable contribution of Black Metal techniques scattered in many tracks. Even the melodic breakdowns, the guitar arpeggios, the solos are always very strong, gloomy , never passively sorrowful. Yyrkoon are brutal in the more melodic moments too, nonetheless their sound is well processed, with care in any detail. They may give the impression to be raw, but in reality they aren't. The background is full , the sound round and intense. Riffs are varied and dynamic yet utterly solid and incredibly tight, they explode like a series of grenades. The mixture of influences makes Yyrkoon sinister and quite peculiar, although you can find similarities starting from Carcass to Dew-Scented, from Grave to Immortal and old Agathodaimon, from the brutal attitude of Harmony Dies and Aborted, till the horizon of some American hardcore.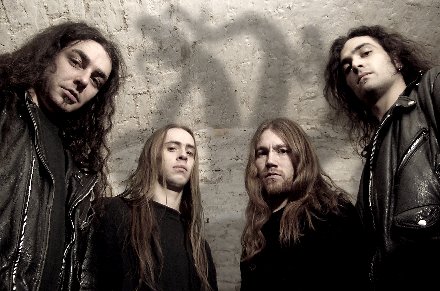 Yyrkoon are technical, however they create riffs and loops that impress and appeal instantly. Anyway don't expect immediate main stream catchiness , but , already after a second listening, you acquaint yourself very good. The way of playing is expert and dedicated, the sound color is split in the thunderous disrupting rhythmic session and the bright lead solos.
Lyrics are mainly inspired by scary Lovecraft-ian, Necronomicon-ian nightmares as the myth of Chtulu, the Old Ones, the Ancient Gods, different races of terror between fishes and men (this reminds of Lovecraft's Dagon too) mainly dwelling the depths of the sea (Horror from the Sea) . The horror is the menace of a twisted nature, the horror is a book in the sand, with skin pages written with blood (the Book), the horror are pagan offerings in occult ceremonies (Avatar Ceremony). But the horror is also a sick excruciating scalpel (Lair ...of Madness) . Although considered , and since long, by other bands too, Yyrkoon refresh these topics and rip a lot. There is even no big use of ambience samples, the terror is smashed thanks to the bone-breaking riffs and a mighty, resolute drumming. There is even no need to be macabre, after all. Yyrkoon aren't macabre. Just in search of the seeds of Evil. Try to listen them through a PC connected to a mighty woofer and subwoofer system: Unhealthy Opera will explode in your chest, passing through the diaphragm. It is the best way to appreciate how truly Yyrkoon can tear you brutally..
Among the more enjoyable and nech-breaking songs, the ones whose riffs enter at once your mind, i would like to mention Avatar Ceremony, The Book, and ...Of Madness, being these 2 ones my fav. But the instrumental Temple of Infinity is a real pleasure of acoustic arpeggio embroideries that intertwine with a wide carpet of guitar/samples that bring you at the sea shore; while the title track, Unhealthy Opera, is trashy in pure New Breed version, with a great dose of violence and fast nervous aggression united with Melodic Black breakdowns and virtuoso sharp solos, it is a very interesting track of impact. Unhealthy Opera is preceded by Something breaths, the impending ambience intro in full sci-fi movie style. From the Dephts is a constantly eruptive and violent mid/uptempo with a melodic lead guitar in American fashion. Avatar Ceremony begins with a distinctive caterpillar loop that will recur and enslave again after a pouring rain of brutal grunts and uncompromising Thrash /Death enriched by a crystal lead.
Abnormal Intrusion unleashes a rabid Thrash attack that changes into resounding walls of brutal, cadenced, melodic Death. Screaming shores delivers the same ingredients with more vicious psyched atmospheres and an unpredictable imposing massive blasting motifs. Often Yyrkoon reach the boundaries of blasting metal ,and Screaming shores is one of these episodes. The Book is punishing, a truly lava- death mosh-summoning attack, almost monumental at the point of the stacco for the solo that will introduce us a brilliant melodic loop. Horror from the Sea, featuring the guest appearance of guitarist Andy LaRocque, is implacable, psychotic and constantly pulsing, divided in thunderous unrestrained hammering rhythmic session and a higher background of lethal turbulences; in the middle we find the main motif ("just here to conquer human race - just here to serve thy ancient gods") and the abrasive vocals that slightly move go in direction American Heaviness and Hardcore, and of course the intense solo. Heard many times, in a repetition cycle, this song leaves an intense sense of concrete subjugation and abstract madness.
A compelling strong acoustic minute divides the Lair ... from the burst of ...of Madness . ...of Madness has some rhythmic proceeding from old Agathodaimon, together with a general old school Thrash/ Black tint, mixed with Modern and Melodic Death; of course a melodic solo is not missed . It is incredible how Yyrkoon mix this way different styles and maintain a perfect faithful, logical , well conceived structure of the song. Injecting Dementia is a thunderous thrash /death ride with such a sick echo in the title, even too pessimist in its final resolution. The boiling , erupting opera has become a conclusive corrosive , brutal, neck braking waste.
Yyrkoon still must find the ultimate "wow" effect and the ultimate addicting ingredient, but they are very near. What then, if they succeed? Already showing such a metal possession, what can Yyrkoon become in future? An unhealthy messiah?
rating: 9/10