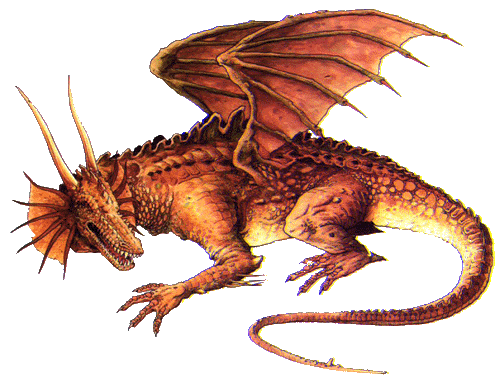 DIMMU BORGIR HYPOCRISY NORTHER
at

(Pratteln - CH) - 15.10.2003
review by dalia "gryphon_spirit" di giacomo - pics
©
by Stefan "Absolut_Evidence" Vogelaar
The public use of these fotos
is strictly prohibited without written permission
Intro
NortheR
Hypocrisy
Dimmu Borgir
INTRO
Super event this evening at the Swiss cathedral of metal, Z7. An Event to be written in capitals: concert with Dimmu Borgir supported by Hypocrisy. There will be a third band too, coming from the Spinefarm house, Norther, and we will see that this third young act is more interesting than we were presuming. But Dimmu Borgir and Hypocrisy together are able enough to demobilize legions of Black and Death fans some Gothic souls included), that will crowd well the venue . I follow the rule that when i have to face a very remarkable concert with interview too, i torment myself days and days before, preparing, thinking, presuming, modelling questions, imagining the atmosphere; but then, when the great moment arrives, i am simply carried by the wave of the circumstances, thinking of nothing, breathing the enthusiasm around me and my enthusiasm too. Stefan and me reach Pratteln around 18:00. The first metalheads are already in front of the venue. I have a wish: to interview Mustis before the show. And when i was told i will actually interview him, the composer of Progenies of the great Apocalypse, and , together with Galder, Silenoz and Shagrath, of Unorthodox Manifesto too, you can imagine how really content i am. Enygmatic grand pianos are knocking on my mind (have you noticed that Mustis is responsible for Synth and Grand Piano according to Death Cult Armageddon booklet?) Now i have the confirmation of what a grand piano is, i couldn't help to ask him. And, in the same way, i couldn't help to ask if the expression "Dimmu Metal", that some italian press is happily and foolishly riding, has ever reached him somehow. ...hehe but this is another story.
NORTHER
www.norther.net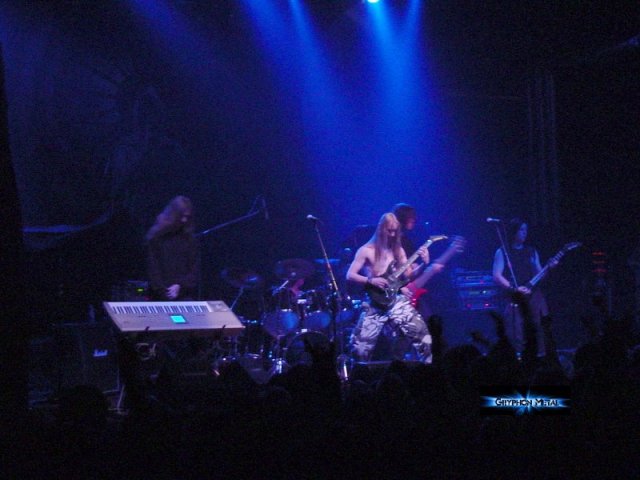 Before Norther begin their gig we can admire the elegant, highly atmospheric and macabre stage setting: Luetke's giant drawnings are towering. Skulls are sinisterly waiting. this unmistakable scenery announces Death Cult Armageddon also optically. The venue is already getting right crowded and one of the first things in which people are involved is a certain sense of severe futuristic imposingness.
It's 20:16 when the lights fade down and in the darkness someone is shouting "Hypocrisy!" : eh no , it's still not time. Indeed 3 bands are on the bill , and i have no idea of how many know well this act that is already appreciated in the Scandinavian area. Me too , to tell the truth. Who are they? On the stage appear 5 long haired and very young guys that show a bit an old school attitude combined obviously with up- to -dated acting. Keys placed upside down directed t the audience. Ehi but let me understand is this Power, Speed metal, Heavy metal ..well in that direction? It seems really, nevertheless both vocals and certain loops move the music towards Death . And this is much more remarkable starting from their second track (no i don't know the title ok? never heard). They play a kind of hydrid between Power and Death that is really agreeable and above all...CATCHY. Already from the first tracks, when still you try to picture a bit the style proposed , you cannot help to follow their heavy persuading catchiness! This is the most evident quality. They are heavy, play with rush and damn if they are catchy. I don't dislike at all their style. Every song is not that varied , built up on 2, 3 loops that support a whole song. But they are really good and get easily into the ear . The crowd is very attentive and, at some point, shows to follow very good this young band. Solos are not missed (key solos too), guitars are crunchy and solide and pounding. The more they play , the more they become self confident. Singer Petri shoots his greetings to Switzerland finally, and the applauses and some headbanging encourage Norther to proceed with more aggressivity . Vocals pass from growling to higher timbres, though not always they are able to beat the volume of the soundscape, anyway the singer is also guitarist and he works hard "behind2 some good solo too. The hammering rhythms (not always to be expected) show enjoyable tempo changings and relentless galloping. They close with Mirror of Madness if i am not wrong; anyway with final instrumental roaring they leave the stage around 20:44. Though their many connections to Death and a presumed similitude with Children of Bodom, in my opinion, they are not the proper opener for this concert. But they have played the best they could, they are fresh, they have warmed up this huge crowd. And don't forget...they are catchy...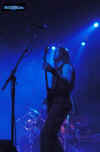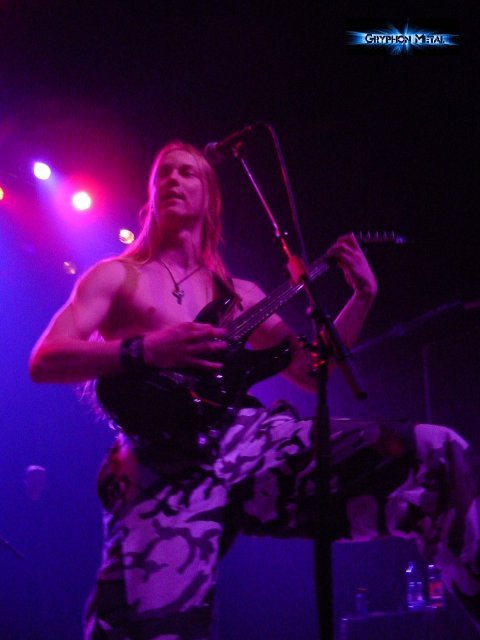 HYPOCRISY
www.hypocrisy.tv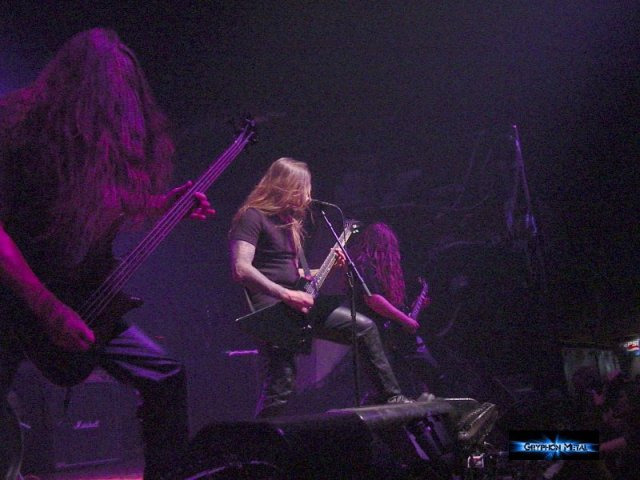 Immediately the stage is prepared for Hypocrisy with efficiency. Drum and guitar check are carried out practically at once, while around 21:00 the venue is really full. Anyway no panic, everything is calm and well supervised. I try to imagine how the public will receive Tägtgren and Co. I remember the train of crowd surfers at the Summerbreeze 2002. And 5 minutes later here they are : lights down , spoken sinister intro, great welcome from the fans to Roswell 47. At once we dive into a kind of hypnotical wave that will be the the big characteristic of Hypocrisy's gig tonight. Straight to the point, with good mobility but without mugs , a dry Peter (yes dry) is captain of a band that actually demonstrates that all members are valid. Tägtgren's faithful band mates are acting very well , with self confidence, and a certain dynamism, with a lot of synchronous haedbanging. More or less one track is presented quickly after the other there is no need of superfluous entertainment. Hypocrisy effective 100% and in shape. But.. the sound, my gosh, is bad enough: all is sounding so "monocolour" so flat, the instruments melted together in a kind of "pasta" . Pity cause otherwise it would have been a killer show, moreover Tägtgren is singing really meritoriously though from time to time was not fully emerging from the instruments. In my opinion the best moments were when Fire in the Sky is presented and the apéritif concerning the upcoming album The Arrival: yes "yeah, we play a new song!" announces Mr Tägtgren among the general consense . So Hypocrisy are gifting us with a preview -track called The Eraser that seems very positive with enjoyable loops, with attention to the roots, catchy enough without being commercial,with a good refrain: i presume that will be appreciated a lot: a reason more to wait with enthusiasm for The Arrival. All in all a very good gig and a good stage acting : The most beautiful passages of the whole show were bound with a certain high degree of hypnotism,which makes the crowd embalmed while the usually catchier and easier moments were responsible for bangings and moshing. Ah mah i would have done the opposite.
21:49 "Thank you! Thank you!" and Hypocrisy go. Dry and effective. The audience liked them a lot but minds are elsewhere, told frankly. Armageddon waits.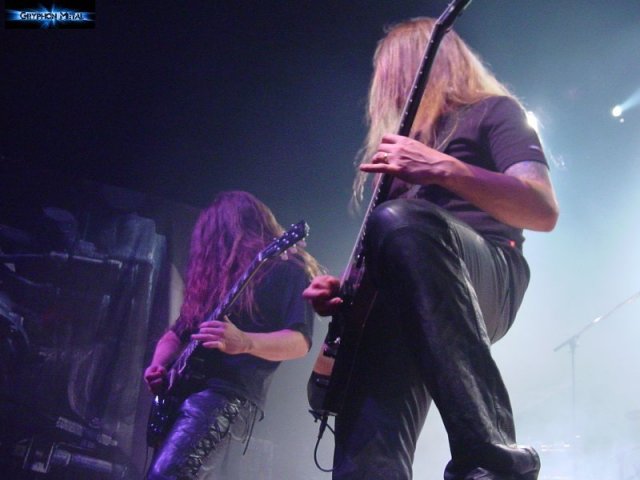 DIMMU BORGIR
www.dimmu-borgir.com

Death Cult Armageddon: our review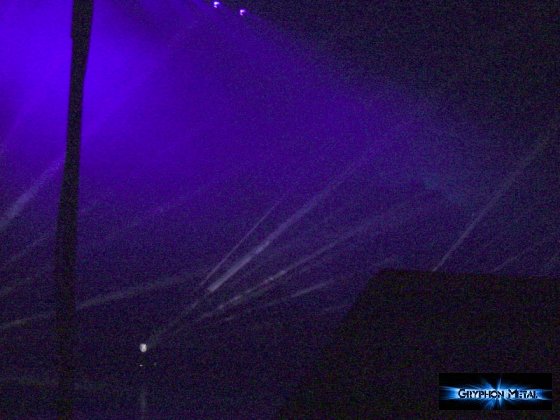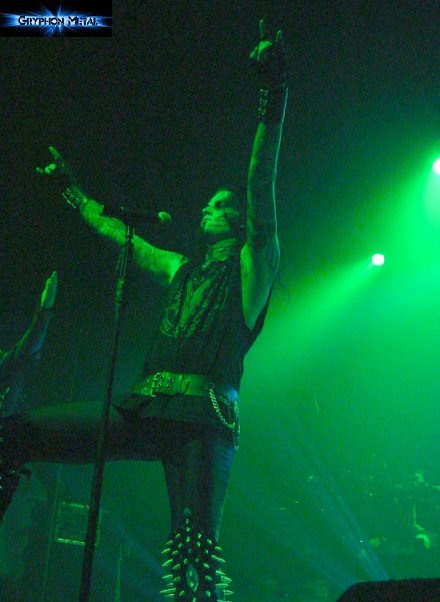 The stage is re-set very quickly . You can cut the trepidation for Dimmu Borgir with the knife, so much it is "dense" in the air like novembrine fog. The stage is finally triumphant with Luetke cyber-hypermodern vision, but old (European) symbols are not missed. Let's not speak about luciferine inverted crosses , it is sufficient to mention the celtic cross placed in front of Shagrath's microphone. This continuity of old symbols of ancient cultures transposed in an apocalyptic and obscure future is simply fantastic imo (i am luciferine too). Barker's drum kit is free now from his black veil and appears like an "icon" (whyam i remembering the same "ritual" seen for Satyricon?). Mustis synth placement remains on the contrary veiled under black velvet, hold tight by "gothic" skulls. Vampiric and infernal, the picture is ready. Majestic, emotional and fascinating setting , though that yellow thin banner where you can read "crime scene do not cross" , whose deep philosophical meaning i don't want to discuss, is so silly , i could say even horrible that clashes sharp , disturbs the atmosphere, oh, and i really hope that Stefan doesn't take it. Nevertheless it is the foolish detail that makes the rest stand out.
No time for other pre-gig considerations: 22:18 majestic and long intro, lights fade down and a chorus of light beams in laser style is bursting giving a scenery à la "Terminator I", where the machines haunt the human beings. In a lost- in- time Armageddon angels haunt angels, men haunt men. A surreal voice excites the venue and promises to terrify the world.....

Let's go ! Here they are , in the darkness, broken only by those laser effects, i distinguish Silenoz, Shagrath and Vortex . And we start off with Leper among us (Death Cult Armageddon) . The impact is perfect, the audience is in rapture , shouting and acclaming. First thing i notice is the perfect form of the Foggy Castle: they too are "straight to the point", stretched towards a good result of the concert . The optical impact is awsome , more or less dressed in the same way with their typical spiky megaboots, centurions and barbarians of the Devil, they put on the stage all the good taste and fascination of the promo pics done for the release. Dry and effective, again. A not jovial and perfect Shagrath (anyway better mooded than Tägtgren was) masters his voice which becomes sinister instrument among the instruments, and when the sound is too high and his voice is put under pressure, it doensn't look like being submerged, but ,on the contrary, like a growling or screming from the reign of the shadows.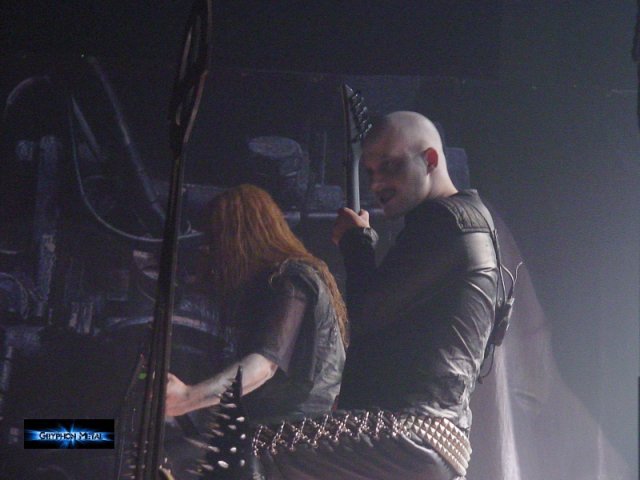 Important above all is the impact of their music: well i simply cannot believe: 1) the new stuff sounds excellent live, sometimes even better than from CD as far as it can be possible 2) you can appreciate and distinguish all the rhythm, the catchiness, the heavy pushing passages contained in their songs. This symphonic Black appears like it is : a melodic accessible Black with STRONG metal accents from Death and Thrash, while the synth touches add a supernatural background. Eh yes, the first part , in which they present songs like Cataclysm Children (Death Cult Armageddon), one of my fav tracks, and Kings of the Carnival Creation (Puritanical Euphoric Misanthropia), runs down like rosolio. One can already distinguish the good performance of Silenoz. Vortex in good shape too, while Galder, who is doing anyway a cool work, seems to me a bit too calm but maybe is cause he is not showing not so often that past "evil face expression" . Everything must work perfectly with maturity without mistakes. What remains the same is the typical ritual solemn acting. I think that Dimmu Borgir are on the stage not (only ) to have fun and propose their music, not at all, i get the impression that a concert is for them a serious thing, like a mass. Oh finally! thanks a lot: for me too attending a gig is far more than simply watching a show, and in the same way for me personally metal can have also sacral contours. So i am very content to see a band that is infusing this feeling to the audience. Sure is that such a concert is passing over the senses. Nevertheless this can turn into a double- edge weapon. The more the concert goes on, the more all this impressiveness is getting weighty on our shoulders, there is the danger to become tired. In particular those dancing ray lights become, in the long run, really boring. Moreover Dimmu's tracks are not the shortest. Anyway the audience is "dazzling" and wants more . Second spectacular intro: the militar one of Unorthodox Manifesto (Death Cult Armageddon). fantastique! And obvioulsy Unorthodox Manifesto (another of my fav ones) is following. I will avoid to repeat the word majestic hehhe. Mustis is providing for atmospheres with his keys, severe and megapale with his white face . Drummer barker is very engaged though drums seem to have 2 faces tonight : sometimes perfect , bass, powering the music under the surface, sometimes they appear to me completely "mosquitish" with a kind of thin double bass that ehi .. couldn't have been more annoying.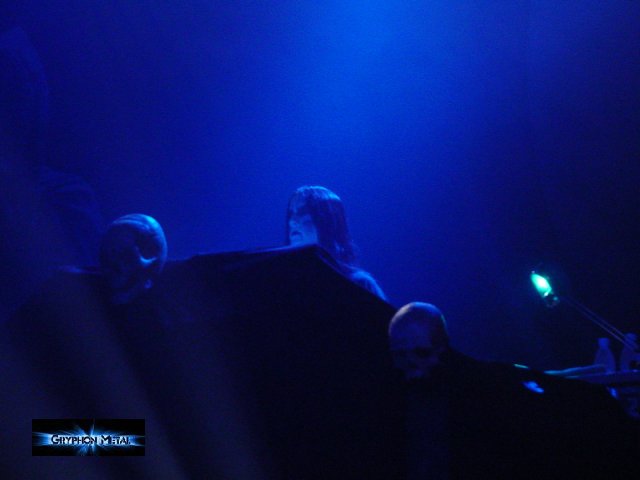 This gig has its small flaws, but all in all i can say it is superb: a concert to be seen. A gig that doesn't leave us disppointed at all. You could say that when so much money is invested in a tour and in a band, so every "poor devil" is able to produce a kicking ass show: ah go on dreaming if you think this way. You must also be able to bear all this opulence, and not every band could do it. On the stage you must spit blood and be absolutely charismatic and not only damn good in playing or singing. Dimmu Borgir can do all this , that's all, and now that it seems that their line up is stable they work together like an oiled engine. Without mentioning that their music is supreme. Cataclysm Children , for example, one of the top you can ever find!

Shagrath doesn't forget to give his greetings to Switzerland, and more than one time, and notices with satisfaction the group of die hard headbangers in the first rows , the best ones among the disciples.
Disciples who acclaim and support the band : what a sensation to see so many raised arms, all together .
Obviously the encore is called: 4 songs: another show in the show, ending with the cult Mourning Palace (Enthrone Darkness Triumphant) welcomed by people with a big "ohhh" like saying "ah yes , finally it comes , they play it!!"
After this excellent concert Dimmu Borgir go..dry and effective.

setlist:
INTRO
LEPERS AMONG US
IN DEATH'S EMBRACE
CATACLYSM CHILDREN
VREDESBIRD
KINGS OF THE CARNIVAL CREATION
INTRO
UNORTHODOX MANIFESTO
PROGENIES OF THE GREAT APOCALYPSE
INDOCTRINATION
THE BLAZING MONOLITHS OF DEFIANCE
THE INSIGHT AND THE CATHARSIS

SPELLBOUND (BY THE DEVIL)
RAABJORN SPEILER DRAUGHEIMENS SKODDE
STORMBLAST
MOURNING PALACE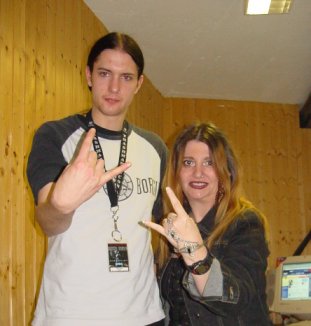 interview with Mustis
---
written by dalia di giacomo
---