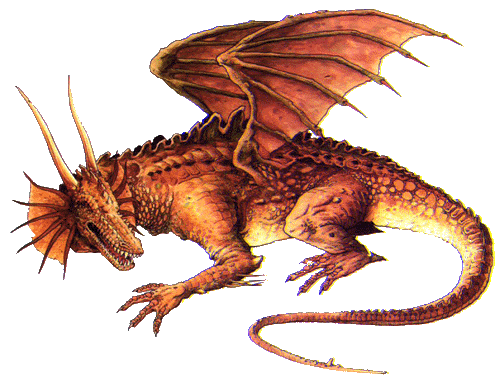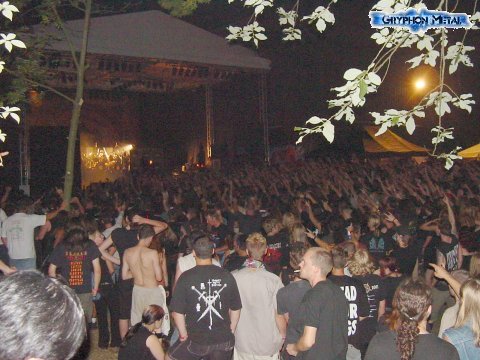 THE THIRD DAY: 03 August 2003 -

INTRODUCTION - RAWHEAD REXX - SYMPHORCE - NILE - TANKARD - ROTTING CHRIST - SLAYER - CONCLUSION

PICS BY: ©Stefan "Absolut_Evidence" Vogelaar

REVIEW BY dalia "gryphon_spirit" di giacomo

The public use of these fotos

is strictly prohibited without written permission


waiting for Slayer's signing session
INTRODUCTION
Third and last day of the Z7 "metallic" days , again hot , very hot, outside and inside the venue. Again sunny , no clouds, no escape: but ehy people, it's summer and what an exciting summer day for most of the Metallers present here: Slayer will play this evening: you can imagine that their "ghost" has dominated this festival since Friday but today is when the great event will happen. It is the highlight of the highlights: their gig is awaited and thier signing session too: planned in the late afternoon, it will create a long queue much before. No one still knows that the signing session of Slayer will compress in some way that one of Tankard and that the much desired gods will sign for 7 minutes only more or less, letting the most part of the patient queue to its destiny...
me personally, though interested to see Slayer live, i get no crazy at the idea, and about their signing session i couldn't care less, though i am not content of how lots of admirers have been traited. Mahhh of course there will be an explanation....more than Slayer i will enjoy the sun, Tankard and Rotting Christ, anyway . And again i will be not disappointed. Today it's the turn of Zatokrev, Soul Strip, Disparaged, Elis, Rawhead Rexx, Schandmaul, Symphorce, Nile, Tankard, Rotting Christ, Masterplan and Slayer. My targets are Symphorce, Nile, Tankard, Rotting Christ , Slayer . Let's start again!
---
RAWHEAD REXX
www.rawheadrexx.de
one pic taken during the signing session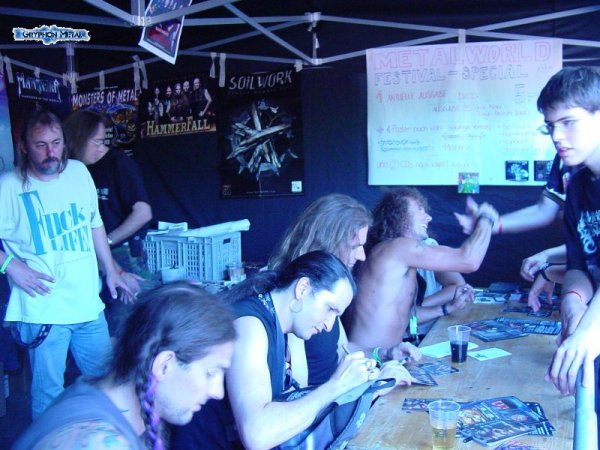 ---
SYMPHORCE
www.symphorce.net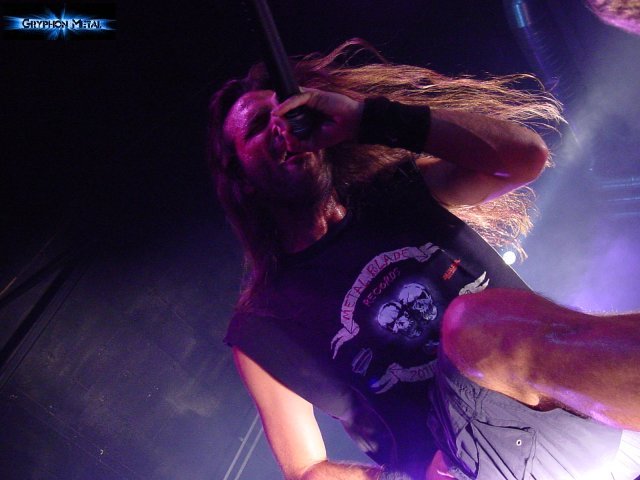 15:30 Symphorce begin their show, we enter the venue. The sound seems solid and vigorous, i try to get nearer to the stage, but when i have done half of the way, i realize even too clearly that the sound turns to be sharper an sharper, the more you approach the band. it seems the same problem seen yesterday with Circle II Circle: no way, i am not minded to repeat the experience. So i find a place when i can sit down , observing the stage from a certain distance. The band has a great mobility, singer Andy B. Franck (BRAINSTORM) displays a voice that, under many points of view sounds even better that Zak Stevens' timbre. "Seid ihr noch gut drauf?" "Jaa" "Ihr seid Klasse!!" Yes, Pratteln is a pole that draw real cool guys: an audience demanding and also sympathetic. . Sorry that i personally begin to be caught by a solemn allergy to this music. Two , three songs and i cannot stand it anymore (it= to listen to this concert) . Symphorce are fresh, good mooded and engaged, but both the sound set in a wrong way and above all the notes that go up and down too much modulated make the gig absolutely unbearable for me. While i could follow the music offered by Secret Sphere, now it's really impossible. Not my blood, sorry. Obviously i want to reserve a final opinion about this band, but, for the moment, after a first impact , my reaction is this one. I decide to run away after the foto shoot has done, and one of the last thing i see is Andy kicking a bottle of water (plastic of course!) towards the crowd: goal!!








---
NILE
www.nile-catacombs.net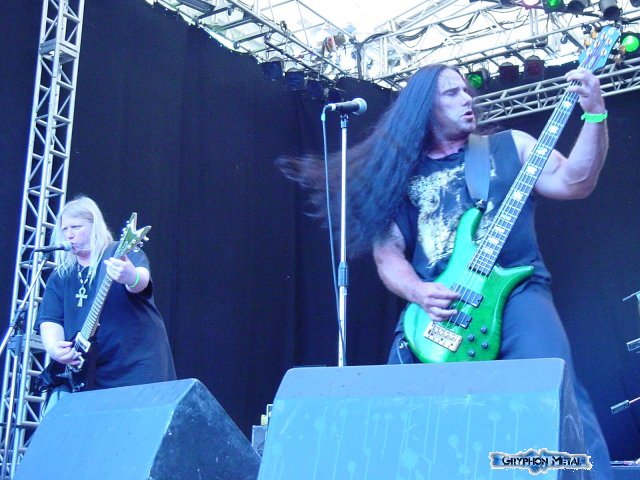 Nile are awaited. Nile are considered the american death act to beat. First is Death, second is Epic: i'm really curious to hear how they will propose their Death of the Ancient Egypt. Their songs have an exotic fascination: Death can be hybridized in an incredible different ways , Death as cradle of everything metal: Death + Black, Death + Doom, Death + Medieval, Death+ Thrash, Death+ Heavy just to mention some of the creatures. To combine Death + an Epic background that sounds with the accents of mysterious ancient lost civilizations, is surely an original brainwave. But attention the music in itself is an angry Death. So they don't sound "Egyptian", but are embedded in a kind of "dynastic" reminiscence. 16:30, after a kind of mythological atmospheric heavy and dark intro, mastermind Karl Sanders, Jon Vesano, and mates start off with a furious music . Vesano in full shape begins a savage headbanging with a style that sometimes seem nearer to Black. The blonde large sized Sanders, who evidently left Vikings preferring Pharaos, plays with extreme concentration and the same does Dallas. the band of Kheftiu Asar Butchiu and Ramses, Bringer of the War, play relentless speed intense assaults . Potent energy. No scenery at all, no pyramids, no temples, no serpents, no Anubi or Seth, the only optical trace of the ancient land of the river Nile is the Ankh of Sanders' necklace. Vocals are extremely low and cavernous : a really impressive evocative low growling . Sanders and Dallas amplify very often Vesano's growling, even better, many often is Sanders in foreground. But the only thing you could take for Egyptian is the atmospheric sacral ritual background that provides the taste of the lost world . The black flavored Stones of Sorrow is among the songs that made the audience lively, though a bit hypnotic people raise their hands and follow the music. An encore is called, and when the show is ended Nile go down the stage and shake the hands of all their fans in the first rows. Very good gig.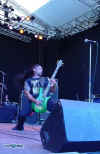 ---
TANKARD
www.tankard.org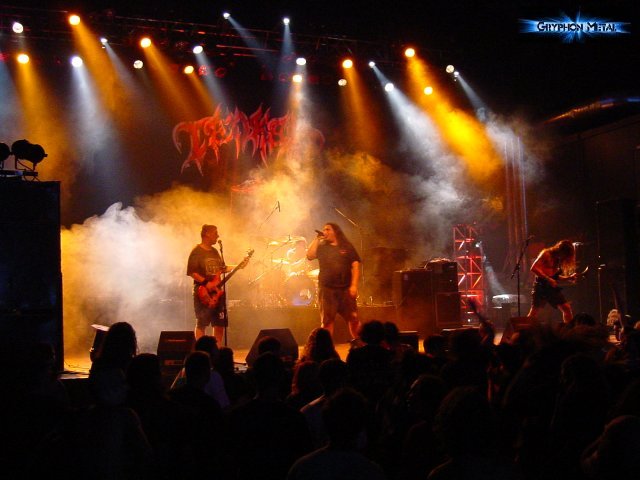 17.30. Beer, beer, beer! The band that has done of beer (and relative typical tankards indeed) their coat of arms take the stage welcomed and warmly supported by their "maniacs", beerdrinkers and Death lovers. They open fast with an enthralling and catchy thrash-y Alien. Gerre is at once the favorite of the situation. Bass player Frank seems to be very happy, extremely good mooded, having a smile for everyone (congrats! he is daddy again for the third time !). Guitarist Andy and drummer Olaf appear immediately to be top-notch. Ok , do you expect something else from Tankard? I saw them in Luzern and it was such a brilliant concert, so i'm very content to see them again. This is another among the band i personally like the most, cause they deliver energetic and potent metal of first quality, remaining underground in the spirit, ironic. They don't take themselves so seriously but, at the same time, they care about the quality of their gigs more than they let understand, i presume. Alien is followed by Need money for Beer, "Hallo Pratteln! es ist scheissekalt hier, it is terrible cold here: now something to warm up!" my gosh here everybody is sweating and perspiring , what do we deserve now? Space Beer!! catchy and heavy synchronous grenades start from the instruments, the band showcases an excellent and confident mobility , and, more than this, Gerre is even too much lively : he walks relentless, hyperactive from one point of the stage to another without stopping if not when speaking with the crowd, while guitarist and bass players change their placements in a less frenetic way. The sound is good balanced . "Wir brauchen noch mehr Bier auf der Bühne!", Gerre exclaims , announcing then Rectifier. ah it is like a bomb!
Rectifier, Rectifier - I know your name, you no-good liar!
Rectifier, Rectifier - I´ll chase your ass till you expire!
Rectifier, Rectifier - My gun is loaded-time to fire!
High dose of fun and entertainment. We go on with Maniac Forces, the Morning after and Zombie Attack. The audience is more and more involved. Drums are powerful and blasting. "Geht's noch Leute?" asks Gerre. everybody is fine , just in need of some beer more! So we proceed with New Liver please and Chemical Invasion. Gerre and his belly are entertaining a lot, vocals are good, his 3 band mates are doing a great work in this overheating. Gerre doesn't forget to shower with a dose of beer from a can, one of the many that are opened , and however beer cans fly from band and crowd and from crowd to band. Gerre doesn't fulfill the wish of all who shout -auziehen- ausziehen- , no strip-tease, but the shirt is pulled up till the face and beer , well it can be free and undressed!: so Freibier can be played, followed by (Empty) Tankard. Encore and final launch of Gerre's shirt close the show.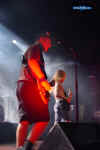 ---
ROTTING CHRIST
http://rchrist.conxion.gr/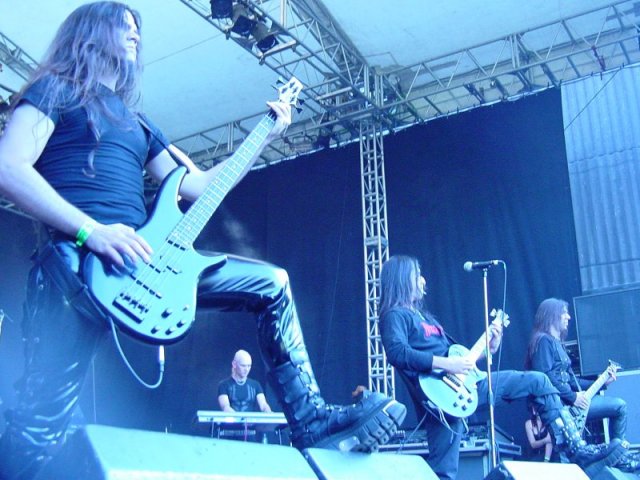 18:40 outdoor stage, I'm ready for one of the best moment of this third day. Another moment dedicated to Black music, but this is a melodic Black full of dark passages and severe harmonies, full of totally enjoyable pathos. Aggressive and monumental , rhythmed and almost sacred, inspired but also catchy enough to be liked by all who appreciate good intelligent metal, from Gothic to Black , from Cyber to Death they can conquer every heart remaining however elite. Cannot wait to attend another gig of them: i saw them last winter: brilliant music but a bit cold and static the stage acting, how will be they now? I expect a fully persuading performance, cause their music deserves a top concert, nothing less than this. A good number of people is waiting and Rotting Christ take the stage punctually. Dark intro, a bit of smoke effect. they appear severe, concentrated, determined. After having seen Tankard , it seems to land now on another planet. But ehy, i feel at home on this "planet". Hieratic and solemn they start off with In Domine Sathana from their new album Genesis. Sakis sings at once in a very aggressive way. The general picture seems to be cold, but i know that Rotting Christ are serious and inspired they take a bit to warm up. People is very attentive , many don't seem to know them very well and look like "who are these guys ?" In Domine Sathana is not an easy song: hypnotic, pushing , heavily peculiar, haunting. Maybe not the ideal opener. But the band plays tight and perfectly coordinated. And starting from the second song: You are I (Khronos), the ice is broken, in advance if compared with the gig i saw in January. People is attracted more and more and finally Quintessence, the third song proposed, fascinates everybody with its impressive spoken intro, with its vibrating drums, with its unstoppable progression. One cannot explain with words how wonderful Quintessence (Genesis) is, one has to listen to it, simply so: it's a masterpiece. No discussion. And now this song is played and sung perfectly, with perfect coordination. By the way this coordination is one of the distinctive points of Rotting Christ during the whole gig: all is exact, the notes fall in perfect timing. The interest increases and the first headbangings start. More and more people feel the appeal. A young lady at my side asks me "But ...where are they from??" "from Greece!!" "Ahhh!" and i quickly mention to her Genesis. "ah thank you!" and is she adding in German to his friend: "Die sind geil, ehrlich!" that translated sounds more or less "they truly kick ass!!" I presume i'm smiling: she will not the only one person to be enchanted for sure! Thou art blind (Khronos)and King of stellar War (Triarchy of the lost Lovers) are preceeded by Sakis' greetings and thanks. After the middle intro , we can appreciate The Sign of evil Existence. many banging's, the band is simple super: shows mobility, Sakis vocals become warmer. The whole band bites in complete confidence. we will see Sakis and mates banging, we will see Sakis jumping a bit , losing nothing of his severity. Keyboarder George is the only one to remain almost perfectly static , but well this is his style. Agreeable is the recurrent weeping lead guitar, and brilliant are the drums. Archon (Triarchy of the lost Lovers) and Non serviam (Non Serviam) are presented too and finally another big calibre, supported by a kind of church --like chorus in background that is so emotional ,above all in the outro part, and opened by such a thin , but extremely atmospheric and impending intro in Black taste: Under the Name of the Legion (Genesis). Another masterpiece whose outro indeed closes a show that has been successfully and flawless.
19:27 the encore is called and Sakis asks "do you want something more??" Yes, and how! and the band proposes Among two Storms (A dead Poem)
"You're fucking great!" is Sakis final greeting, letting us in Slayer's hands. Time has flown away on the wave of another excellent gig.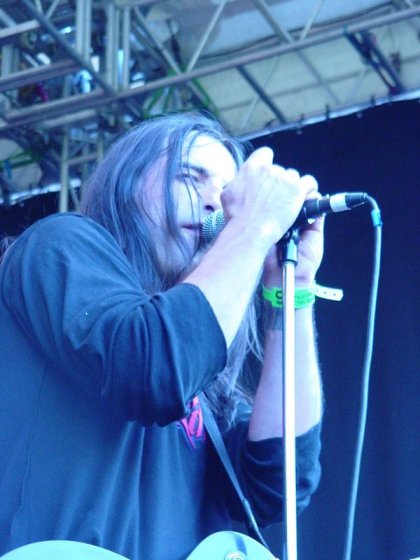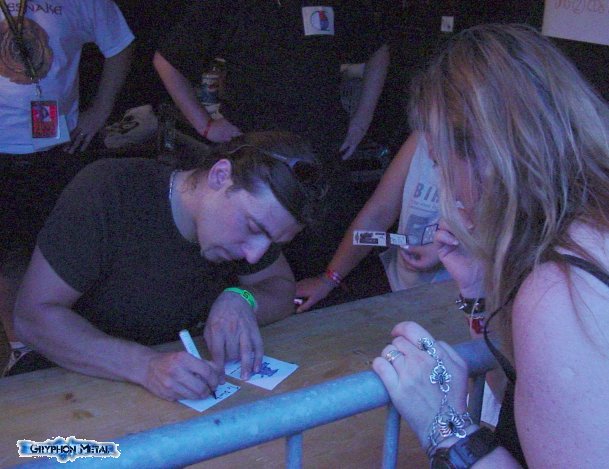 me at the signing session of Rotting Christ


---
SLAYER
www.slayer.net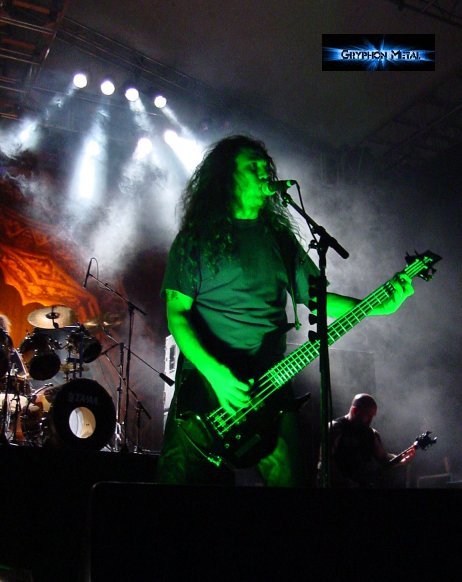 21:15 Slayer should take the stage. The sound check and, in general, the preparations the for this show have been meticolous and have taken almost an hour. In front of the outdoor stage many security members are lined. The festival area is mega crowded. 5 minutes later the crowd begins to be more and more impatient, people shout -Sla-yer - Sla-yer-. The security guys are watching this impressive sea of persons whose irritation and eager clearly grow. At 21:28 (with "only" 15 mins delay) the heavy intro, the smoke effect and intermittent orange-red lights let trigger the enthusiasm: Slayer are here, their fame seem to run from one generation to another , moreover it doesn't matter which style one prefers: everyone seems to worship them with a touch of internal angriness . It is one of the first thing i notice, their show are sparking off in many people the surfacing of rage and anger, like it would be a call to arms. The gig begins like it will end: it is an avalanche of extreme mighty and solid attacks. My impression is that their strength is placed exclusively in the music, and this is a plus point: unfortunately the sound is too focused around high tones and this is a minus point: i still need those damned ear-plugs. There is no particular scenery, the quartet acts in a rather simply way and if you woudn't see that big quantity of persons lined close and tight like soldiers, you could even wonder who is now playing . Araya, in the middle of the stage, seems even unpretentious under in spite of being under constantly changing colored lights. He is putting a certain aggressiveness in the vocals but ,at the end of story, that's all, moreover Araya's voice doesn't stand out like it should be. Jeff Hanneman mainly acts on the left, while Kerry King on the right . of course they have a good mobility , but it's not their peculiarity, Tom Araya is left often in a more advanced position in order to catch the attention on his person, sometimes it happens the opposite and we can see King and Hanneman nearer to us. One thing must be said: individually they play very well, without doubts, and one other thing must be said : their drumming is simply excellent, but one last thing must be added too: if they would have the courtesy to play together it would be far better. More than a band it seems a group of 4 distinct musicians who hold together line and songs without a perfect and sincere cohesion in my opinion, being only the drummer the one in perfect timing always. The average quality of the tracks suffer, and the gig, though roaring is anyway flat . Even many of their die hard fans,... you know..., those who have seen them more than 10 times and remember every single note of every single show attended, admit, at the end of the concert, that yes they have played well, but that in such -and -such a day, of such-and-such an year - in such -a-such a place they played much better. Ok musicians are not (war) machines, but ehi it's Slayer , are we at the top of the constellation or not? if yes the least thing one could ask from them is a gig played with determination, still believing in what they are doing, the rest will follow by itself. if resumed in few words, this evening i see Slayer as a more brutal and faster variant of Metallica, though i don't see absolutely in Slayer THAT fast band to beat. cause so hyperfast are they : fortunately , cause they can still impart a down - to earth horsepower; in their repertoire a couple of songs that simply kick ass like Mandatory Suicide, which has unchained another wave of crowd surfing. By the way, in the setlist are included ,among others, : Disciple, God send Death, The Anti- Christ, Mandatory Suicide, Hell awaits, South of Heaven, Angel of Death, Piece by Piece, Necrophobic, Altar of Sacrifice , Jesus saves, Dead Skin Mask, Criminality, Reborn, Epidemic , Postmortem . Ovations are countless , lots of crowd surfers are promptly rescued by the security. The words visible under the drums "God hates us all" lets remind of the title of their latest album and their philosophy. The enormous groove and menacing effect has been reached anyway. Araya has thanked the fans, he has shortly entertained the crowd during the concert and he has found the time to video record the ovation mayhem of the horde in front of him, telling simply not much than "smile!" The encore time was incredibly intense and one of the best final greetings was Araya's "Thank you very much ..for everything!"



















---
CONCLUSION
And finally, short after Slayer's gig, Dane, of the Z7 Konzertverein (direction and promotion) , gets the stage for the final good bye coming from the whole Z7 "family". The echoes of the battery of riffs unchained by Slayer are still pulsing in our head "Wer hätte das gedacht!" -who would have ever thought that we could guest Slayer on this stage this evening!!" says Dane very proudly and touched . Indeed she adds "wir sind mega stolz- we are mega proud, die sind absolut geil !!" . "Habt ihr Spass gehabt?" this is to say "did you have fun?". Of course!, people are satisfied and grateful "Kommt gut daheim! come back safely home! " Bis zum nächsten Mal!" Till next time7! Count us in!!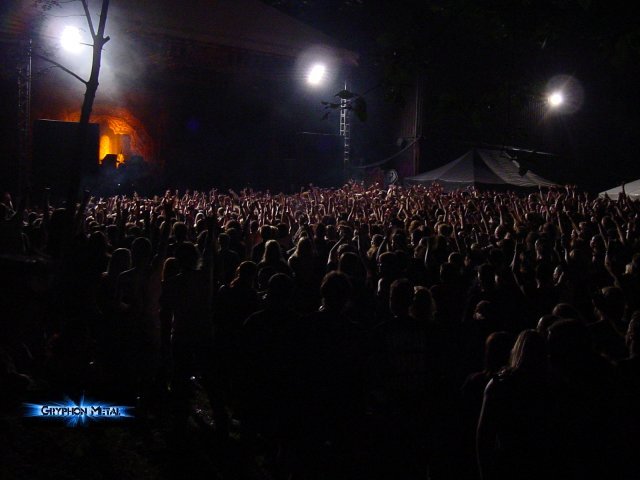 PICS BY: ©Stefan Vogelaar
REVIEW BY dalia di giacomo
The public use of these fotos
is strictly prohibited without written permission
written by dalia di giacomo
---