LILITH TOUR 2018
BUTCHER BABIES - EYES SET TO KILL - KLOGR
Komplex Klub - ZÜRICH - Switzerland
March 14, 2018
presented by Good News http://www.goodnews.ch/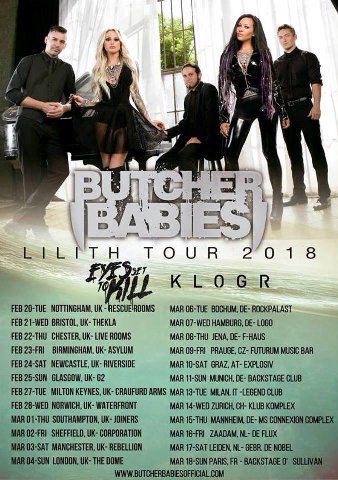 For the first time in Zürich, Butcher Babies have played in the beautiful venue Komplex Klub and they have set the stage on fire! The American band from California was unstoppable with their two frontwomen, Heidi and Carla, who performed such a great concert characterized by an infinite energy that was shared all the time. Never a dull moment! Butcher Babies 's music was everything in one indeed, as we could expect: Heavy, Nu, Thrash, Punk and more. I didnt like all tracks but I did enjoyed the show and had more than a great time. To meld so many Metal subgenres together is not easy and the whole band can master this mixing, but it needs obviously a drummer whose skill is very wide. I would like to underline that Heidi and Carla were gracious and fiercy at the same time and their headbanging as well as their metal feeling is superb. The concert got many highlights like the drum solo , the guitar solo performed by Henry Flur and his 8- string-guitar Ibanez, the headbanging like there were no tomorrow, and the toasts to Switzerland and Zürich. But the most incredible highlight for me was when Heidi jumped into the pit in order to become the center of one of the recurrent mosh circles of the evening. All in all , in their multigenre, Butcher Babies has fully proven to be a powerhouse and a band that gives music as well as entertainment and pounding sound, literally storming the stage. I am always been a kind of Death (and Black) Metal priestess, and rarely I enjoyed a concert of this genre so much , finding it truly hot. and , as woman, I can only admire the two ladies! The tour was of course promoting last year's record Lilith, and the song Lilith was performed as first attack. The setlist has been very interesting bringing at the end of the concert an acclaimed encore with 4 tunes: personally I liked a lot Controller. Two songs from their debut album 'Goliath' ended the show, proving that a wide repertoire was there for the audience. What to say more than this? Great drumming and great rhythmic session.
Anyway , Butcher Babies were the cherry on the cake. So who were the "cake"? The evening was opened by the Italian Klogr . I felt quite proud to be Italian , because although Italy has many metal bands, only few succeed in passing the Alps and to match the international taste. Klogr is an interesting band that had the not easy tusk to warm up the place (always a difficult operation in Switzerland) and to get the attention for their own music.: It was well done with heaviness and good vibes. Gabriele "Rusty" Rustichelli, vox and guitar of the band found the time to launch a very nice message for the metal family saying that music is able to create a connection among persons, artists and listeners. I hope to see Klogr again , in a longer slot. and not only for 30 minutes. I just would suggest to Klogr to be more photo friendly , in particular with the choice of the lights, that, during the first 3 songs, were not particularly exciting.
The American post-hardcore band from Phoenix, Arizona, Eyes Set To Kill has placed a good performance on the stage. What has taken me by surprise has been their cover of Zombie by The Cranberries. The band was able to be gentle, melodic as well as aggressive with energetic bursts of rage. Lead singer and lead guitarist Alexia Rodriguez, in spite of her gentle and rather tiny silhouette, can sing, jump around and shred her guitar with incredible determination. The result was a fresh show, anyway a heavy show in particular when raw vocals by guitarist A J Bartholomew supported the songs.
Dont miss these bands when they play around, in particular to attend Butcher Babies is a must!
dalia di giacomo
Setlist Butcher Babies
Lilith
Strawman
Monsters Ball
The Butcher
In Denial
Huntsman
Korova
Igniter
Pomona
Gravemaker
Thrown Away
Beer Drinkers
-------drum solo -----
Headspin
Underground
Encore:
They' re coming
Controller
Axe Wound
Magnolia Blv.
Setlist Klogr
Draw Closer
Technocracy
King of Unknown
Pride Before The Fall
Prison of Light
Bleeding
Guinea Pigs
Image Gallery Klogr
Image Gallery Eyes Set To Kill
Image Gallery Butcher Babies