DARK TRANQUILLITY - "Atoma"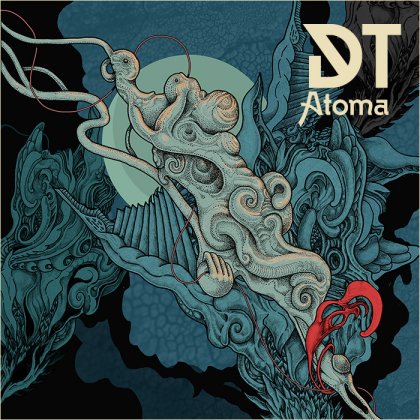 Encircled

Atoma

Forward Momentum

Neutrality

Force of Hand

Faithless By Default

The Pitiless

Our Proof of Life

Clear Skies

When the World Screams

Merciless Fate

Caves and Embers
Dark Tranquillity is:
Mikael Stanne
Niklas Sundin
Anders Jivarp
Martin Brändström
Anders Iwers
Dark Tranquillity regained their signature sound back.
One of the things I really like about Dark Tranquillity albums, is their cover art. Album covers are always the place people look to first as a sort of "first impression" of an album. Sure, there have been some albums where the cover just sucked but the music was great, however, when I'm talking about Dark Tranquillty that's not the case. This is the first record without their long time guitar player Martin Henriksson. He's been in the band as long as I've listened to them and I think it would be interesting to see what kind of dynamic the band would have with only one primary guitar player.
I envision many different ideas when I listen to this album. As strange as it sounds, a lot of listeners usually think about places, people, and events while they're listening to music. Sometimes a band sounds like the country or region they're from, for example: Iron Maiden sounds British, Lacuna Coil (their earlier material) sounds like they're from Italy, Metallica sounds like they're from California and Dark Tranquillity on this album sounds like they are from Northern Europe.
More so on this album than on their last album, Dark Tranquillity regained their signature sound back that combined darker elements of melodic death metal reminiscent of their "Gothenburg sound" roots with keyboard segues that break up the monotony of a chugging guitar. The great songs on this album are, "Atoma," "Forward Momentum", "Force of Hand," and "Our Proof Of Life."
"Force of Hand" out of all the songs on the album stands out the most, it contains many layers not normally found on Dark Tranquilly albums. The solo on this song was also laid down by Bjorn Gelotte of In Flames to give it that extra flair. The keyboard parts are very well thought out and just make the song stand out just that much more.
The album as a whole is much better than "Construct." It evokes thoughts and places that takes the listener into places where they are currently not; or it forces the listener to examine where they are in their lives; which is a mark of a very good album. My only complaint about the album is that some of the songs sound like other songs the band has already done. "When the World Screams" reminds me of "Final Resistance" and "Our Proof Of Life" sounds like a few songs they've done. It's not necessarily a bad thing, it just means that as much as I like the album, it doesn't stand out as much as "Fiction" and "We Are The Void."
8/10
Matthew Haumschild