DUNKIRK
WARNER BROS. PICTURES Presents
A SYNCOPY Production
A Film by
CHRISTOPHER NOLAN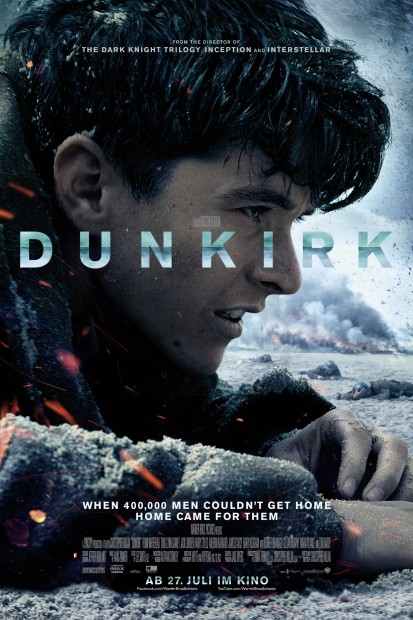 When 400000 men couldn't get home…
home came for them.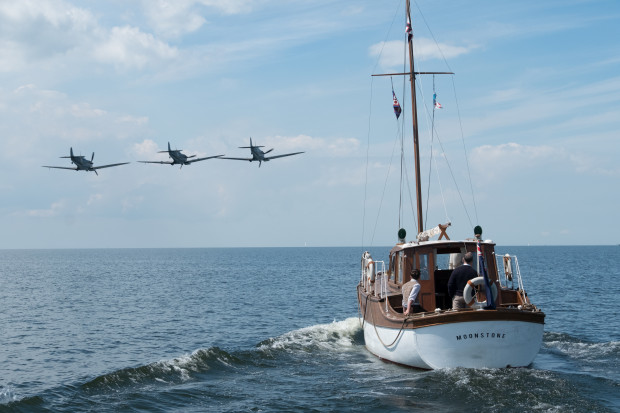 Nolan directed "Dunkirk" from his own screenplay, utilizing a mixture of IMAX® and 65mm film to bring the story to the screen. The film was produced by Emma Thomas and Nolan, with Jake Myers serving as executive producer.
"Dunkirk" features a multigenerational ensemble cast, including Fionn Whitehead, Tom Glynn-Carney, Jack Lowden, Harry Styles, Aneurin Barnard, James D'Arcy and Barry Keoghan, with Kenneth Branagh, Cillian Murphy, Mark Rylance and Tom Hardy.
The behind-the-scenes creative team on "Dunkirk" included director of photography Hoyte van Hoytema, production designer Nathan Crowley, editor Lee Smith, costume designer Jeffrey Kurland, visual effects supervisor Andrew Jackson and special effects supervisor Scott Fisher. The music was composed by Hans Zimmer.
"Dunkirk" was filmed on location in France, Holland, the UK and Los Angeles. Distributed by Warner Bros. Pictures, a Warner Bros. Entertainment Company.
Official synopsis: "Dunkirk" opens as hundreds of thousands of British and Allied troops are surrounded by enemy forces. Trapped on the beach with their backs to the sea they face an impossible situation as the enemy closes in.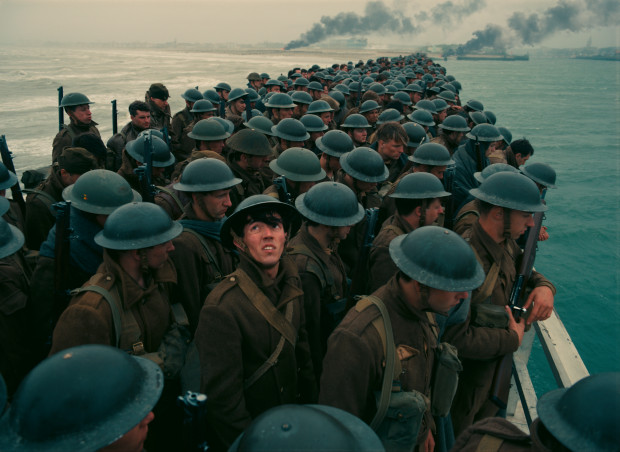 Review by dalia di giacomo
From filmmaker Christopher Nolan ("Interstellar," "Inception," "The Dark Knight" Trilogy) comes this movie, Dunkirk, which is simply epic in a suggestive, almost romantic way. No blood, no excessive violence, no heavy language. Do we get a romantic image of war? In a way, yes, but dont understand me wrong: this film is strong, soaked with fear, action and doesnt offer a positive image of war . But it results even romantic because it's no movie with superheroes, it's a movie where the characters are simply human beings, like you and me, like our fathers and grandfathers who happened to be soldiers. And these men are the true heroes. The menacing music completes the actions and hits our mind much more than images full of blood. The photography is excellent to say the least. The actions in the water are recorded magnificently and I expect for this film more tan one Oscar. The movie is also particular because it is multylayered : the same scenes are seen from the different perpsectives of the different characters tha tare involved and this multilayered proces explains then globally each and every moment. It is no usual movie about WWII, being focused on a rarely treated tragic episode of that war (hundreds of thousands of British and Allied troops are surrounded by enemy forces and trapped on the beach of Dunkirk) . The story unfolds on land, sea and air in a race against time. The trapped soldiers need to be rescued under very hard conditions.
Indeed "Dunkirk" is based on the evacuation that took place in the early months of World War II. Rather than make of this a battlefield drama, turned this historical moment into an immersive thriller . Nolan says: "What happened at Dunkirk is one of the greatest stories in human history, the ultimate life-or-death race against time. It was an extraordinarily suspenseful situation; that's the reality. Our aim with this movie was to throw the audience into that with an absolute respect for history, but also with a degree of intensity and, of course, a sense of entertainment, too."
It was late May 1940, when the British Expeditionary Force (along with French, Belgian and Canadian troops) was forced back to the beaches of Dunkirk, just 26 miles away from home, We see that beach spectacular, but its 21-foot tide prohibited the large British naval ships from rescuing the men. But small boats had the possibility to help.
Joshua Levine, film's historical consultant and author of the book Forgotten Voices of Dunkirk, emphasizes : "It was a massive event that still has international significance. Everything that's celebrated about World War II—in Britain, in the United States, and all around the world—would not have happened without the Dunkirk evacuation taking place. It was unbelievably important. If the British army had been killed or taken prisoner, Britain would almost certainly have surrendered, and we'd likely be living in a very different world today. To me, Dunkirk is about the preservation of freedom. Once those ships were underway, the world still had a chance."
Kenneth Branagh, who plays the British naval commander, says: "Your life and mine would have been profoundly changed had that courageous, brave, patient, impossible moment not been lived through by people who stuck at it, and in so doing protected all of our futures. Its place in our military, social, political, and emotional history can never be underestimated. In a sense, you could look at an evacuation as being unheroic, but somehow it adds up to something phenomenally heroic about the human spirit."
Mark Rylance, who plays the captain of one of the little ships, adds: "It has a deep meaning for the English people. We were the underdogs on that beach, but we rose to the occasion and eluded the superior forces of the enemy at that time. The Dunkirk spirit has to do with that perseverance and endurance and also selflessness."
Newcomer Fionn Whitehead, who takes on the role of one of the young British soldiers on the beach, says: "The Dunkirk spirit brings to my mind a sense of togetherness and a show of community—coming together to help out someone in trouble."
Nolan truly can put the audience directly onto the beach, onboard the boat traversing the Channel, and in the cockpit of the Spitfires. Again from production notes, "Nolan had been the first to use IMAX cameras in a major motion picture, for "The Dark Knight," and has employed IMAX cameras on all of his subsequent films. But for "Dunkirk," he expanded the use of large format—shooting the entire film with a combination of IMAX and 65mm film, something, he confirms: "I've never done before, but 'Dunkirk' is a huge story and it demanded an enormous canvas.
"The reason we were shooting on IMAX film," the director continues, "is that the immersive quality of the image is second to none. When you sit in the movie theatre, the screen disappears and you really get a very tactile sense of the imagery. That lends itself to incredible panoramas and large-scale action. But we've also found over the years that if you use it for more intimate situations, it creates an immediacy that's very engaging. So our feeling was, if we could find a way to do it physically, the payoff would be well worth it."
Another hallmark of Nolan's films is his preference for capturing the action in-camera and eschewing digital effects and CGI as much as possible. "To me," he clarifies, "it's always very important to try and work with real things and real people. The resulting effect of that is very visceral and enveloping, and draws you into the story." "
Nolan also says: "Like most British people, I was raised on the mythical story of the evacuation of Dunkirk, and the victory that was snatched from the jaws of defeat," he relates. "It's a massive part of our culture. It's in our bones."
But Dunkirk is a human story, and as such, has an universal breath.
dalia di giacomo
Image Gallery