FANTASTIC BEASTS and WHERE TO FIND THEM
ANIMALI FANTASTICI e DOVE TROVARLI
PHANTASTISCHE TIERWESEN und WO SIE ZU FINDEN SIND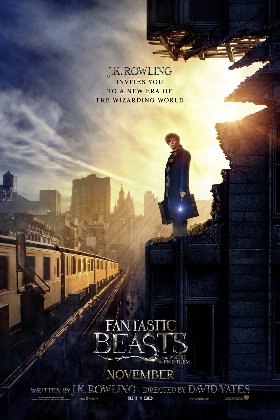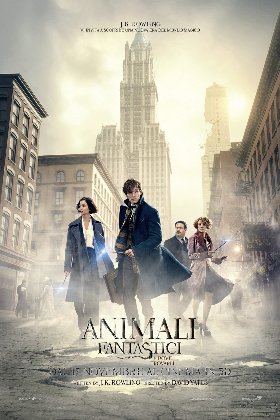 "Fantastic Beasts and Where to Find Them" opens in 1926 as Newt Scamander has just completed a global excursion to find and document an extraordinary array of magical creatures. Arriving in New York for a brief stopover, he might have come and gone without incident…were it not for a No-Maj (American for Muggle) named Jacob, a misplaced magical case, and the escape of some of Newt's fantastic beasts, which could spell trouble for both the wizarding and No-Maj worlds."
© 2016 Warner Bros. Ent. All rights reserved. Harry Potter and Fantastic Beasts Publishing Rights © J.K. Rowling J.K. Rowling's Wizarding World TM J.K. Rowling and Warner Bros. Entertainment Inc.
Director
David Yates
Cast
Eddie Redmayne, Katherine Waterston, Dan Fogler, Alison Sudol, Ezra Miller, Samantha Morton, Jon Voight, Carmen Ejogo, Ron Perlman, Jenn Murray, Faith Wood-Blagrove, Colin Farrell
Genre
Adventure / Family / Fantasy
Web
http://www.fantasticbeasts.com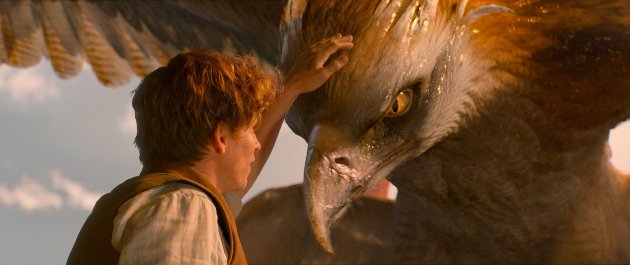 "An exceptionally broadminded wizard."
Review by dalia di giacomo + Production Notes.
Ohhh we have a really uncommon, particular movie here: a fairytale mainly made more for a grown-up audience than for kids. The story is reach and complicated enough to nail the attention until the last scene: Thriller, suspence, action, hate and love, romance , friendship and many astonishing special effects are mixed in an agreeable way, and the fantastic creatures provide immediately a big sympathy and, in particular, the Thunderbird, native to the arid climate of Arizona, could even be seen as a symbol for America. The main characters are all adults, but the magical frame is totally fairy tale for all ages. Adults should let free the kid they still have inside and simply enjoy this movie for what it is, and believe me if I say that you have to follow the story with attention and, as already mentioned, this story is really "fantastic creatures"-centric. This movie isn't so easy as you can imagine yet the entertainment level remains always very high enriched also by hilarious, funny scenes. Curious thing is that the plot doesn't reach peaks of extreme value indeed, yet, I repeat , it isn't so simple : on the contrary the movie is solid and well structured, with a good performance of the actors, although the figure interpreted by Colin Farrel could have more room and be even darker. I imagine that this movie could really win some oscar prize or at least get nominations: the truth is that "Fantastic Beasts and Where To Find Them" is a perfect hybrid between fairy tale and hystorical adventure. The first "thing" you think of ,while watching the movie, is Harry Potter. Even if you dont know that this film is based on J.K. Rowling's original story, you feel an ummistakable Harry Potter taste in it. Nonetheless this movie is able to be very different from all well known Harry Potter stories , being more anchored to the "reality" of the 1920s New York City, where the plot takes place.
Important to be known is that "Fantastic Beasts and Where to Find Them" marks the screenwriting debut of J.K. Rowling (author of Harry Potter) and, in addition to David Yates, the film presents again people from the "Harry Potter" franchise, like producers David Heyman, J.K. Rowling, Steve Kloves and Lionel Wigram. After all, "Fantastic Beasts" has an organic connection to Harry Potter, as Fantastic Beasts and Where to Find Them was one of Harry's textbooks at Hogwarts School of Witchcraft and Wizardry. We could say that there is Newt Scamander before Harry Potter! The official Character Description note perfectly describes Newt Scamander this way : "Newt is an outsider, a bit awkward, and more comfortable with creatures than his fellow wizards and witches. Hailing from England, he was once a student at Hogwarts but was expelled for endangering human life with a beast. Yet there was one professor who fought for him, a certain Albus Dumbledore. No one could have imagined then that Newt would someday write one of Hogwarts' most important textbooks: Fantastic Beasts and Where to Find Them."
The 1920s Manhattan of "Fantastic Beasts" is simply fascinating: We can almost smell all the flavours of the beginning of the XX century in an atmosphere which is fully America with a drop of Central European aroma. We follow the protagonist, the already mentioned British magizoologist Newt Scamander, perfectly performed by Academy Award winner Eddie Redmayne ("The Theory of Everything," "The Danish Girl"), and its unique leather case which is the place where his magical zoo of fantastic creatures is hidden. Unfortunately a couple of these fantastic beasts escape and Newt Scamander has to search and rescue them in the worst moment possible, because a frightening obscure force is terrorizing the City and The Magical Congress of the United States of America (MACUSA) is investigating this event. Something truly evil is marking the streets with sudden paths of destruction, threatening to reveal the wizarding community to the No-Majs (American for Muggles), in particular to the Second Salemers, a fanatical sect against the wizards. Moreover the powerful, dark wizard Gellert Grindelwald, is now nowhere to be found. Newt Scamander is unaware of all this and potential disaster strikes when No-Maj Jacob Kowalski inadvertently lets some of Newt's beasts free.
Redmayne says: "Newt is most comfortable around beasts and is seemingly content to be on his own in the company of his animals, which are the be all and end all of his life. What I love about Newt is his passion; his only agenda is to teach the value of these creatures to the rest of the magical world, which considers them dangerous because they could give away the existence of wizards."
And Rowling explains : "When you think about this hidden world, you immediately run across the problem of the beasts. They don't understand that they're supposed to hide. So I had this idea that Newt was the lone voice saying, 'We have to preserve these creatures. We shouldn't be exterminating them,' which was the standard practice at the time to maintain secrecy. But Newt has an affinity for these creatures and accepts them on their own terms. He's an exceptionally broadminded wizard, who also has an understanding of those who might be stigmatized. He constantly questions where the lines are drawn and why certain life forms are considered more important than others."
As soon as the thrilling atmosphere takes off, the plot develops with a great pace and everything can happen: Scamander will meet Auror/ magical law enforcement officer Tina Goldstein and will expose a No -Maj (this is to say a normal person with no magical attitude), Kowalski, to the magic realm that should remain hidden behind the curtains of everyday's life and precluded to normal people. Soon a kind of sincere friendship grows among these main characters including Tina's sister Queenie, and this bond and friendship becomes an essential part of the story. Obviously there are villains, still very far from beeing so mighty and impressive as Voldemort, anyway strong enough to add a menacing dark tone to the movie. Heyman says "There is a powerful wizard named Grindelwald, who is an anarchist and believes that wizards are a superior race. He hasn't been seen for a while, but he's been gathering supporters and the anti-Muggle, or anti-No-Maj sentiment he preaches is building a following. So whether it's Voldemort in the Harry Potter books, or Grindelwald, who is the unseen specter hanging over this film, the notions of intolerance and stigmatizing certain people remains at the heart of Jo's writing, here and in all her works."
Enjoy this grown-up fairy tale, this is surely the first chapter of a new kind of magic spell that is profound and light at the same time! The fact that the photography is amazing and that the movie lets an aftertaste of grace and delicacy rounds the already positive impression.
"The thing that blew me away about the script was that it was sweeping in scale
but still had genuine intimacy, and as I read it, I went through a tremendous
range of emotions. I was astounded at how J.K. Rowling managed to delicately
stitch all the elements together. What she does with such elegance is create
real people with both wondrous qualities and broken qualities."
Eddie Redmayne
Rating: 9/10
review by dalia di giacomo
Image Gallery