17.07.2003
RELATED: INTERVIEW WITH SOILWORK
---
IN FLAMES - CHIMAIRA - SOILWORK
at The Quest - USA - July 7th 2003
PICS BY: © Matthew Haumschild
REVIEW BY Matthew Haumschild
The public use of these fotos
is strictly prohibited without written permission
---
presentation
soilwork
chimaira
in flames
---
Monday, Monday, Monday.

Who would have thought so many people would show up?
To start this out, I started to stand in line around 4:00pm. For those paying attention to In flames' U.S. tour, Unearth was suppose to be here as well, and I saw a sign on the door saying that they were having van difficulties and could not make the show. Shrugging this off I proceeded in.

What was different from this show from the others was the camera I was using. It was my girlfriend's high-end Olympus camera with a huge lens. Obviously, this was much different from my regular snap shot camera. Usually I supply a lot of pictures, but I underestimated my camera and I have a lot of underdeveloped and blurry photos. So I would like to apologize for that.
SOILWORK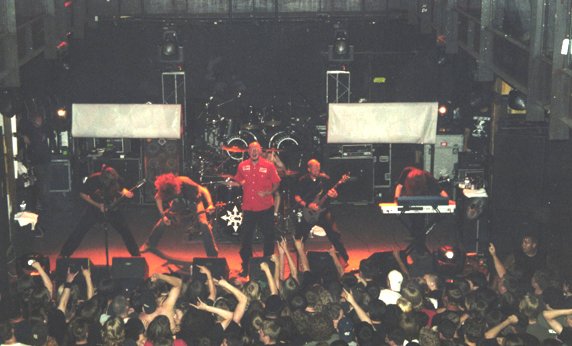 Prior to the show I was fortunate enough to interview Bjorn "Speed" Strid, and when I was backstage, I noticed that Soilwork would be the second band to play tonight, so it was a shock to me, after I got my 'spot' on the balcony in the dead center that I found out that Soilwork went on first! Prior to them jumping on stage, their intro music was probably the weirdest I had heard or odd or whatever you might want to call it, they opened up with the 50's(or early 60's) song "Tequila" by "The Champions", the crowd was kind of wondering what the hell was going on. The band opened up "Flameout" and they had the crowd going! Pits and all. The rest of their set included the title track "Figure Number Five", "Needlefeast," " Follow the Hollow", which by the way sent chills down my arms, they really played that song nicely I'll explain below, "Distortion Sleep", "The bringer", "Rejection Role", and "Light the Torch". I might have missed one or two songs and those are just from memory. Through out Soilwork's set, Strid varied his vocal performance in almost all the songs, although similar, I thought he sounded more masculine in his vocals, not hitting all the high notes in songs like in "Distortion Sleep" and in "The Bringer", it didn't sound bad at all, if I were a singer, I couldn't sing that high live either. The other band members played flawlessly. Soilwork didn't get a sound check that day, so the first few songs were questionable regarding sound quality, you could hear drums, vocals and guitars but not so much the bass and keys though, which was unfortunate. By the third or fourth song, the soundman got his shit together. The new drummer played the songs as best as he could with what he had. If the pictures weren't clear, Evensand played on a 4-piece kit when Ranta played on a 7-piece kit. What does this mean? Henry Ranta had two rack toms of significance. Sure, playing a four-piece kit is fine, he sounded great with what he had, but if he had at least a five piece, the drumming would have been totally flawless and people like me wouldn't have known the difference. Other than that, nothing bad said about the new drummer, again, he played flawlessly with what he had. Overall, the set lacked a little depth, but there's a lot of factors in that, the soundman mostly, the club, lack of sound check. The band played fine, the sound was acceptable to normal people but to meticulous people like me…it could have been better.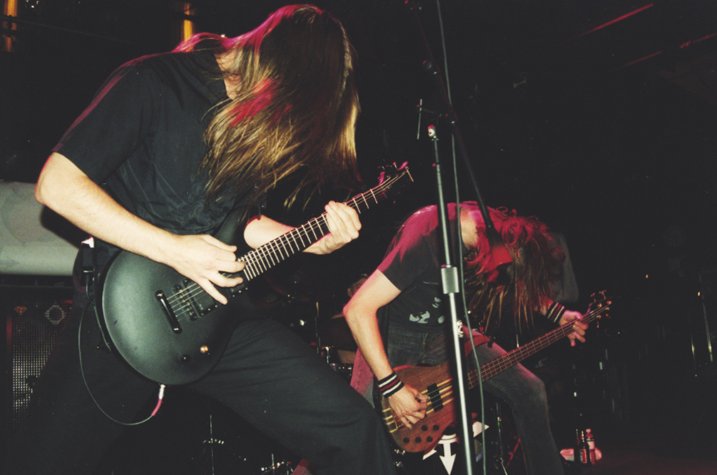 ---
CHIMAIRA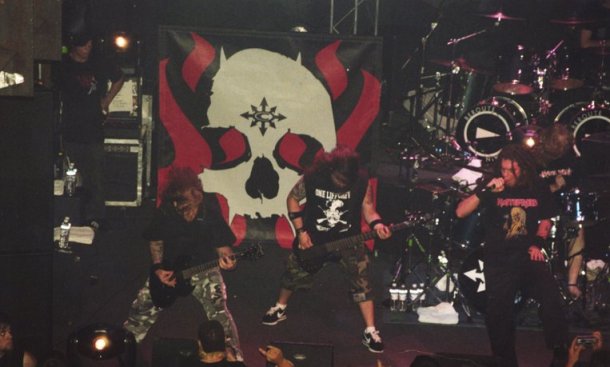 Before Chimaira came on, I had some speculations on how good they were. After all, they were signed to Roadrunner. I still question that record company's choice of new acts ever since Nickleback. The band came on with props on stage, which were questionable in taste. It didn't really add to the show. The music actually wasn't too bad, the vocals sound hardcorish and a bit monotone but heavy as hell nonetheless. The drumming was halfway original, not typical but, not all that thrilling either. The guitar work was typical of modern guitar work, lacking solos mostly when they did them; it is as if they put it there just because. Probably the best part of their set was during their second to the last song, the singer asked that everyone chant the chorus to one of their songs "I..Hate……..EVERYONE!" and it was a little contest for the tour of which city was the loudest, so far, Philadelphia was the loudest, the singer was like "I'm from Mid-west, I WANT YOU ALL TO BEAT THE HELL OUT OF THE EAST COAST!" so as you can imagine, the crowd yelled really loud in unison also. As predicted the singer said, "Anyone who knows me knows I don't bullshit, you guys are the loudest now" and the crowd erupted. I had a feeling just by experience seeing shows in three different states that singers like to please the crowd. Chimaira's music wasn't too bad, worth checking out just once. If I were them, I'd try to get on the nuclear blast label and they might get a better name recognition with that.




---
IN FLAMES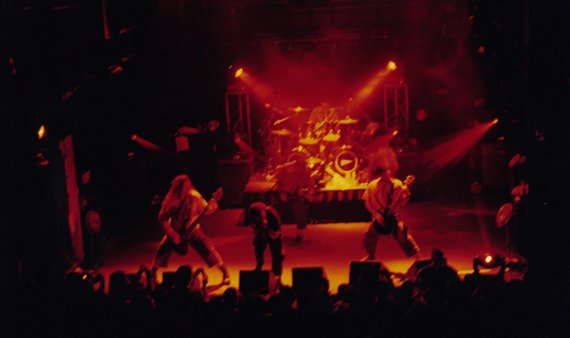 Now, the headliner for the evening. IN FUCKING FLAMES!
This was the sixth time I've seen this band, and the fourth review for this website. Inflames, this time, in my town, headlining at a proper club. Inflames opened up their set with a new twist to it. With piercing white light, shinning all around with a very extended intro of "Cloud Connected". It was unbelievable. The band jumped out on stage and the crowd went nuts. Inflames, this time around, had a really nice light show as opposed to the last five times I've seen them. As you can tell by the photo's it was to take photo's due to lack of light on the stage. Inflames played a lot of songs from Reroute to Remain and surprisingly a lot of songs from Colony, songs I've never heard from them live. Like, "Coerced Coexistence" which I was surprised to hear, they also played, "Colony", "Scorn", "Behind Space", from Clayman, they actually played the title track, which I haven't heard them play since they started touring Reroute To Remain. It was very pleasant to hear again. From that album they played "Bullet Ride", "Only For the Weak", and "Pin Ball Map". Another song they played of which I hadn't heard since last year was "Episode 666". When they played that song, the crowd lit up! Inflames hadn't played that song in Minnesota since April 22nd 2002. One thing I've noticed this time around, Peter's bass, was louder than I had ever heard it, and parts of songs where only he plays, were greatly enhanced. He's actually very underrated. That aspect of the show, made the band sound fuller all around in sound quality. When I spoke to Bjorn Gelotte last year, he had mentioned that they wanted to go to the next level and in my opinion, they can only look down. After seeing them this time around, I feel that they are on the road to be major contenders for stardom. More or less being the same league as Pantera, Slayer, Metallica (84-92), Megadeth, and Judas Priest.

-Matthew Haumschild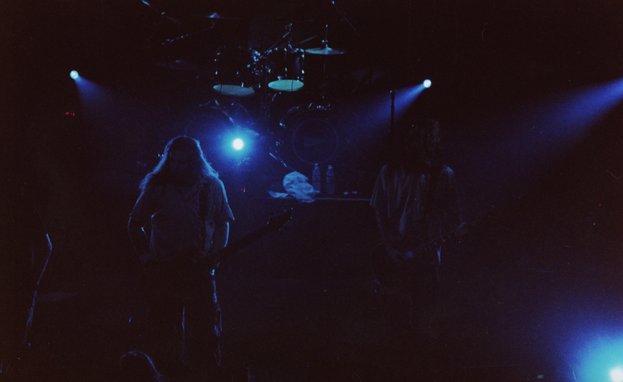 ---
the interview with BJORN STRID done by Matthew Haumshild at the Quest 7.07.2003 is online