Interview with Gold, Frankincense and Myrrh
and Photogallery
Interview and photos by Stephanie McKenzie
There are hardly words to describe what I have heard so far from this "Trifecta of Talent." At the ages of 12,15, and 17 to have the stage presence that they command along with the unbelievable talent that there is truly baffling. The fact that during our interview, I was able to discuss with them their influences and some of the big names they have already shared the stage with did not shock me one bit. I'm truly excited to hear the new tracks they finished up in the studio today. As well as playing venues here in my hometown of Jacksonville, Florida USA. They are set to hit the stage with our beloved Lacey Sturm (former lead singer of Flyleaf) and currently on tour with her solo album with husband Josh towards the end of the year. There is honestly no other band that I think of to compare them to. Despite there age they sound and preform like extremely seasoned artists.
Being a Christian can be fun.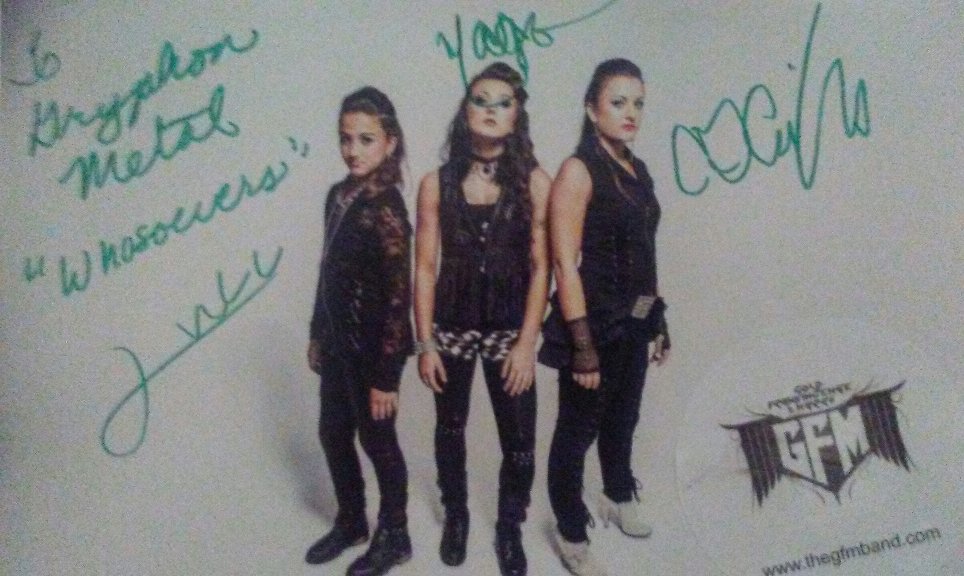 Gold,Frankincense and Myrrh
What is your bands name?
LuLu: Our bands name is Gold, Frankincense and Myrrh, but our fans call us GFM.
What are your ages?
CJ: I'm 17, Maggie is 15, LuLu is 12
How long have you been together as a band?Maggie: Since birth......just kidding. We've been a band for about 5 years. We started out as a cover band, but after 3 years of covers, we decided to start writing and playing originals and we haven't looked back.
Who are some of your inspirations?
LuLu: Nothing More
CJ: Five Finger Death Punch, Motionless in White
Maggie: Bring Me The Horizon, Asking Alexandria, Lacey Sturm, Memphis Mayfire
What is the biggest concert you've ever played?
LuLu: We actually got to play Axes and Anchors Cruise 2016. We shared the stage with Breaking Benjamin, Motionless In White, Thousand Foot Krutch, Demon Hunter plus many other big hitters.
Where is somewhere you want to play?
CJ: We really want to go overseas. We'd love to play outside of America. All our peers that have played overseas have told us the crowds are amazing!
Where can we find your music?
Maggie: Our EP "Death of Giants" is available on iTunes and Spotify. Just search Gold, Frankincense and Myrrh and you will find Death of Giants. We are currently in the studio wrapping up our album. We feel that the music on our upcoming album has really developed our sound as a band and will definitely blow the minds of everyone who listens to it.
What is your musical genre?
Lu: Technically we are classified as Christian hard rock, but we tend to push the boundaries of hard rock and apply some metal aspects.
You mentioned an upcoming album, when will that be released?
CJ: Well we don't really have an exact release date, but we are pushing to release it later this year.
What is the mission of your band?
Maggie: We want be the band that spreads the word of God, but can still be on the cover of AP Magazine. We wanna show people that being a Christian can be fun, you don't have to live a cookie-cutter life.
Make sure to follow us on Facebook, Twitter, Instagram, YouTube, Periscope, and Reverbnation @thegfmband. Visit our website: www.thegfmband.com. There you can find our merch store, our next tour dates and discover what we've been up to lately.
Photo Gallery