INTERVIEW "face to face" with Carmelo Orlando from NOVEMBRE
at Barbara Disco Lab in Catania, Italy
Interview by Salvo Russo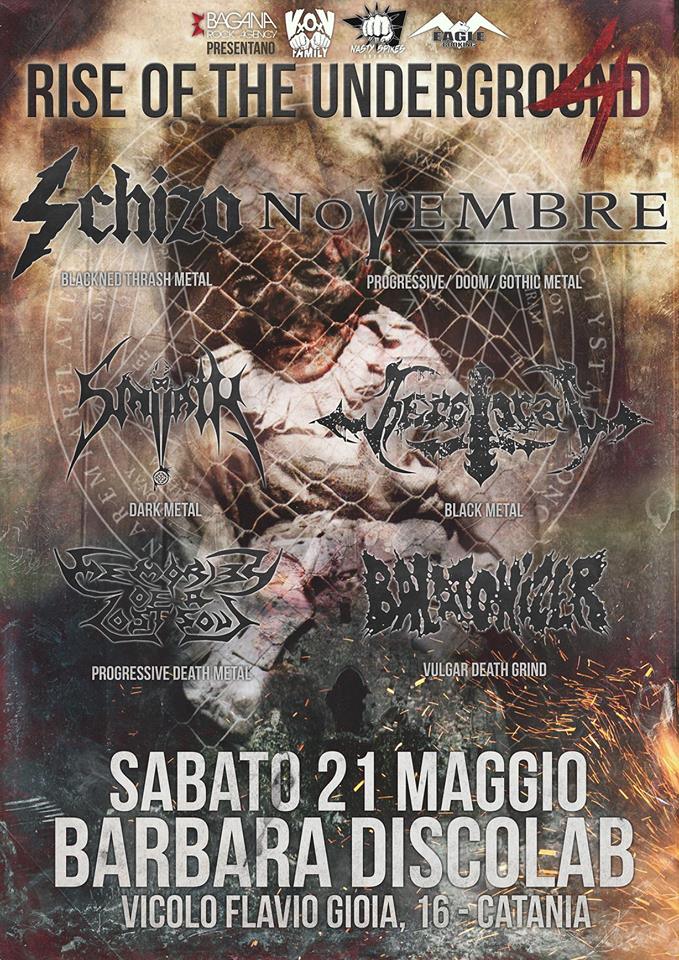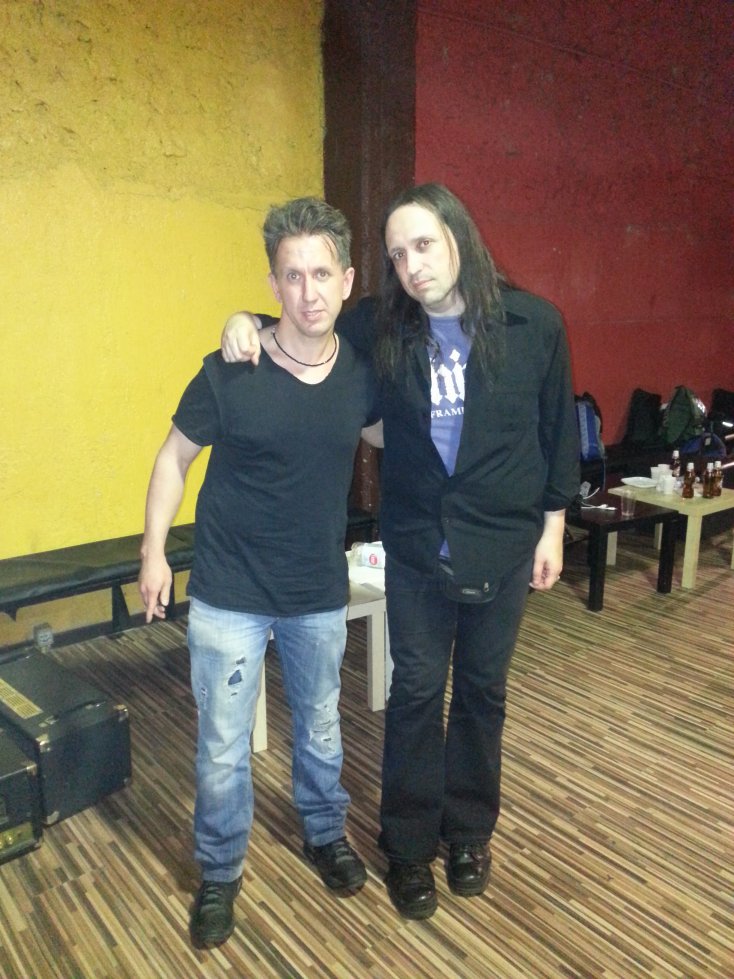 Carmelo Orlando (r.) and Salvo Russo (l.)Novembre has just released their seventh studio album "Ursa" via Peaceville Records and returns with tracks of intense feeling and melancholy . Novembre`s line up is headed by founding member and writer Carmelo Orlando and completed by Massimiliano Pagliuso, Fabio Fraschini (previously bassist on the 'Materia' album), and by David Folchitto on drums. Anders Nyström from KATATONIA, is guest in album's single track 'Annoluce'. When Novembre played very recently, on May 21 in Catania (Carmelo Orlando`s city) our editor Salvo Russo didn`t miss the occasion to meet and to interview Novembre`s mastermind Carmelo Orlando in person!
Political satire and animal-rights.
1) Welcome back, what happened after all these years?
We needed a time to reflect, because we tried to figure out what was happening to the music business; it was 2008 , and the crisis for what concerns the sales of cds became a burden for all musicians and labels; nowadays its develop is clear. In that time the crisis influenced too much the mood of musicians; We had the sensation to produce and make albums one after one other without….
At a certain point you come to realize that time runs fast , a couple of years will be like 8 and you don't even realize it! It came a point in which I started to compose the songs and I decide to come back, because I needed to carry out and fulfil this album.


2) I see that your brother is not part of the line-up, what exactly happened?
He never stopped making music, he is working with other bands, and decided to dedicate all his time with them, and this is the reason he didn't work with us.
3) Your style is faithful to your background music, you didn't change a lot in according to the new metal styles and comparing to the previous releases, there are not "revolutions" . What can you tell me about your musical evolution?
It's about point of views, I used a lot of technology, you don't even realize about it listening at the new songs, but unlike it was years ago I can assure you that it's quite easier to find a keyboard sequence! May be we never experienced into electronic music , we never left our genre or got closer to dark wave music, because it's not our inclination!
4) Let's talk about this Italian tour; you are one of the few bands who came here in South Italy!
What can you tell me about the welcoming and hospitality in all Italian cities!?
It was amazing! We could never expect something like this! We had sold out in some venues, and the whole attention was unbelievable! It's quite clear that South Italy is "starving" for events!
This evening, there are a lot of people as well…and it's a great pleasure to come to your native city, since I am from Catania!


5) We talked before about the musical crisis, Internet prevails over cds, and there is even less chances to stand out, How do you see the future for musicians?
They should learn how to sell their merchandise at their concert, because stepping up the ladder is quite an undertaking. It's quite difficult to reach the success of Opeth , Katatonia for example! Those bands can earn a living by their music, and there's a huge gap among those bands and the other ones (in the majority) who can't make music as their job.
6) What bands captured your attention?
Thanks to God, there are a lot of good Italian reality, I can mention , Plateau Sigma, Apneica, Shores of Null, Silvered; These are the bands of the new generation, and they are making important steps in the musical evolution, re-elaborating and improving the music made by historical bands!


7) In this latest album there is a very great song called "Agathae" that goes from folk to doom passing also through black and post-rock …what inspired you to write this song?
As I told you I come from Catania, and Agathae is Catania's patroness and this song is dedicated to her, but it's not a religious song, I'm not a religious person, it's more about the sense of belonging to your land, It's more mystical and a trip to explore our ancient Greek Roman culture, it's just a "foolish song".


8) What can you tell me about the lyrics?
For the first time , I distance myself from my usual topics that was about poems, Hermeticism, reflections about myself, not always clear to the listener; This time there are some hints to political satire, and animal-rights; these topics captured my attention in these years and came out in the main title of the album "Ursa" taken from a George Orwell's book; he's both animal-rights activist and politician, there are also hints from a great and modern Indian philosopher called "Krishnamurt" ; I can say that those were the main topics and they really interested me in these years, since I even watched a lot of documentaries and movies.
9) What would you tell to all the fans who came to see you in this Italian tour?
I want to thank all of the; a very big big thank, im still amazed for all the warmth they gave us!
10) Do we have to wait too long for the next release?!
I do not think so! We have found a perfect feeling and we cannot wait to write something else!
…..Have you eaten Sicilian arancino!?
Yes, sure…we have eaten a Cipollina (typical Sicilian wrap with onions, ham, cheese and tomatoes) too ;)
THANK YOU!
Concert photos @Salvo Russo and GryphonMetal.ch