KATATONIA - "The Fall Of Hearts"
Peaceville Records – Out Now
Review by Matthew Haumschild of the GryphonMetal.ch Team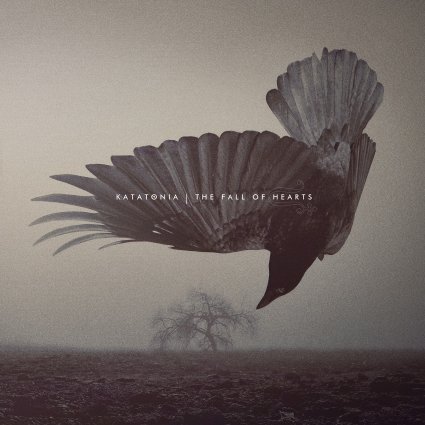 1. Takeover
2. Serein
3. Old Heart Falls
4. Decima
5. Sanction
6. Residual
7. Serac
8. Last Song Before the Fade
9. Shifts
10. The Night Subscriber
11. Pale Flag
12. Passer
13. Wide Awake in Quietus
Katatonia is:
Jonas Renske
Anders Nyström
Roger Öjersson
Daniel "Mojjo" Moilanen
Niklas Sandin
https://www.facebook.com/katatonia
https://twitter.com/katatoniaband
Intricate arrangments, masterful musicianship, great writing.
One of the largest understatements one can make in the music industry, without people actually realizing it, is the notion that it is incredibly difficult to make sad and dark music consistantly good without sounding "emo." Katatonia has been making music like this since 1998's Discouraged Ones only, the band keeps improving as they get older. Renske's singing voice becomes deeper as he gets older and with the combination of smoking or smoke inhalation, adds a certain light rasp to his live singing that add just that much character. A few years ago, I spoke to Andew Nyström in Minneapolis and I asked him, "I know Katatonia's music is about the darker side of life and the band's music focuses on this, however, how much of this is from Jonas's personal experience? Some of these songs sound very personal" and he did not know. Katatonia operates virtually between Renske's and Nyström's lyric writing (mostly Renske) and Nyström's music.
I first heard Katatonia on a mix CD from Century Media that was distributed for $5 at a clothing store in late 1998 (which coincidently launched my liking for Moonspell, Nevermore, Lacuna Coil, Skin Lab, Opeth, and Sentenced) and it had a track from the afore mentioned album "Discouraged Ones" and it sounded so deep and so depressing it was beautiful. Of course, it took a back seat to the other treasures I had discovered on the disc. In 2006, gryphonmetal.ch was given an advanced copy of The Great Cold Distance and I was fortunate enough to review the album before it's release, please read here: (http://www.gryphonmetal.ch/Katatonia_Distance.html) about the only thing I would change on that review from ten years ago, is I would give it one of my rare 10/10's because it struck me emotionally. If an album affects me emotionally, it gets a 10, it's rare when this happens, however Katatonia's music is so powerful, the albums afterward become better and better as time goes on.
The Fall Of Hearts at first glance seems to have the classic Katatonia sound to it, when I say that I mean really the vocals and the song arrangements are very Katatonia. The guitar sound sounds different than it had on other albums, possibly because they added a new guitar player with different gear and when his gear harmonizes with Nyström's it creates a new sound all together. Also, since the previous studio album, the band picked up a new drummer, which plays very differently from the previous one. The bottom line, I know its Katatonia because the singing and theme are the same, however, the guitars and drumming sound different. It's a good change however; if it stayed the same the band threatens complacency.
"Serac" is a track the has many layers in it's arrangements that bring the listener from branch of personal darkness to another, making it a great song to listen to when the leaves turn…which on the other hand makes an odd song to listen to in the summer. "Serein" is Katatonia's one "radio" song on the album where people are introduced to the album with this song, which has more of a metal beat to it, heavy guitars, hook-like lyrics that try to stick in the listener's mind, and overall the best track on the album. The piano and keyboards on "The Night Subscriber" add a different kind of atmosphere not found in many places on the musical spectrum. It's a song that makes the listener close their eyes and brings them to a place of nostalgia although that's likely not what the song is about. Before anyone knows it at almost the halfway point, the guitars kicking faster and heavier than anyone is led to believe and again the band adds more layers which adds to their utter brilliance as a musical act.
The more I listen to the album, the more I want to compare it to something else, but cannot. The Fall of Hearts has something for nearly anyone who isn't satisfied with the crap that is on the radio. Inticate arrangments, masterful musicianship, great writing, and are able to enhance an already brooding mood or able to launch into artful depression. The songs range from dark and soft to dark and hard (as a testament to "Passer" and "Serin") This band really shouldn't be ignored and should be embraced by more. I haven't listend to this album enough and in the right context to give it a 10, but I will give it a 9/10.
Grade 9/10
Matthew Haumschild – www.gryphonmetal.ch