KORN Requiem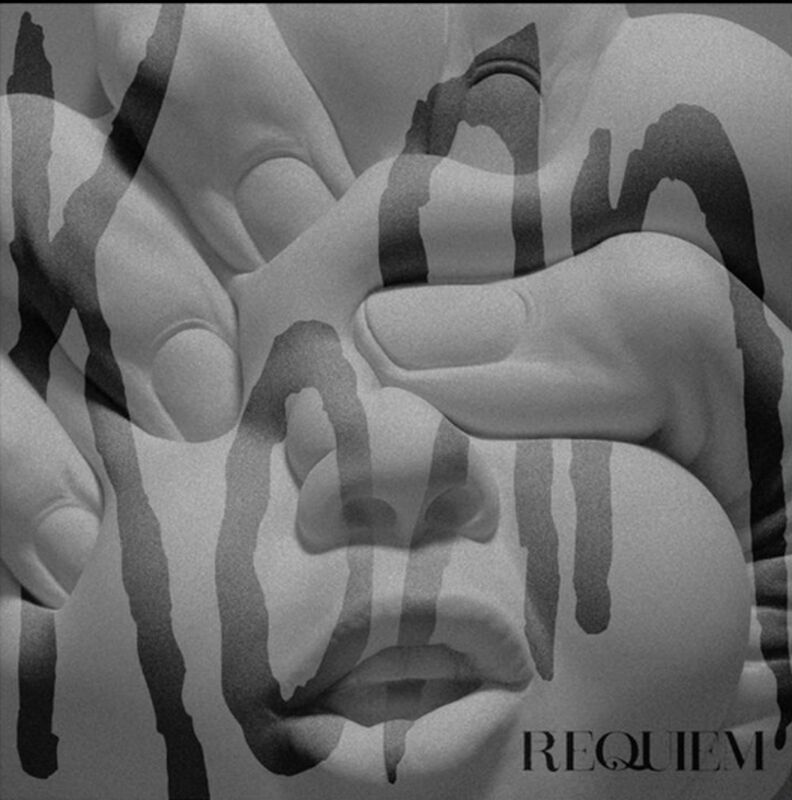 01. Forgotten written by Korn
02. Let The Dark Do The Rest written by Korn, Lauren Christy and Jasen Rauch
03. Start The Healing written by Korn and Lauren Christy
04. Lost In The Grandeur written by Korn
05. Disconnect written by Korn and Lauren Christy
06. Hopeless And Beaten written by Korn
07. Penance To Sorrow written by Korn
08. My Confession written by Korn
09. Worst Is On Its Way written by Korn
Korn is ( as in the booklet order):
Jonathan Davis - lead vocals, James "Munky" Shaffer - guitar, Brian "Head" Welch - guitar, Reginald "Fieldy" Arvizu - bass, Ray Luzier - drums
All songs are performed by Korm.
Produced by Chris Collier und Korn. Executive producer David (Beno) Benveniste. recorded by James "Fluff" Harley at Buck Owens Studios. Mixed by Rich Costey at Apocalypse Sound. Mastered by Vlado Meller at Vlado Meller Mastering.
Label: Loma Vista
Korn (@korn_official) • Instagram-Fotos und -Videos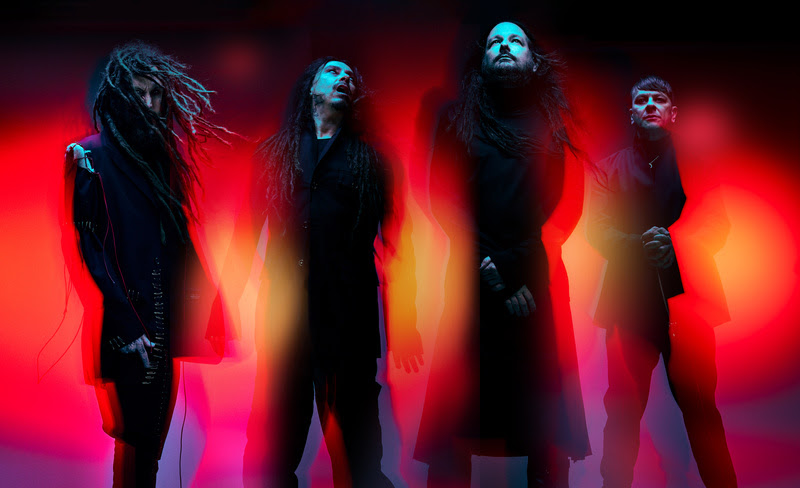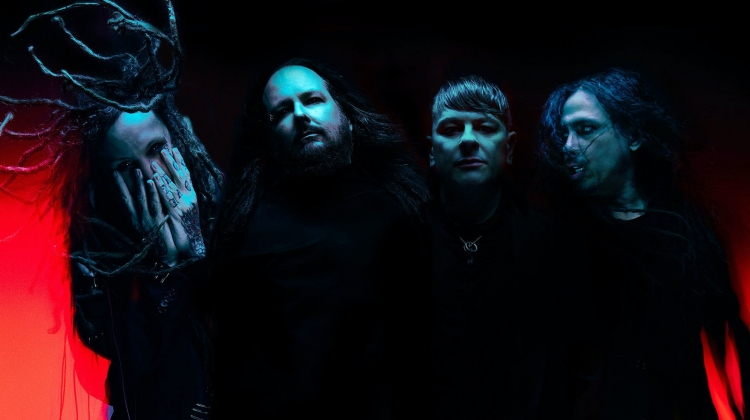 photos: Tim Saccenti
Review by dalia di giacomo
Is Requiem the shortest Korn`s album? Well, surely Requiem is the most surprising album since the reunion with lead guitarist Brian "Head" Welch.
After two weeks from the release day, I still must punch myself in order to find out whether I'm awake or not. Regardless, I am stoked. In particular, I still ask myself how could it happen that Korn have composed such a masterpiece song like Hopeless and Beaten, with Lost in The Grandeur following close. Don't get me wrong, we all know that Korn, elders of the nu-metal scene, are simply royalty in its genre and with unique identification. No one has to explain why Korn are top or why they left a sign in the world of music. Korn have taken by hand more than a generation, especially in the USA, they were involved in soundtracks and in great projects. They are first-class musicians. My astonishment comes from the fact that with Requiem, their 14th studio album, released on February 4, 2022, under Loma Vista, Korn have clearly broken and trespassed the borders between Nu-metal and Dark Metal knocking with Hopeless and Beaten at the door of extreme genres like Doom Death. My question was not if Korn were able to do this step, my question was if they wanted to do this step, being so bound to that subgenre that they have opened up and pioneered. Well, all typical Korn hallmarks like their famous abstract sounding effects are obviously still present because they are Korn's signature, yet in some songs, they are embedded into a new atmosphere. Less homogeneous than "The Serenity of Suffering" but a thousand times better than "The Nothing", "Requiem" is new, versatile, "alive", harder.
Songs like Lost in the Grandeur and Hopeless and Beaten show a darker, heavier, groovy, unexpected aspect of Korn and this will not remain unnoticed by Extreme Metallers, above all in Europe, where right now all directions of Dark, Gothic and Extreme Metal are triumphantly striking back. The rhythmics of both songs are pitiless and menacing. Some Korn hallmarks (music and vocals) are still to be found in Lost in The Grandeur, but the scratched guitar sounds are lethal and lacerating in dry essential tempo shifts and assaults, heralds of hardcore-gothic settings. Drums are precise and adaptable and multiskilled, yet never pompous and never pretentious. So here we are... We are here surprised, no fan is lost, on the contrary, new fans are caught. Introduced through a magnificent cd release- celebration in honor of the victims of the pandemics, the Requiem Mass, "Requiem" brings merciless peaks that fit into darkness.
Not all songs are as amazing as the ones I have already mentioned, yet all songs belong to a page that has been renewed, reinvented, maybe turned. Wikipedia states the following, according to a press release: "It is an album born of time and the ability to create without pressure. Energized by a new creative process free of time constraints, the band was able to do things with Requiem that the past two decades haven't always afforded them, such as taking additional time to experiment together or diligently recording to analog tape – processes which unearthed newfound sonic dimension and texture in their music."

Lyrics are very interesting, Jonathan Davis` personal turmoil is still not over. Fear, doubts, uncertainty are lurking, lying in wait, yet a new perspective shines through, a kind of new hope for facing and accepting life. Already the title of 'Requiem''s first single Start The Healing speaks for itself. Vocals use much of the very wide range that Jonathan Davis can express. Accordingly to Darkside Jonathan said: "There's a lot of stuff going on in there. I spent a lot of time layering vocals and using different microphones and doing all kinds of stuff that takes time and patience that most producers and singers don't wanna do, 'cause it just sucks. But I'm at a point in my life where I have the freedom and the ability and the means to really do what I want and take the time and really present something the way that's artistic and I love." (https://www.darkside.ru)
Yet some songs are, in my opinion, just a bit more than fillers and if the album appears so good is because of the "grandeur" of those tracks that stand out and propel "Requiem" to the stars. In a few words, this album is not balanced "per se" although appearing like a unity. The opener Forgotten is after all a weak version of the classic Korn imprinting, with all typical and well-known hallmarks., only it seems a weak hybrid song from the two eras: the one of "The Paradigm Shift" and the one of "The Serenity of Suffering" (In my opinion, the song "Prey for Me" was much and much better as opener). Forgotten appears to me powerless with an anemic refrain, only it is so instrumentally swollen, empowered by a good vocal setting, and loaded from the production a the point that seems so winning, and indeed Forgotten is one of the most publicized songs of this album. After the "down" comes the "up" with the following Let The Dark Do The Rest, played during the Requiem Mass, a song that is far from being simple. The dreamy harmony lets you fly in the best Rock and Metal tradition, and I perceive, starting from the bridge in Doom Gothic tone something that lets me remind of Type O Negative. And in Let The Dark Do The Rest vocals fall on the notes in a perfect way. But then, as the third track, comes Start The Healing: for me a song with sold-out ideas at the turn of nu-metal and pop-rock, yet this track is so acclaimed also for the positive lyrics. Fortunately, then come Lost In The Grandeur, Disconnect, Hopeless And Beaten, and suddenly everything changes. Everything.
In Disconnect I find some North European flavor and the refrain tastes even of Insomnium, in a way. And the pleasure continues with Penance To Sorrow, a wonderful mix from Nirvana, Emo style, and Korn signatures. My Confession is successful in saving itself from hip-hop rhythms thanks to the groovy, melodic feeling of the refrain, but doesn't add anything special to the album which ends with Worst Is On Its Way: lyrically, fear is not overcome while musically the typical Korn sound is crushing and sums up the whole career, idiosyncratic scat vocals included. There is much rage in Worst Is On Its Way, even a kind of futuristic rage. I am sure that this track is loved by all diehard fans.
Calling me
I feel it coursing through the inside
And I can't get away
Somewhere inside
I feel it breathing and I realize
The worst is on its way
To top it off, I hope bassist Fieldy (at this moment an inactive member) will join again soon the band. The bass in "Requiem" has been played by him. Unmistakably. So. Just to say.
With "Requiem" Korn have proved to be Metal artists capable of heavier and more radical things. I welcome Korn to the place of the "hordes" and of the "beasts" of Extreme, hoping that they are "here to stay".
dalia di giacomo
9/10