L7 , R-A-M-S
Dynamo, Zürich - 27/6/2018
presented by Good News Productions AG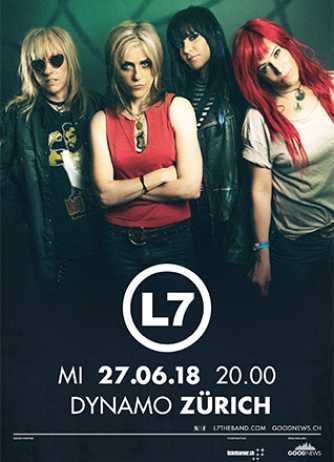 https://www.facebook.com/ramszueri/
The event at Dynamo in Zürich with L7,supported by R-A-M-S, has been truly successful and nice and energetic. A very good evening dedicated to Rock. Rock never dies and has no age: and indeed the audience was enthusiast and not bound to any age group. Everyone had fun and loved the music. I like the girls in L7, so rad and heavy! The mix of hard rock, punk and catchiness was enjoyable .and genuine on the stage.
The evening was warmed up by the Swiss trio R-A-M-S, Rock and Punk from Zürich, label Luxnoise. Rams on bass, Boris on guitar and Pidi on drums have done a good job! I didn t see the drum kit so near to the audience since long and the kind of drumming that was acted reminded me of the English band Sulpher. Cool that the three swiss Rockers are still engaged in music after the meeting with drumming Pidi Leuenberger in 2012. Check them out and support them!
L7 was so self confident! the show pumped up the people since the first note. L7 has released in its career six studio albums and three live albums. and reunited in 2015 and on the road worldwide to inspire new fans. Dee Plakas was not behind the skins due to her broken arm but Suzi Gardner, Jennifer Finch and Donita Sparks were in top form. And the drummer who filled in for Dee was nice. The new song I Came Back to Bitch, released in February 2018 was not missed in the setlist and a new album is in sight. Dont miss these girls when they are playing around.
Setlist L7
Andres
Fast and Frightening
Everglade
Monster
Scrap
Fuel My Fire
One More Thing
Off the Wagon
Slide
Crackpot Baby
Must Have More
Drama
I Came Back to Bitch
Shove
Deathwish
Dispatch From Mar-a-Lago
Encore:
Bloodstains
(Agent Orange cover)
Pretend We're Dead
Shitlist
Image Gallery R-A-M-S
Image Gallery L7