Review
MYSTIC CIRCLE - "Erzdämon"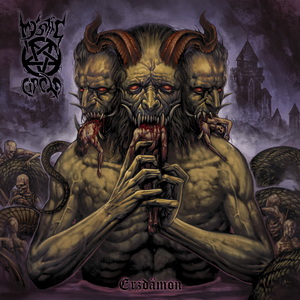 TRACKLIST
1. Erzdämon (Part 1)
2. From Hell
3. Unholy Trinity
4. The Scarecrow
5. Asmodeus And The Temple Of God
6. Welcome To The Midnight Mass
7. The Mothman
8. Skinwalker
9. The Princess Of The Deadly Sins (Erzdämon Part 2)
MYSTIC CIRCLE are:
Beelzebub - Vocals, Guitar, Bass, Keyboards
A. Blackwar - Vocals, Guitars, Drums, Keyboards
Mystic Circle Official | Ludwigshafen | Facebook
https://www.instagram.com/mystic_circle_official/
Fireflash Records | Heavy Metal For Eternity! (fireflash-records.com)
Erzdämon, the Archdemon, has been unleashed. The Archdemon is here and I like it so much. Excellent guitar solos full of sharp clarity, varied instruments, brutal drumming blasts, and infernal mood greatly bound with melodies. Vocals are mainly guttural, rasping and screaming growls; choruses are mighty and dynamic enough to offer a very enjoyable flamboyance. This is the melodic Black Metal to be fully inclined towards. From German Black Metallers Mystic Circle I didn't expect anything less than this level of achievement.
Concerning one of the Archdemons (Belial), a Dead Sea scroll states that in darkness is his domain, and that all the spirits of his lot are angels of destruction. This passage could be indeed the picture of this album, which by the way, is Mystic Circle's ninth studio album. "Erzdämon" brings the typical eruptive force and fierce fire of Black Metal, yet melodic motives play an important role as well as gloomy atmospheres and varied instrumental techniques. Indeed, this opus is not only ferocious, it is above all a well-balanced mix of intriguing melodies, choruses, orchestral elements, heavy, powerful and pounding chords, with influences that root in heavy metal and develop, in an aesthetic way, into extreme frames of assaults, tremolos, angry lead guitar solos and relentless riffages. Mystic Circle's two main members, Graf von Beelzebub and A. Blackwar, place Germany again to the front in the Black Metal scene worldwide. This success was announced: if in 2022 Mystic Circle returned and released their self-titled album which made them enter the official German album charts, now, in 2023, Mystic Circle have released one of the best albums of the year. If you are an extreme metalhead you will find Erzdämon brilliant as a companion for many of your activities.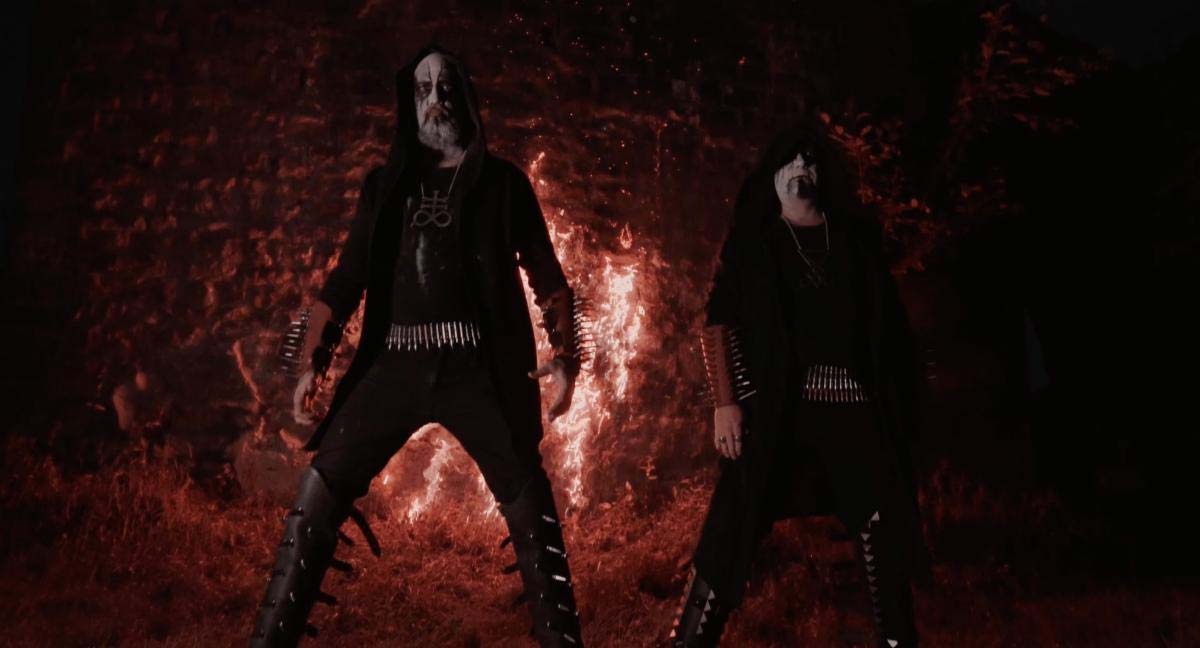 "This new album is a logical continuation and further development of the previous album, more detailed and leading more into the world of horror. The satanic, demonic themes got combined with mystical legends of old stories that will make your blood run cold. Musically this is evoked with new and darker sounds and samples as well as classic heavy metal parts", comments the band, who describes their new album as a mixture of "Drachenblut", "Infernal Satanic Verses" and "Mystic Circle". "We gave the album a German title because we wanna close a circle and go back to our early days. "Erzdämon" sounds powerful and sublime and represents the album 100%." And finally "The new record contains the fastest, but also the most doomy songs in the band's history".
The opening track "Erzdämon" is unmistakable since the "call"; it begins in fact with a percussive shamanic atmosphere and explodes in an involving melodic black metal with hooks and powerful riffing that invite to sing along immediately, putting the listener in an energetic mood. The recursive passages become stronger, being let free to take on the contours of an antheme.
"From Hell" offers classic Black metal structures and brutal, fast drumming though here too the very beginning is particularly enchanting and cold; short slowdowns of the apocalyptic picture add a touch of magic and mysticism. On the contrary, the lead guitar solos add fire to fire, while the very end of the song lets me remind of the movie The Ninth Gate.
"The Unholy Trinity" completes the previous track as a fast-paced run; in its body grows also a moment where dark ambient collides with an aggressive heavy metal lead solo, introduced by a change in vocals that suddenly turn into a mighty spoken menace. "The Scarecrow" has another memorable "call" and, in general, its melodic phrases are recognizable. In my opinion, this is a song that has a much-hidden sadness, in spite of all its evil vocals and guitar virtuosos, a sadness that is emphasized by the refined last piano notes. The haunting "Asmodeus And The Temple Of God" opens with a gloomy symphonic chorus before drums start terrific, uncompromising beats of fury while the slower-paced choruses provide for the evil sensation of being in the grand hall of a cursed place. "Welcome To The Midnight Mass" shows a kind of mercy by giving us a mid-tempo but in vain you look for peace. Here again we find an omnipotent guitar solo.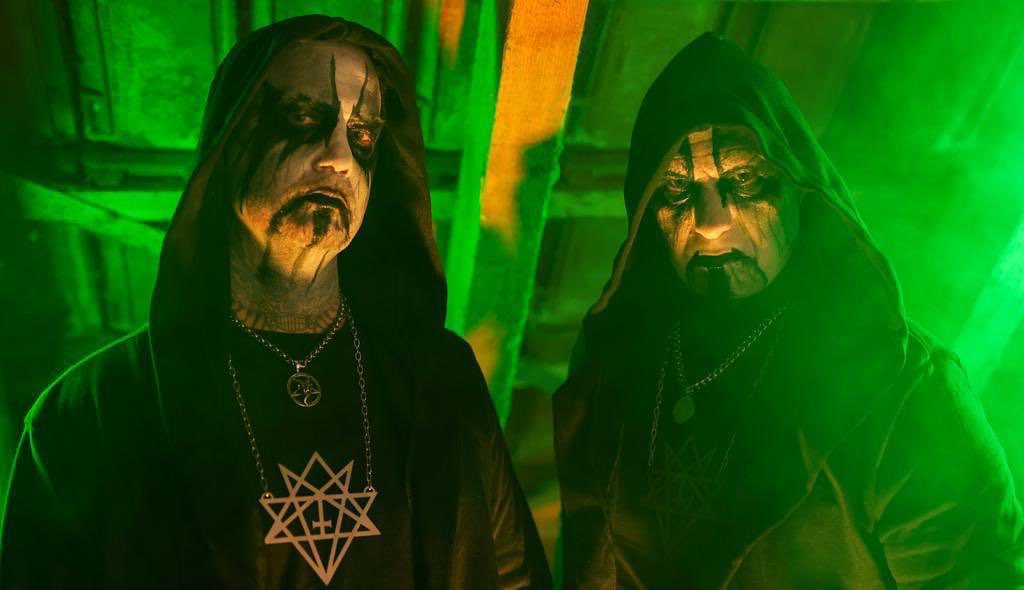 And now here it comes: "The Mothman", one of the songs I prefer. It is gloomy, beautifully melodic, catchy, fierce as much as we can now bear, bitter-sweet, cold, and warm. Superb, even because we are near the border of melodic, mid-tempo, nordic death metal. "The Mothman" can perfectly shine even in a compilation of multiple artists. Highlight of the song is another remarkable guitar solo.
The turbulent "Skinwalker", which opens with a questionable western-like intro, hyper-loaded with elements of Black and Death nothing adds to the value of this opus. Too sumptuous, maybe. Too inclusive. Strange thing, because drums put on the table a masterpiece of a performance, a battery with a double-kick attack that is not human. So I don't understand: is this track too punishing, maybe, or maybe some chords are really everything but catchy? It's a bit of an evil piece of metaphysics that requires more of one listening to be just faintly understood. Nonetheless, I have the impression that, intro apart, this may be the true most demonic piece of "Erzdämon".
The severe, solemn *The Princess Of The Deadly Sins" (Erzdämon part 2), on the contrary, is perfect and indeed this song perfectly closes the album. After much fire and ice, here comes the fog, the evil aura, the evil love, something arises and sets at the same time. Very interesting song, characterized by an excellent embroidery of guitars. Striking with its balladesque monochromatic tone which says it all and so do the assertive, commanding vocals.
Last, but not least, two important considerations: for the artwork Mystic Circle worked with Rafael Tavares again and the sharp production was still in the hands of Nils Lesser that has continued the work of the previous album. Like Sir Alf Ramsey said, "Never change a winning team"!
9/10
dalia di giacomo