"50 HEAVY METAL YEARS" ANNIVERSARY TOUR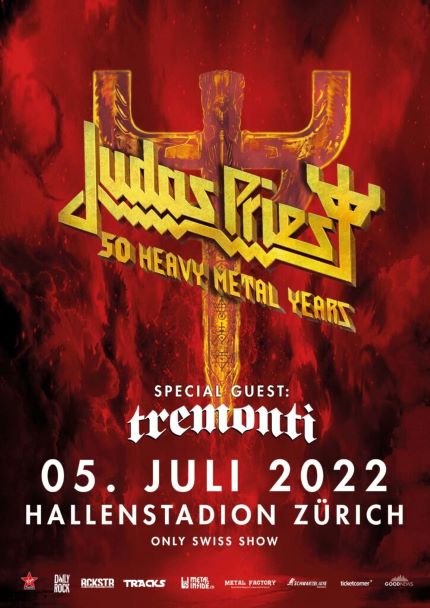 PHOTO GALLERY
JUDAS PRIEST
+ Special Guest TREMONTI
Hallenstadion, Zürich. July 5, 2022
Event presented by:
Good News Productions AG
© Photos by DAROC for GryphonMetal
Sharing these photos on social media (for example
fan pages, nonprofit pages) is permitted under fair use only,
without modifying them and giving full credits.
Do not use them for other purposes without our permission.
Summer 2022 has finally brought the Birmingham metal legends Judas Priest across Europe, with only one stop in Switzerland. Only one Swiss show however in Zürich, that has become the heart of Rock and Metal concerts in the Hellvetic Country.
Rob Halford (in black-golden leather suit), Ritchie Faulkner ( back on stage with the band already since March 4 at the Peoria Civic Center in Illinois), Andy Sneap, Ian Hill and Scott Travis started the concert with One Shot At Glory, followed by 'Lightning Strike' from the 2018 record 'Firepower'. The show , with encore of course, has been massive, you can read the whole setlist. Glenn Tipton has taken part to the concert during the encore with Metal Gods, Breaking The Law and Living After Midnight.
here https://www.setlist.fm/setlist/judas-priest/2022/hallenstadion-zurich-switzerland-7bb53640.html .
Special Guest has been Tremonti, and you can read Tremonti's setlist here:
https://www.setlist.fm/setlist/tremonti/2022/hallenstadion-zurich-switzerland-63b51e73.html
Our Daroc was there for you and took these beautiful pics. Enjoy!
Photo Gallery TREMONTI
Photo Gallery JUDAS PRIEST