P.O.D. –

Full

Circle European Tour 2019
Special guests: ALIEN ANT FARM - '68
Dynamo Saal- Zürich
February 17, 2019
Organized by Good News Productions AG www.goodnews.ch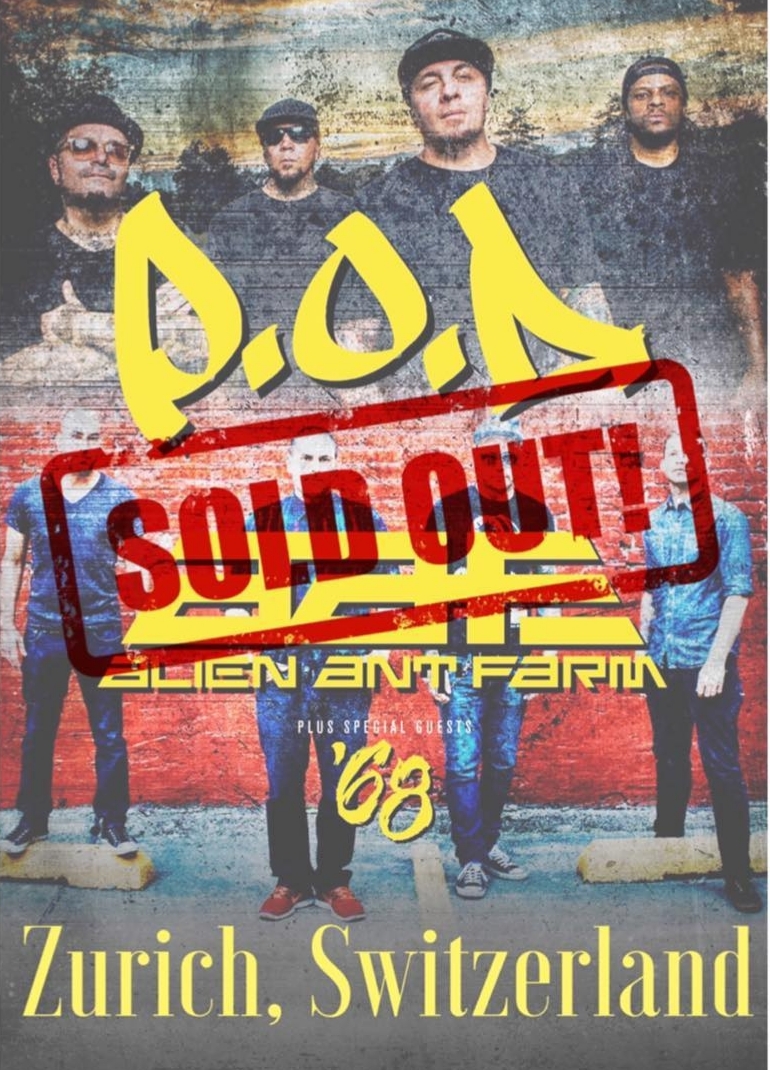 PHOTO GALLERIES and mini-review by Dalia Di Giacomo
All Rights reserved to GryphonMetal.ch and Dalia Di Giacomo
Yesterday, February 17th, 2019 , Zürich has warmly welcomed USA San Diego quartet P.O.D. and the European leg of their Full Circle Tour with a sold out venue and precisely the mythical Dynamo Saal . P.O.D are touring in support of their bright new album 'Circles' ( released via Mascot Records). Alien Ant Farm and the Atlanta noise punk duo '68 support P.OD. as special guests. This great trek got already sold out concerts during this tour and there will be also an extensive run throughout the U.K. P.O.D is one of the most influential bands in Nu-Metal and Alternative Rock and surely Switzerland could not miss the event. Nice, enthusiast atmosphere, cool setlist, and Sonny Sandoval with a young attitude was very interactive with the audience, Traa Daniels (bass) and Marcos Curiel (guitar) were in good shape. Drummer Wuv Bernardo was not behind the skins because he had to "take care of some business" back home in San Diego, Jonny Beats has been filling in. P.O.D.'s setlist is awesome with legendary hits like " "Satellite" , "Youth Of The Nation" and "Alive" and many beautiful new songs (introspective or explosive) like "Circles" , "Rocking With The Best", "Panic Attack". P.O.D. are among the kings of Nu Metal and this could be noticed already from the first song: "Boom", also coming from the Satellite era, like Satellite and Youth Of The Nation. Supportive and well prepared were the special guests Alien Ant Farm and the funny, talented duo '69. Yes, Rock veterans Alien Ant Farm have brought onto Dynamo's stage a well balanced setlist and have performed Michael Jackson cover "Smooth Criminal" . '68, the two-piece band featuring guitarist and vocalist Josh Scogin, formerly of the hardcore band The Chariot, and amazing drummer Nikko Yamada, have truly honored the meaning of percussive experimention with punk accents.

Go and see them! It's Metal and Rock Royalty, folks!
SETLIST ALIEN ANT FARM
Bad Morning
What I feel
Movies
These Days
Rubber Mallet
Wish
Never Meant
Attitude
Courage
Lord Knows
Sticks And Stones
Goodbye
Smooth Criminal
SETLIST P.O.D.
Boom
Rock The Party
Will You
Panic Attack
Rockin' With The Best
Soundboy Killa
So-Cali In My Head
Circles
Satellite
Southtown
On The Radio
Youth Of The Nation
Beautiful
Alive
Listening For The Silence
Image Gallery '68
Image Gallery Alien Ant Farm
Image Gallery P.O.D.