SEPULTURA "Machine Messiah"
https://www.facebook.com/sepultura

https://www.instagram.com/sepultura/
Nuclear Blast Records http://media.nuclearblast.de/shoplanding/2017/Sepultura/machine-messiah.html
Review by Matthew Haumschild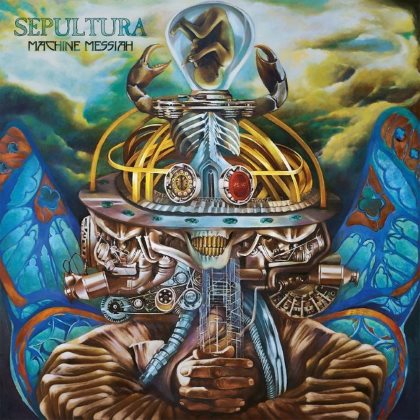 01. Machine Messiah
02. I Am the Enemy
03. Phantom Self
04. Alethea
05. Iceberg Dances
06. Sworn Oath
07. Resistant Parasites
08. Silent Violence
09. Vandals Nest
10. Cyber God
11. Chosen Skin
12. Ultraseven No Uta
Sepultura is:
Derrick Green - Vocals
Andreas Kisser - Guitar
Paulo Xisto - Bass
Eloy Casagrande - Drums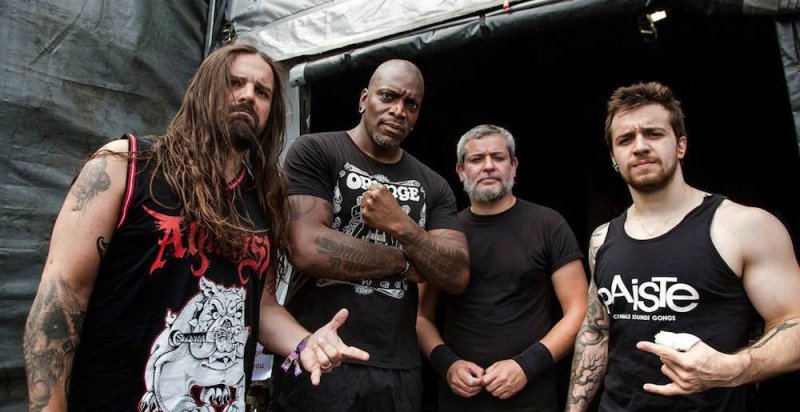 TRULY A MASTERPIECE OF THE GENRE
I just knew by listening to the first few tracks that were released on the iTunes preorder, that this album was going to be a great one. The video alone for "Phantom Self" is easily one of the more compelling ones I've seen in recent history. It felt to me that Sepultura actually has something to say, something that hasn't happened since "Chaos AD," which most fans know as a political sounding album. "Machine Messiah" is trying to convey that people should really look at the connection between man and machine and how connected we're becoming. Even typing this and thinking about the track, "Cyber God" I can't help but think of a concept comparison to Fear Factory, a long time label mate with both Road Runner and Nuclear Blast, which is a compliment.

What is Sepultura? What is any band really? Sepultura I believe is a band that shows it's Brazilian roots in nearly album they do, with a sound that could be described as aggressive but uses broad stokes and a knife instead of a scalpel when creating their signature sound. "Machine Messiah" has a totally different sound than any of the bands other albums and that can be taken with open arms or with a critical ear. The band departs a bit from it's signature sound which might be due to them recording in Sweden with Jens Bogren. I write this with all due respect for a producer that has produced many of my favorite acts such as Katatonia, Moonspell, Soilwork and others. Typically, these are all European bands with a sound that is distinctly European in nature and to see him work with a band from Brazil, from the third world whose sound that can be described as I wrote above, the album is going to sound different and it does sound quite different in a lot of good ways. I've been wrestling with and I won't be able to answer in this review, does it still sound like Sepultura and is this good or bad? Is change good or bad? Can they do it again with the next album? Is Matthew Haumschild going crazy? Probably.

How does this album sound different than my favorite album, "A-Lex," "Against" or "Arise?" The guitars are better focused; in albums past Andreas had this overdriven guitar distortion that's indicative with his sound where in this album, his guitar distortion had more of a crunch to it reminding me more of a cross between Metallica and Fear Factory which is actually a very very powerful combination however it is distinctly different from the sound he had before and I believe it's for the better, although I'm not sure how it would sound when he plays any of the songs on "Roots" live. "Roots" had this dark-muddy-slop of a guitar tone to it and the sound on this album is very different.
The drumming, the wonderful drumming on this album is different from "Mediator", granted that's one album with Eloy on it, and no disrespect for Ross Robinson, but the drums on this album sound clearer from the kick drums to all the splashes that Casagrande employs in his deadly arsenal.
Then there's the best part of them all, Derrick's singing. This is easily the best he's ever sounded. Bogren is the first producer that has actually brought out all that Green has to offer. Green has this wonderful range for being a baritone. Not many people have that naturally deep voice that could terrify anyone if done properly. On this album, he shows off the high-end screams along with death metal deep growls along with melodic death-metal singing typically found in the bands Bogren has worked with. This is easily the best he's ever sounded.
The more I listen to the album, the more I become fascinated by it and I keep asking myself, "Is this Sepultura?" I ask the question in happy curiosity because it really does not sound like anything they've ever done. When I listen to "Iceberg Dances," it reminds me more of a Dream Theater song than a Sepultura song. The arrangements remind me of a DT song on steroids because Kisser's guitar sound by nature is much heavier that Petrucci's. "Iceberg Dances" is an instrumental song so it's Xisto, Kisser, and Cassagrande just belting out this dreamy sounding heavy intrigue that sounds nothing like they've done before. This is the best Kisser has ever played on any Sepultura album, there are acoustic parts (Flamenco style), speed metal, and a progressive style. When I listen to the song and compare it to a Dream Theater song, I also think about the drumming, Cassagrande is laying down some excellent intricate work to go along perfectly with the guitar playing that will make people think twice about comparing him to Igor or Jean Dollabella.
"Phantom Self" talks about being haunted by what a person once was before something utterly changed his existence. It's a song that actually has something to say! Music can be read a few different ways, strictly entertainment that people can listen to then forget in a few months and seek out something new (which is typical of pop music) or they'll find real meaning within the songs themselves and this is one of those songs that has real meaning. It's a catchy-heavy track that does have some sing-along lyrics to it. This is a song that people in their late twenties through even forties could probably relate to as one gathers life experiences and then looks back and realizes how much they've changed. A fantastic track that will go down as one of the best they've ever written in the band's history.
"Vandals Nest" is a straight to the point in under 3 minute track that is speed-metal at it's finest along with Derrick's lower guttural vocals. It's very fun to listen to along with how fast Cassagrande is playing. His playing isn't just double kick drumming; he's all over the place! Towards the last third of the song, Derrick switches to this melodic screaming very reminiscent of Melodic Death Metal, or rather he pulls of a very good impression of Speed Strid (Soilwork) and just nails it and makes it his own. There is no other singer in metal that could pull off what Derrick does in this track, his baritone voice makes it possible. I hope that if the band ever reads this, that they play this song first live.

Overall it is the best album since at least "A-Lex," the jury is still out if it's the best since "Chaos AD." It is a career changing album that I think that every person who listens to metal should listen to, especially those who have strong opinions over Max leaving the band (it's been 20 years, get over it). It's truly a masterpiece of the genre, I can't wait to see them in May with Testament.
10/10
Review by Matthew Haumschild