Universal Pictures International Switzerland

STAR TREK BEYOND with
Chris Pine, Simon Pegg, Zachary Quinto, Zoë Saldana, John Chu, Anton Yelchin, Idris Elba, Sofia Boutella and Karl Urban

Directed by Justin Lin (Fast & Furious 7)
Produced by JJ Abrams

www.star-trek-film.de

www.StarTrekFilm.ch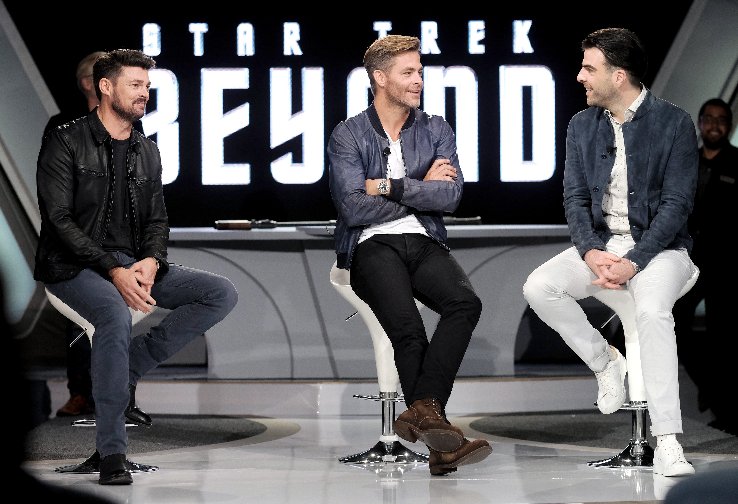 Star Trek Beyond Fan Event

HOLLYWOOD, CA - MAY 20: (L-R) Actors Karl Urban, Chris Pine, and Zachary Quinto attend the Star Trek Beyond Fan Event at Paramount Pictures Studios on May 20, 2016 in Hollywood, California. (Photo by Jason Kempin/Getty Images for Paramount)
A toast "to absent friends": "In loving memory of Leonard Nimoy " and " for Anton" (Anton Yelchin ,who played Pavel Chekov in the series, died in a car accident after filming had completed).

This time I want to begin my review underlining a detail which is seldom mentioned: the language. During the press-screen I was able to appreciate (as usual) the film in the original (English) language, well I can only hope that the translations in different other languages can transmit the same feelings, tension and humor. Told that, I must say that the movie is very spectacular, entertaining, humorful, rich in action. Third sequel of the "new" Trek cycle, this movie, all in all, doesn't disappoint the expectations. The only thing I dont fully like is the usual "villain framework". Star Trek Beyond shows again the well known formula: a misterious enemy turns out to be the villain of the day that wants to take revenge against the Federation. Therefore the background is more political and very banal than fantascientic. In few words, the special effects are more than great, the dialogues are really good, but the plot lacks intense imagination. Anyway the structure of the movie is captivating. Visually this movie is stunning (maybe too stunning: just think of Krall's swarm of tiny shiplets).
The scene of the destruction of the USS. Enterprise, ambushed in uncharted territory, is really outstanding, the soundtrack provides the right atmosphere, and the credit-song "Sledgehammer", sung by Rihanna, gets epic tones, as if it were a "James Bond" song.

When the DVD will come out, please get it in 3D , because the 3D effects are absolutely worth.
A strenght of the movie is some psychologic approach inside captain Kirk and his first officer Spock. The previous Trek film, "Star Trek Into Darkness", ended with the Enterprise that embarks in a five-year mission. Beyond takes place during the third year of that exploration mission. Kirk would like to become a vice admiral resigning the flight. Spock is quite touched by the death of "old" Spock (tribute to Leonard Nimoy) and wonders if his duties for his Vulcanian people would be better fulfilled in some other way than being a first officer of the Federation. At the end both will find again the motivation for boldly going where no man has gone before.

dalia di giacomo