STRIGOI - Viscera
REVIEW by DALIA DI GIACOMO
01 United In Viscera

02 King Of All Terror

03 An Ocean Of Blood

04 Napalm Frost

05 Hollow

06 A Begotten Son

07 Bathed In A Black Sun

08 Byzantine Tragedy

09 Redeemer

10 Iron Lung

ALL SONGS by STRIGOI

Label: Season of Mist

Strigoi is:

Gregor Mackintosh - Vocals/Guitar (Studio)

Chris Casket - Bass

Guido Zima - Drums

Ben Ash - Guitar

Sam Kelly-Wallace - Guitar (Live)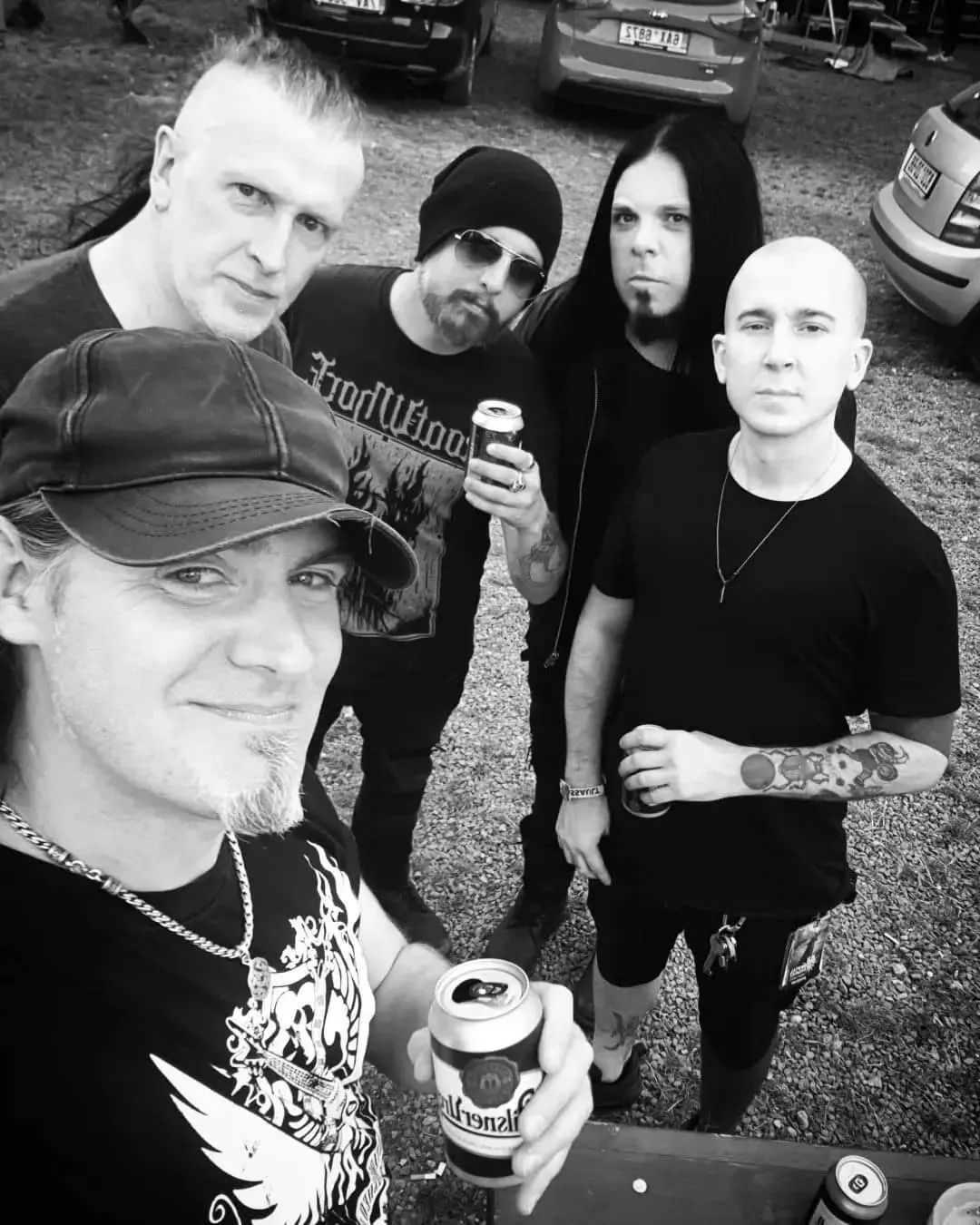 Recorded and produced by Jamie Gomez Arellano and Strigoi at Orgone Studios, England.
Additional recording/production by Greg Mackintosh at Black Planet Studios, East Yorkshire, England.
Mixed by Kurt Ballou (assisted by Zach Weeks) at Godcity, Salem, Massachusetts, USA.
Mastered by Brad Boatright at Audiosiege.
Album artwork produced by By Brian Sheehan at Legerdemain Art.
Layout, band logo and band sigil by Strigoi.
Band photography by Hal Sinden and Dan Newcomb at Eulogy Media Ltd.
Born from the ashes of Vallenfyre, just a few days after Vallenfyre played its last live show, Paradise Lost guitarist Greg Mackintosh, master of Gothic and Melodic Doom Death, and bassist Chris Casket (Devilment, Eastern Front, ex Extreme Noise Terror) announced the foundation of Strigoi. It was Anno Domini 2018. After the acclaimed debut album " Abandon All Faith" in 2019, Strigoi strike back in September 2022 with a terrific, superb second album:
"Viscera"
under Season of Mist.
After their first album "Abandon All Faith" Strigoi have rounded out their record and live line up: together with Greg Mackintosh and Chris Casket there are guitarists Ben Ash (Satyricon, ex Carcass) and, for the live shows, Sam Kelly-Wallace who played already in Vallenfyre, while the excellent drumming brought by Guido Zima, is a mighty infusion of rhythmic sickness. "Viscera" is released under Season of Mist.
"Viscera" is an outstanding example of the dark appeal of extreme metal. Or, better said, it's a step further, a redefinition of Blackened Death Metal and Doom in music and lyrics because each track, instead of being simply a song, is a picture of damnation. Indeed I would like to underline two things at once: the fantastic sound, in particular an impressive merciless, rhythmic session with mighty drums (for example in the song Redeemer), distorted guitar sounds and choruses of eternal bitterness. Second point, Greg's harsh and bloodthirsty vocals perfectly fit in this dimension of the Undead. Greg Mackintosh is becoming a true vocalist, a thing that is not easy in this genre. Moreover, his guttural growls still let us understand the lyrics and his vocal approach is peremptory, categorical, commanding.
"Viscera" delivers a very dark extreme metal where Blackened Death and Doom Death and Crustcore are united to create a cinematic, obscure feeling of miserable discomfort and even macabre, abyssal fear. Therefore the songs of "Viscera" are not only slow but also savage and pitiless, this is to say they don't only excruciate: they blast and crush too. Before your very "eyes", paths of doom meet blackened tremolos that can meet then brutal and speed riffs. Drums are powerful, the whole guitar carpet is powerful and often scratchy, biting, caustic, and vampiric with the lead guitar of Greg Mackintosh that gives the essential unmistakable flavor, being creepier and even more visionary than in Paradise Lost.
United In Viscera

opens the album, propelling us into a melodic, doomy yet very energetic atmosphere of desperation. Highlights are the dry drumming and the punchy kicks, the menacing and majestic lead guitar that anyway doesn't steel the stage to the vocals and is perfectly intertwined with the other biting strings.

King Of All Terror

acts like a hammer on our psyche. Fast and slow, King Of All Terror could be the song to describe Edward Munch's iconic painting The Scream.
Concerning
An Ocean Of Blood

Strigoi state:

"We chose this track as the third single taken from our new album VISCERA due to it's almost cinematic take on the internal and external conflict of existence. A transformational journey into the bloodshed and horror of the human condition."
Napalm Frost

has tons of blast beats and biting post-punk segments that simply dim the works of many so-called leading bands.
Hollow

is

dissonant, down-tuned, infernal, mysterious with sick, bone-breaking rhythmic strings.
A Begotten Son

starts

like a kind of cosmic sludge but becomes a terrific, roaring and whipping and rabid blackened death metal in the true sense of the word.
Bathed In A Black Sun

is for me one of the best songs of 2022, my fave song of this album. In this turbulent, very mighty, yet also melodic track each metalhead can find what the heart desires.
Byzantine Tragedy

seems to emerge from ancestral crypts of terror. Coming after Bathed In A Black Sun, Byzantine Tragedy seems so evil and menacing. The incredible fact is that track, which begins tremendously menacing, becomes even cosmic, and in a way futuristic towards the end. All this is given just by nuances of the chords.
Redeemer

is the king of the drumming force while the rhythmic guitars reach one of the most potent grind and crunch points a metal band can express.
The album closer is the strong track

Iron Lung

which brings a feeling of unbearable grief but also a marvelous sadness thanks to its great melodic segments.
Lyrically "Viscera" explores many faces of horror from the psychic point of view and from the "overnatural"/otherwordly one. Loneliness, isolation, rejection, subjugation, and lack of freedom are some of the conceptual subjects, and then even darker matter springs up: damnation, unholiness, almost apostasy. "Viscera" is more than the legitimate heir of "Abandon All Faith", it gets a homogeneous direction towards obscurity because t
he darkness expressed by all songs
reaches monumental heights.
No doubt about this.
Welcome to the infernal reign of shadows.
10/10
review by dalia di giacomo
Photos source: Strigoi's official FaceBook page