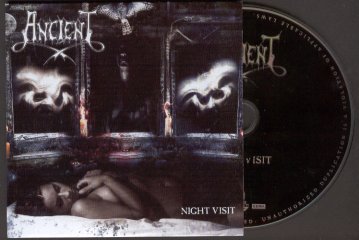 1.Envision The Beast
2.Rape The Children Of Abel
3.Horroble
4.Night Visit
5.Lycanthrophy
6.Night Of The Stygian Souls
7.Fuel The Flames
8.The Truth Unveiled
9.The Arctic Mirage (Bonus) instrumental
10.Out In The Haunted Woods (Bonus) instrumental
Aphazel – lead vocals, acoustic - rhythm & lead Guitars, keyboards
Grom – drums and percussion, backing vocals
Dhilorz – bass, acoustic - rhythm & lead guitars, backing vocals
Jesus Christ – rhythm and lead guitars, backing vocals
guest and session musicians
Lord Kaiaphas - Guest Lead Vocals on Rape The Children Of Abel
Andrea Trapasso - Session keyboards
Alex Azzali - Additional Guitars on Night of the stygian Souls
Moonbeam (Iblis) - Violin on Envision the Beast and Night of the Stygian Souls
Neviah Luneville - Female vocals on Envision the Beast
Omega - Female Vocals on Out in the hounted Woods
ANCIENT: "Night Visit" ancient metal blade
recorded by Andrea Trapasso and Alex Azzali at Mirage Studios (Inverigo - Italy)
produced by Ancient and Alex Azzali
mixed by Fredrick Nordström at Fredman Studios (Göteborg - Sweden), assistant Henrik Udd
mastered at Alpha Omega Studios by Alex Azzali
cover artwork by Fabio Timpanaro - Neon Trinity Kill Studios
---
When the incomparable canonic heritage from Norway meets the subtle, very dark yet lively occult Italian spirit there is nothing that couldn't be reached in Black Metal. And this formula is not really so widespread. Therefore Ancient are the right group of artists that can handle with Old School but without appearing old-fashioned, indeed they insert new elements full of temperament and deep ancestral darkness, whose roots don't go back to Norway only. And when the Nordic feelings and care and precision meet that precision and enthusiasm and obscure fascination that Italian too are able to radiate (when they want) , the result is soaked with incredible qualities and good points. Ancient as Ferrari of Black Metal propose the follow up to the already remarkable Proxima Centauri, getting indisputably once and for all a place of honour in the recent powerful and exciting productions of Black Metal 2003/2004 . Night Visit is a super album from a band that the true connoisseurs of Black have always appreciated. In fall 2002 when i wanted to see them live in Sursee, attracted by the well conceived Proxima Centauri, i was more than rewarded cause i attended a very interesting concert in which i noticed the good balanced stage acting, the enthusiasm and the genuineness of all members that believe in what they do. In Night Visit i find again these features: i find genuineness, precision, enthusiasm, dark and obscure credibility, respect of the canons of old , but also much up-to -dated contents. Ancient move with the times, remaining timeless.
Night Visit shows an exact drumming, full of power and actually propelling, somehow blasting and well dynamic like in southern attitude . Night Visit shows also elements of Heavy metal and Death and Gothic . The symphonic approach is only a light allusion, keys are there to increase the atmospheric timbre, but it's guitars and bass that remain the driving metal force (together with drums of course) . Moonbeam's violin is very intense , female vocals are occasionally present though i wouldn't find necessary to insert them at all.(Deadly Kristin is now abroad and couldn't assure her participation to recording and live appearances). Aphazel 's evil screams are biting, malevolent , powerful, creepy. Somehow they have the same fascination that was typical of Immortal. Interesting to notice is that all members of the band are involved in the composition: we have tracks signed by the cool trio Aphazel - Dhilorz - GroM, that are the darker , the gloomier ones, and tracks composed by Jesus Christ , which are the rock n' roll based Horroble and Licanthropy , this latest one enriched with enthralling loops and a catchiness that could make of it even a club track but without any compromise. I find in Night Visit a formidable sound too: the instruments are mixed nevertheless well recognizable: each one as defined entity. And when Fredrick Nordström asks amazed to the band where the album was recorded, well ... the recording in question must be a bit of sensational. Night Visit was recorded at the Mirage studios in Inverigo (Italy), which are pop studios equipped better than an average metal studio. Alex Azzali, who is Ancient's live phonic technician has intensified all the abilities of the musicians, enhancing the timbres , leading them to potency of heaviness. To record in a pop studio with a metal producer, to mix everything then at the legendary Fredman Studios and to master at the Alpha Omega Studios, was a very good idea: all this made of Night Visit a true sonic delight. No traces of those "electro-industrial" alchemies acted by super producers that pump up weak bands. In Night Visit there is "only" a kind of three dimensional sonic relief: a contrast between music attacks and emptiness. Every detail well highlighted. The impression received is realism: the listener is there together with the band . You are there with them in the middle of nowhere, in the middle of another dimension. You are there in the middle of the fire evoked by the relevant tremendous opener Envision the Beast where the rhythmic section is a weapon shooting blasty apocalyptic, very heavy fast riffs. Tempo changes are round and optimal, the gothic-like intermezzo where the violin of Moonbean underlines the emotionality is spectacular also because comes to us totally unforeseen.
You can find yourself in the middle of frozen horizons of the instrumental bonus track The arctic Mirage. Or you can fully taste the cadenced Immortal /old Dimmu Borgir -oriented The Night of Stygian Souls. Or you are in the middle of the limpid nostalgic metropolitan sadness of The Truth unveiled which bursts out into a an aggressive Death/Black. Or you will be poisoned by Rape the Children of Abel (with Lord Kaiaphas as guest ) or overwhelmed by the killer Fuel the Flames. Do you want to receive a night visit?

rating: 9.4/10