I bet they put on a great show, probably better than most.
The guitar sound, for rock, is actually my favourite part about the sound of the band.
This is going to be one of those good news bad news reviews. I must inform you, my reader, that this is not a metal band. I say this because this is a metal website and I didn't want to give you, my reader, the wrong impression. To, risk further this review sounding more like a blog, I'll get right down to business.
Barbeque Barbies is a rock band that's very reminiscent of other like bands that came out in the late 70's and 80's. I found it rather difficult as an American to find any information on the band other than they're five attractive women from Finland. They're MySpace page (yes, MySpace) looks as if it's been deserted, www.barbeqbarbies.com is all in Finnish and their Facebook page…although in English, has nothing but tour dates in the info section. Why is this so important if all I'm doing is listening to the music? Well, I feel that it could give depth to the music which I'm trying to link with their music.
I'll admit, a lot of the songs are catchy, I found it hard for me to relate to any of the songs on a personal level. You might then just retort with, "I don't need that, I just need something to listen to without taking too seriously." Well, then this album is for you then. It's not a bad thing by any means to say this, so please, this is not a criticism.
Good points: Although I think the vocals could be tweaked a little bit, I thought they could be a little louder in the mix, but not by much, their singer, Niki, has a very good rock voice, I wouldn't count on her to sing anything else, although, if she sang more harmonies…it could make things more interesting. The drumming, I don't have any complaints, I thought it was pretty standard drumming, I would say that it's not exactly straight forward and that anyone could do it, but it's creative when it needs to be. The guitar sound, for rock, is actually my favourite part about the sound of the band. It's more distorted but not enough where they're a metal band. It's a sound that I think that most guitar players are looking for, for this style of music.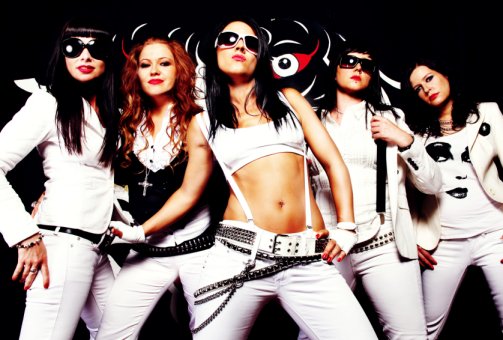 Bad points: Couldn't hear the bass that well, at least through my headphones or in my car. I blame the mixer on this one. Although, the songs, are good to listen to on occasion, I couldn't apply them to my daily routines, meaning, I couldn't run to this music, drive at high-speeds, or relax and ponder. The songs are catchy but I couldn't get them stuck in my head. I hate writing this because…they're truly not bad songs! But again, this is me, a metal guy reviewing rock, if you really dig rock or hard-rock, then this might be different.
Some of the songs of note include: "Aggression," "Spell," and "New Direction." Those tracks are catchier than the other ones and one that'll likely survive my final cut. "Wig-Wam Bam" is a silly song since it just doesn't make much sense to me, but it's a fun sounding track.
My final thoughts, I bet when the music is much louder and in a live setting, it sounds even better. It seems like this is a much better live band than they are a recording band and I bet they put on a great show, probably better than most.

7/10
---
written by Matthew Haumschild
www.facebook.com/matthaumschild