war and misanthropy
using human history as a backbone.
Benatnash is a Symphonic Medieval Black Metal formed in México City in 2001 by Salaí Ereshkigal y Baal Taran.
Benatnash is a star of the Ursa Major constellation, this star since Mesopotamian times announces disasters and destruction. According to the legend when this star shines and her crimson light fills the sky, the great prostitute will ride triumphant to bring the end of humanity. The main concept of the band is war and misanthropy using human history as a backbone.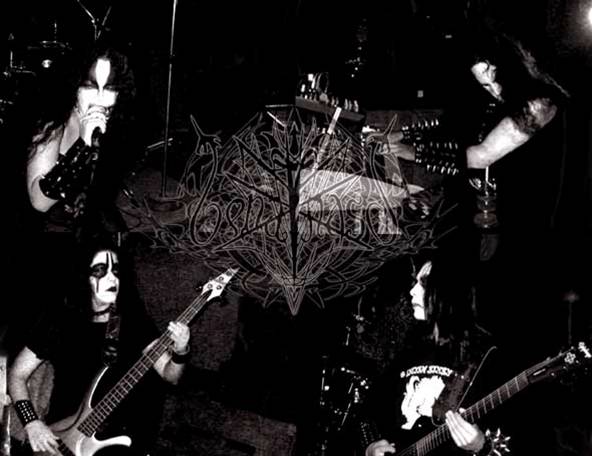 This is definitively an excellent production. The material is presented in a professional way and features excellent production and a prime quality booklet.
This medieval master piece begins with a great intro called "War Prophecies" an epic brief moment of peace before the war is unleashed.
The second track is called "Black Cyclone", a real tornado of hatred and magic. The structure of the songs presents all the required elements: the brutality and the melody, the darkness and the aggression.
This song features the creepy keyboards that will lead the way thru the whole production. As well as an angry powerful vocal performance also complemented with mid-paced harmony filled sections. The emotions run high as Salai preaches about the imminent doom of the human race.
Although I'm not a huge fan of the programmed drums, there seems to be a huge effort to make them as human as possible with lots of speed changes and surprises to the listener. The thing that I really liked about the drums is that their sound is crystal clear, so they really allow the listener to enjoy the components of each track instead of the typical black metal wall of drums.
The third track "Red Storm Of Yi", give us a minute of acoustic heaven before pouring a storm of corrosive vocals.
In the 4th track "Great Mother Of Doom" There are some great melodic parts that will take in a journey to an ancient time, a place full of torment and tales of an upcoming reign of chaos and destruction. It is indeed a recollection of horrific prophecies. And I must tell you that it was my favorite song.
The creative writing of the incredible talented Salai is impregnated in every track. You can't help to surrender to this sonic world they have created, and travel through the landscapes full of burned corpses and apocalyptic remains.
The fifth track "Benatnash" must be a live killer. It's a song with a special meaning for the band.
There are some other great tracks in this production like the 8th track "Necrocosmos", a real atmospheric piece of art full of a creepy cemetery-like feeling, or "From Eternal Glory" an incredible sonic battlefield.
This is definitively a unique production, both in their musical and philosophical approaches. A must have for Black metallers everywhere. So buy it and surrender to it as the story of the destruction of mankind unfolds before you.
Rating: 9/10
Alex Ramirez 09.01.2008
---