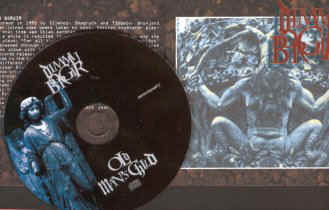 Dimmu Borgir:
1. Master Of Disharmony
2. Devil's Path
3. Nocturnal Fear (Celtic Frost-Cover)
4. Nocturnal Fear (Celtically Prosessed)
Old Man's Child:
5. St. Aidens Fall
6. Seeds Of The Ancient Gods
7. Manet Sorgfull Igjennom Skogen
8. The Old Man's Child
9. … Og Jeg Iakttok Dodsrikets Inntog (Outro)
Dimmu Borgir (1996):
Shagrath (Vocals, Guitar, Keyboard)
Silenoz (Guitar)
Nagash (Bass)
Tjodalv (Drums)
Old Man's Child (1994):
Galder (Vocals, Guitar, Synthesizer)
Jardar (Guitar)
Tjodalv (Drums, Vocals)
Bryniard Tristan (Bass)
review by Boris "Azrael" Witta ___
---
This is about the third time the split-CD of Dimmu Borgir and Old Man's Child is released. In fact, the music is still the same as on the Mini-CDs "Devil's Path" from Dimmu Borgir, 1996, and "In The Shades Of Life" from Old Man's Child, 1994. It's a very interesting thing: If you listen to the Split-CD (also once released under the title "Sons Of Satan Gather For Attack"), you might be very surprised of the sound. "Devil's Path" was originally released just before the classic "Stormblast", and Dimmu Borgir played a very different way of Black Metal as the use to play today. It's very atmospheric, but also kind of rough, the keyboards are most of the time in the background and Shagrath screams a lot more hysterical than today. The production is absolutely underground, something that became impossible for the Norwegian band. I don't know, but in a way, I like the old Dimmus more than today's, but that's just my opinion. Everything starts with the probably best intro I ever heard. It's fearsome, hypnotic, and you know that something big is coming, something, that will destroy everything, and so it comes. "Master Of Disharmony" is an absolutely classic and was also on the best Dimmu-album ever, on "Enthrone Darkness Triumphant". The song changes between blastbeats and midtempo, it's always very aggressive and hateful, Shagrath screams and shouts his lungs out of his body and there is also a short, but very melodic guitar-solo. As I said before, the keyboards stay in the background and dominate just a few parts of the song. The next song is one of my absolute Dimmu-favourites and I have no idea, why this song didn't appear on a regular album. Always fast forward, with an intense and brutal-beautiful atmosphere and superb guitar- and keyboard-harmonies and very impressive "I serve darkness!!!" – screams, "Devil's Path" is the highlight in this Split-CD. After this song, you first have to breathe in and calm down, because "Devil's Path" is very agitating. The following "Nocturnal Fear" is a cover from Celtic Frost, and it's the most rough and minimalistic song of Dimmu on this split. I don't know the original, but I liked the song from the first moment on. I don't know why they put two versions of "Nocturnal Fear" on the CD, also because the differences between the two versions are minimal. Anyway, it's a great song which finishes the Dimmu Borgir-side of the split.
Also Old Man's Child changed their music a lot since the Mini-CD "In The Shades Of Life". Today, they always sound a bit like the Dimmus, but in 1994, they were totally different. Lots of atmospheric parts appear in the songs, and sometimes you could mean, that there is a Pagan Metal-band playing. All songs tell stories from the past, from ancient gods and when I listen to the songs of Old Man's Child, I always have the feeling to be out in the brutal nature, with wind, snow and ice, and if you're reading the Edda (the "bible" of paganism), these songs are perfect to underline the ancient verses. Most of the melodies are played by the very variable guitar – there are also some Spanish-sounding acoustic ones – and also here, the sound is very underground, but perfect to underline the ancient atmosphere of the forgotten past. Another attribute for Old Man's Child's sound is romantic, lots of parts are just beautiful, for example the middle-part in "St. Aidens Fall" (these keyboards, fantastic!). Majestic and glorious, that's what "In The Shades Of life" is, and Galder also shows his great clean voice. But aren't just melodies, there are of course also harsh, brutal and aggressive parts. The last track on the split-CD, the Norwegian "...Og Jeg Iakttok Dodsrikets Inntog" is the perfect outro, once again atmospheric, beautiful melodies, no guitars, just sounds and an ancient voice speaks mighty words… A fantastic end, which animates you to listen to the split-CD once again.
All in all, I like Old Man's Child a bit more than Dimmu Borgir, the two bands enter into a perfect symbiosis, and "Devil's Path/ In The Shades Of Life" is essential for everyone, who likes underground Melodic Black Metal, which spreads an ancient and dark atmosphere. Great stuff!!
Rating:
Dimmu Borgir: 8.5/ 10
Old Man's Child: 9/ 10