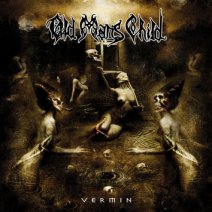 Enslaved And Condemned
The Plague Of Sorrow
War Of Fidelity
In Torment's Orbit
Lord Of Command [Bringer Of Hate]
The Flames Of Deceit
Black Marvels Of Death
Twilight Damnation
...As Evil Descends
Galder Ė Vocals, Guitars, Keys, and Bass
Reno H. Kiilerich Ė Drums
Band Photo: Katja Piolka
Itís consistent and thereís no sign that Galder has sold out. But Iíve heard better from him.
Absolutely stunning. I think itís amazing that the whole album was entirely conceived by one man. Besides the drumming, everything was recorded and played by Galder! Written, sung, and played every instrument. Truly, this man has talent! Old Manís Child has been compared to Emperor and Dimmu Borgir in terms of performing and recording the best Black Metal known to man. The guitar work on every song is a work of art as are the keyboards. It makes me wonder what exactly is going through Galderís mind since heís done almost every OMC album in this fashion. Also, I am a bit curious as to why he didnít use Nick Barker for the drumming.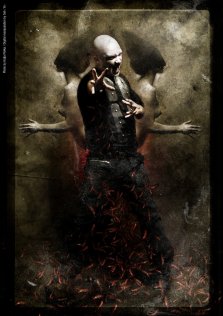 The first track, Enslaved And Condemned isnít exactly commanding by any means, however I do consider it a classic track by Old Manís Child which picks up from their previous album, ďIn Defiance of Existence.Ē Itís everything one could expect from OMC. Singing that only the deranged could understand, melodic guitar work, and keyboard parts that belong to the insane mind. Itís not blazingly fast in tempo, but it makes its point using complicated guitar parts only worthy to a master like Galder. If it werenít for the keyboards, I would say this song is more melodic black metal rather than straight-up black metal. Now, In Tormentís Orbit, the listener gets to hear some of that classic black metal that we come to know and love. Fast drumming, more singing that no one can understand, and more guitar work that would make anyone envy. The pre-verses in this song are just stunning. Fast paced drumming with keys in the background that are just to die for. Cool track name too. Now a track that has a cool beginning is track 6, The Flames of Deceit. Chugging guitar riff with a steady fast beat. Although at times it seems that this song is a bit one dimensional until the chorus when Galder incorporates all the other instruments in the song. To me, this seems more like a melodic-black metal band like Dimmu Borgir (of which he is the lead guitar player) than classic OMC. Cool song though, this one I highly recommend. Now, Twilight Damnation is a cool song name as is the song. Itís very deceptive with the acoustic guitar intro. Once the electric guitar and cymbal crashes hit and the tempo is raised at least by five, then its classic black metal again! Fast drumming and just an insane guitar riff that makes me speed in my car. However, during the middle of the song, Galder plays an unusual keyboard/piano part which changes the dynamic of the song. By the half-way mark of the song, everything sounded entirely different. Some would say that this is work of a genius but I call it confusing. I would forget what song I am listening to half way though.
I couldnít go wrong with the production of this album. Although as my usual complaint, it could have used a bit more bass in the mix. Not necessarily bass guitar but bass in general. Especially in the kick drums, it seems as if the drums were triggered entirely and not micíd and I could easily tell this. It seemed very mechanical and very digital in recording. The guitars sounded great, however they all sounded the same. What people do in the studio is record several tracks of guitars and in most cases they change up the guitar itself to add dynamic. Galder did not. It seems that he was using the same two guitars on the whole album and it showed. After awhile, every song started sound the same. Which is bad for the listener for he or she could get bored listening to it after awhile. But itís consistent and thereís no sign that Galder has sold out. Overall itís not a bad CD, but Iíve heard better from him.
rating: 7/10
Guitars seem to get a little bit

lost in the forest of keyboard and sample harmonies

I was really surprised, when I heard, Galder would bring back Old Man' s Child again, as I supposed, he would be to busy due to his playing with Dimmu Borgir. The break that the band is taking seemed to be a little annoying to him. So he took all ideas that didn' t fit to Dimmu and melted them to another Old man' s Child album. A bad day ended in sheer happiness due to these news.

"In Defiance of Existence" is in my eyes one of the best bombastic Black Metal albums ever released, and to reach its quality or even top it, seemed a little to much of optimistic thinking to me, the more as being in a band like Dimmu Borgir is a very hard and exhausting job. So, as i thought, with "Vermin" the band (or better said one man project) seems to arrive a little bit exhausted to the finish line. Vermin is really a good album, no one can deny this, but the whole seems to have become a little bit thinner and losing power.

The production of Vermin is very good, but not so accurate as the last releases, and so for example the guitars seem to get a little bit lost in the forest of keyboard and sample harmonies. The whole a bit to dull could surely have been improved with a little bit more dedication, this is my thought, but perhaps I am totally wrong with it.

The compositions are very interesting, captivating, and catchy. To name a listening recommendation is a pretty hard thing, as every song is driven by its own melodies and refrains, that are in their special way typical Old Man' s Child. I would like to mention The Plague of Sorrow, that proposes itself, in despite of the disturbing noisy intro, as a masterpiece of bombastic Black Metal. Very easy listening, but at the same time effective. Also to name is Black Marvels of Death, a song with a very surprising beginning do to the unusual guitars, that finally float into the song itself until being taken again towards the end.

In my eyes "Vermin" is a good album that is hard over the average of black metal releases. I surely will listen to it many times in the near and the far future. At the same time as I feel pleased about it, I also am a little bit sad about the circumstance, that Galder has been swallowed by the moloch Dimmu Borgir being finally degraded to a simple member, while his whole potential can' t be used for Old man' s Child.

I hope this won' t be the last chapter of one of the best bands of this music style, so I 'll dwell in hope looking forward for more...

rating: 8,5/10