Destroy all the Holy.
Furious and crushing Black Metal killers
Attera Totus Sanctus. In English: Destroy all the Holy.
By now, the message should be clear. Since 1993, the Swedish Dark Funeral spread their satanic philosophy, and this album is their fourth chapter of blackness. First and most important question: Did the ineffable kings of darkness top their masterpiece so far, "Diabolis Interium"? Answer: No. But, and this is a big but, the quartet created another Black Metal-inferno on a very high level of quality. What is new, what's different in comparison with "Diabolis Interium"? Well, first of all, the voice of Emperor Magus Calicula has changed its way of expression, the maniac shouts and screams are more hysterical, and sometimes, this sounds a bit special. There might be people who will get problem with this fact. Me not.
Second change: The songs need more time to grow, most of the time, the rhythm guitar dominates, the melodylines, the freezing, destroying "harmonies" appear more subtly than ever before. But when discovered, you will be fettered by them. Best examples for this is the opener "King Antichrist", in my opinion the fastest Dark Funeral-song ever, where Blast-monster Matte Modin shows all of his abilities. Also "Feed On The Mortals" needs to be counted to the catchy songs.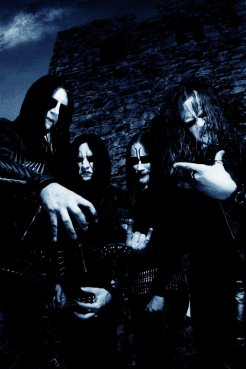 On most of the album, Dark Funeral didn't reach their target to compose more slower songs, but I guess this is also absolutely not necessary. A true fan of the Swedish horde wants fast, furious and crushing Black Metal-killers, and that's what he gets most of the time on "Attera Totus Sanctus": "King Antichrist" (as mentioned before), "666 Voices Inside" (cliché-title of the year, but the track with the highest mark of mediocrity, the riffs are just too simple), "Atrum Regina" (heroical!) or "Final Ritual" are all reigned by blastbeats. Also the titletrack deserves our attention: evil growing, with a fanatic, total gripping chorus and slow parts including roaring doublebasses, and last but not least, a small but kind guitar solo. And of course, there are also blastbeats… And here the slow song: "Atrum Regina" starts with sad, melancholic melodies, and then it's time to bang, Midtempo fucking rules! A song in the tradition of "The Goddess Of Sodomy" from the last album.
So, the conclusion: "Attera Totus Sanctus" is the logical next step of Dark Funeral on their satanic march. Then why "only" 8 out of 10 points? Well, some songs ("666 Voices Inside", "Angel Flesh Impaled") don't have the little shred, which makes a very good song to a top song, a classic, and as I said before, the songs need more time to grow than before. But one thing is clear: Dark Funeral are unable to create a bad album, and they show this impressive with "Attera Totus Sanctus".