---
review by dalia "gryphon_spirit" di giacomo ___

As magnets find the iron,
Darkmoon will find you.



Lyrically focused on some darkest aspects of human nature, "Apocalyptic Syndrome" develops a basically melodic death metal into a clear style, enriched by incursions into Thrash without leaving that original contact with Black Metal, the band has always had. This Basel based Swiss band, is not only one of the most impressive proposals here in Europe, is a well definite personality in melodic death, having found and refined a own personalized sound and style. In few words, with this second full length (released again by CCP Records), Darkmoon have reached that unmistakable point of characterization through which you would recognize them among thousand other groups.
This album had the not easy task to top the previous one "...of Bitterness and Hate". The goal has been reached. With an evolution. The production is even better, the sound is mature revealing the passage into professionalism. Darkmoon always proposed addictive attractive songs, but now, with "Apocalyptic Syndrome" we have no longer an interesting emerging local musical ensemble, we have a true well merged combo whose features have been preserved yet improved and enriched. We still have the addictive musicality, we still have that typical guitar intertwine with an unmistakable timbre half way between Norwegian style and balalaikas, we still have the grating bonecrushing rhythmics, we still have Matthias Borer' s strong commanding vocals, we still have the eruptive extreme force united with memorable dark, sinister phrases. But the enhancement involves the coordination of the sound, the reliable drumming, the advanced richness of ideas which creates more variation in the compositions, in a more extended backing vocals who add screams to the severe, but always decipherable growled singing and, finally, even deeper social oriented lyrics.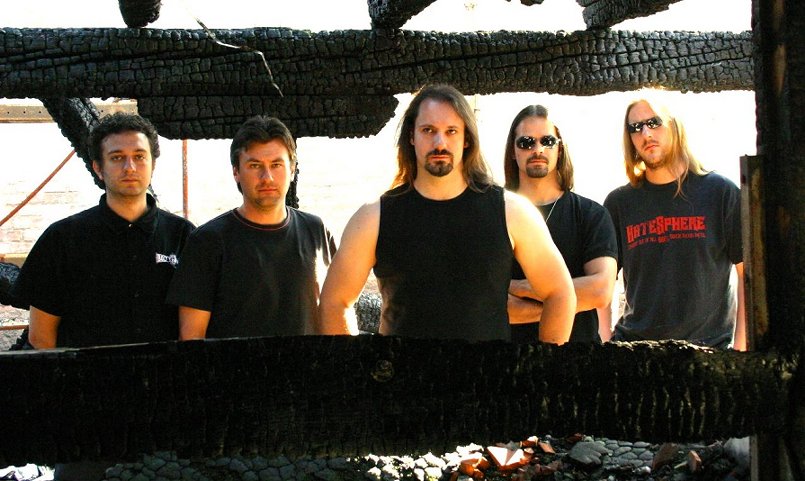 The crude authenticity of death metal is unaltered, giving a highly appreciable product, without any ugly commercial glossy elaboration, like, unfortunately, many extreme bands present nowadays. Mellow glossy surface has nothing to do with this kind of metal, therefore in Darkmoon the melodic death fans can find everything they really need. Both contents and execution are optimal and worth of a world wide attention.
Last but not least, in this album, Darkmoon master pace changes with fast violent combustion and slower unforgettable breakdowns and embroideries within the same song.

Lyrically the human being is the protagonist of this album. Human beings can be a threat for themselves and for the whole planet. But they can be able to react, to survive to their worst actions. Thrash oriented opener Apocalyptic Syndrome (lyrics by G: Giamboi and M. Borer) is the newest song, with a kind of atypical intro/outro. It expresses with this title the essence of Darkmoon music, which is indeed apocalyptic syndrome pure.
My Misery, after a slow almost doomy intro, unleashes a thrash/death grenade enforced by vocals that spit fire and menace, the menace of a depression with much rage and without escape.
The Hate still burns is a song which describes the sense of revenge of a man abused and raped in his childhood by a priest . Child abuse is for lyricist and singer Matthias Borer one of the worst crime, even more when perpetrated in a so called and presumed-to-be "holy" place. The music is engraved in a melodic death that crushes your spine.
The almost anthemic Caravan of the Dead, exceptional in its cadenced proceeding, tells about a particular detail of the Holocaust, experienced by the site of the victims who are admired for their force, for their survival instinct, for all the capacity a human being can express in order to react to death ("forcible movement in the winter of 1944-1945 by Nazi Germany of thousands of prisoners, from concentration camps near the advancing war front to camps inside Germany" see Wikipedia). In midtempo Caravan of the Dead all Darkmoon characteristics are exalted to the best and extend themselves also in the launched fast progression that slows down then like a hammer in the coldness of a cruel devastation. Formidable!

The tracklist present all new songs with the exception of two: Black Domain and Human Plague. Black Domain (from the homonymous MCD dated 2003) , so beloved by all Darkmoon fans, kind of mark of the band, was not included in the previous full length, so it couldn't be missed now as part of the essence and history of this combo. Human Plague, which sees mankind as pest for earth and its potential destructor, was many times performed live but however never released on a disk. Death as narrator and personification introduces himself in I am the End, here the inspiration rooted in Black Metal surfaces again with pyroclastic energy. Blacked Death/Thrash Falling down describes, from the "i" perspective, how drugs can bring you down the slope with an anguishing raw sequence.

The two last songs, I will be the last and Before the Storm are, in my opinion, together with Caravan of the Dead, one of the best Darkmon formula. I will be the last enter the perversion of a serial killer and catch us with melodic and rhythmic hooks, and unexpected deep tom -tom movements. Before the Storm bring us nearer to soldiers before a battle. Soldiers as puppets in the hands of international powers (completing the concept begun with the for me mythical Dust in my Eyes - ...of Bitternes and Hate CD-). In Before the Storm, vocals are particular varied, in the intro even similar to old Rotting Christ . Black metal influences become again very strong. Double bass beats and guitar tremolos build a standing out atmosphere already treated by the Darkmoon distinctive gloomy raw grating rhythmics.

Darkmoon seek and destroy. The target is in the wide spectrum of Melodic Death with hybridization into Thrash, Black and Hyperblasting attitude. As magnets find the iron, Darkmoon will find you.
Rating: 10/10
dalia di giacomo 23.12.2007

Theyíll make all the other bands work that much harder, giving them a run for their money.
The first time I saw Darkmoon, was November 2004. I flew from the US to Zurich on my second flight ever to Europe and I had no idea what to expect. My first reaction to this band then was: here is this band from Switzerland, not too many death-metal bands come from Switzerland, they are hard, heavy, and fast! Not to mention they are such a brilliant band! And their previous CD, " ...Of Bitterness and Hate", I awarded it a 10/10 because there wasnít a song on it that I didnít like. However, Apocalyptic Syndrome is very different CD than Bitterness and Hate which I shall outline below.
The past efforts of Darkmoon were consistently fast paced and always hard. They had this no-compromising sound that could tear out anybodyís throat. Apocalyptic Syndrome is different because Darkmoon has slowed down a bit. It might be slower but it has a lot more groove to it. Itís more methodical where the guitar players are focusing more on the riffs and the drummer isnít demonstrating that heís the fastest drummer in the world.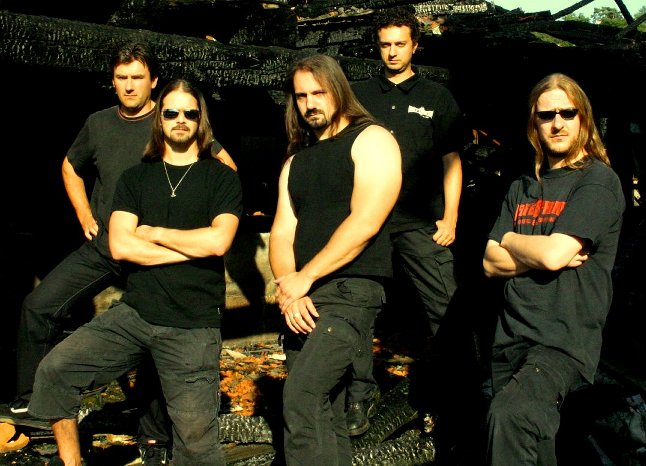 In the fist three tracks, by slowing down their riffs, theyíve created three darker than night songs. Donít be fooled by the names of these tracks, these songs have a personal touch to them that reaches out to the listener. Itís nearly gothic in delivery, but what separates it from gothic is how brutal the vocals are portrayed. I wonít lie when I say that I was a tad disappointed when I first heard them, but after listening to them a few times, I know now that Darkmoon have stepped more up to the plate and more likely to step up to the same levels other bands of the same genre are like Devil Driver, Machine Head, Soilwork and the like. Darkmoon is toying with everyone with how well they can be diverse with their sound.
Caravan Of The Dead is my favourite track. Itís a mid-paced heavy song that has chugging riffs that can make an entire crowd head bang until their skulls fall off their necks! The post-chorus in this song is brilliant too! Worthy of a nice, brutal pit!
Not all songs on this CD are slower, songs like, I Am The End are at the normal Darkmoon speed which is not as fast death-metal but not slow either. The best way of describing it is Machine Head fast. The post chorus is addicting too because of its unique guitar riffs and unusual drumming that draws me into this song. For me, this is the most complete song on this CD. It has really fast parts; it has melodic parts, harmonic parts, great lyrics, and great musicianship all around. The composition is hard to describe, itís something people have to hear in order to grasp how great this song actually is.
Before The Storm fooled me at first. I thought it was going to be, ďHereís the last song, itís slow but since itís the last song, nobodyís going to listen to it anyway track.Ē Then I kept listening past the first 20 seconds, and I hear this ultra low sounding growl. And the guitar playing on both guitars are playing extremely fast along with the drumming, this is the Darkmoon I am used to hearing! Although, the fast guitar playing is in the upper harmonics, itís still dark! But it feels more like Black Metal to me! Itís Black Metal with better singing! The song changes moods a few times in this song. It started slow and eerie, then it went to extremely fast, then it slowed down again with a different riff, and it does this at least 5 different times in the song. There are literally around 5 or 6 different riffs in the track alone. Forget describing choruses or verses, its just jumble of riffs linked together nicely. It's great for playing videogames too.
Apocalyptic Syndrome is a very diverse CD. The only complaint I had in the mix, was I thought the drums could have stood out more in the mix. Other than that I donít have any real complaints about the quality itself. All I can say is, is that this band needs to be on tour with a major act. And when word spreads about this band from a town in Switzerland, most people do not associate metal to, itíll be a wildfire nobody can put out. Theyíll make all the other bands work that much harder, giving them a run for their money. Darkmoon is a band to watch! And the Apocalyptic Syndrome proves that they can play however they want and still be talented.
Matthew Haumschild 18.11.2007