People had the same consensus as I did, that this band is way too good! This album confirms it!
Gruss Gott! I would like to start out with saying that without a doubt, there isn't a bad song on this CD! NONE AT ALL! Yes you read correctly, every song on here is absolutely fantastic! The announcement a month or so ago that they signed to CCP records was just the first step for them, but for the life of me I can not think of any reason why this band wasn't signed by another record label before this. I saw this band last year when I traveled to Switzerland (Gryphon party II) and they were just unbelievable. I went back home saying things like, "Man, bands in Europe are on a totally different level, Darkmoon would ravage any and every local metal band I ever heard." I would show these guys off to people standing in line with me to get into clubs and people had the same consensus as I did, that this band is way too good! This album confirms it!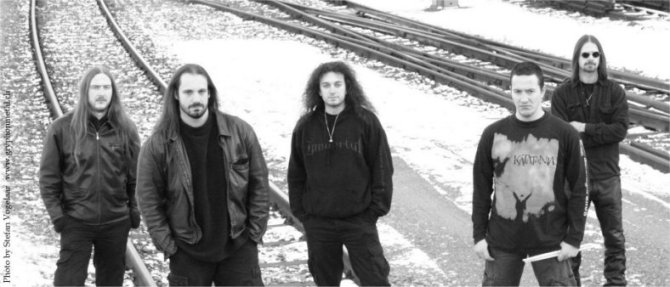 I could literally talk about every song on this CD, but there would be nothing but praise on every track. Drowning was on their EP, "Black Domain", they had issued last year independently and it seems that they went in and re-recorded the track. There are differences in the two tracks. This version is cleaned up a bit more in every area although the bass isn't felt as much as it was initially. I do think that the vocals do sound a bit better although I feel that Borer could have done that last part clean instead of screaming and it would have been a tad better. The guitars sound tighter than they had before and the tempo had sped up a bit overall on song. Also, they added more fills during the actual riff parts of the verses which add considerably to the song. Bravo!
Dust In My Eyes is the track you probably listened to when opening up gryphonmetal.ch website. This is my favorite track on the CD and it's the track I feel that is the most complete on the whole album. The arrangements are done to utter perfection. The drums are fast as hell when they have to be and mid paced when they have to be, the harmony within the band it self during this song is second to none. During this song I never stopped banging my head and by listening to this song 5 or so times, I've already started yelling out the chorus along with the disc! This is Swiss Melodic Death Metal at its finest.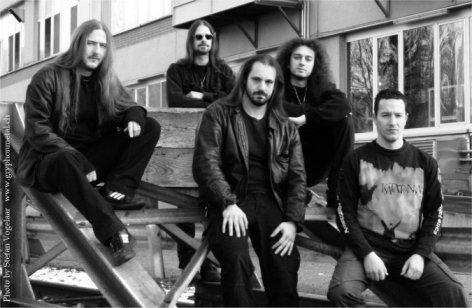 The Cell appears as the opening track to this CD after the weird intro where on the left speaker Borer is screaming "With Bitterness and Hate" and on the right speaker it's playing the same thing backwards! The Cell blasts through and demands attention straight out. It gives out this feeling of darkness that sets the tone for the rest of the CD. Although I must say that during the first verse the guitar riff reminds me of "Winds Of Death" which was on their previous EP.
The Beast has a very classic metal beginning, it starts of a little slow and very dark then Borer comes in with a loud growl and the band goes nearly death metal in tempo! The chorus is just slamming! Ultra fast guitars with ultra fast drumming and just single syllable growls from the singer that could make anyone step on the gas pedal in their cars a bit harder! The guitars sound just absolutely perfect in this track, matter of fact, everything sounds great in this song…HERE COMES THE BEAST!
In terms of production, I would have changed a few things but only minor things. For example: The snare drums sounds a little flat, I would have brightened up a tad and added a little more attack to it. The great part was, that I could hear all the drums and cymbals fine, although I would have made the toms a little bit more pronounced but they sound fine as they are. The guitars, bass and vocals sound absolutely perfect. It would have been cool too to have The Beast as the last track of the CD, it would have added a blistering end to a blistering CD. Other than that, no complaints whatsoever!
I still have no idea why this band wasn't signed sooner and to a larger label, but hey, keeping all the good metal to us the hardcore metal fanatics underground is a great thing too! GO BUY THIS CD, IT'S WAY FUCKING AWESOME!
rating: 10/10