Livebericht: "Destroyer Night 6"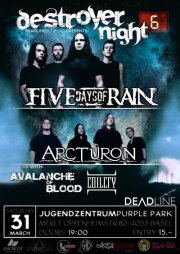 Arcturon (CH), Five Days of Rain (IT), Avalanche of Blood (CH), For Dawn (DE)
Präsentiert von DeadlineBooking Switzerland
Purple Park, Basel, Kanton Basel-Stadt, Schweiz – 31.03.2012
Fotos und Livebericht von Dominic Latscha
>www.myspace.com/avalancheofblood
DeadlineBooking Switzerland gehört zu den Schweizer Booking Agenturen, welche die Schweizer Musikszene fördern und unbekannten Bands die Möglichkeit geben Live-Konzerte mit internationalen und nationalen Bands aus anderen Kantonen zu spielen.
Diese Philosophie schätze ich sehr, weshalb ich die erste Ausgabe der Konzertreihe besucht hatte. Mittlerweile stand nach sechs Monaten, die sechste Ausgabe im Purple Park an und ich nutzte die Gelegenheit um einen tollen Abend zu erleben.
Um 19 Uhr war Türöffnung und vor dem Einlass bekam man ein Plastikband am Handgelenk nach dem der Eintritt bezahlt wurde. Danach durfte jeder das Veranstaltungslokal betreten und konnte so beim Bühnenaufbau zuschauen.
Eigentlich hätten Coilcry an diesem Event auch auftreten sollen, aber wegen internen Gründen musste ihr Auftritt abgesagt werden.
Stattdessen eröffneten die Müllheimer For Dawn aus Baden-Württemberg als erste Band des Abends. Heute war ihr zweiter Auftritt in der Schweiz und sie legten einen starken Auftritt hin. Mit ihrer druckvollen Mixtur aus Metal und Hardcore riefen die Jungs für einen Moment Erinnerungen an die 90er wach, wo Band wie Clawfinger, Stuck Mojo, Pro Pain und Rage Against The Machine die Bühnen der Welt bereichert hatten. Leider war beim Publikum noch nicht viel Stimmung vorhanden, trotz der guten Performance. Aber For Dawn zogen ihr Ding durch und verabschiedeten sich mit "Screaming".
Setlist For Dawn
Is Living worth while
Testimony
Court of the earth
Mitch
Sadness
My fight inside
I go down fighting
Screaming
Wenig später waren Avalanche of Blood an der Reihe. Auf die Bündner aus dem bekannten Wintersportressort Laax war ich sehr gespannt, da ich mir ihre musikalischen Ergüsse im Vorgeld angehört und das Ganze sehr gut klang. Beim Auftritt waren mehr Leute am Start und was die Bündner um Fil Arpagaus zeigten, war aussergewöhnlich!
Von Anfang an wurde Gas gegeben und anstatt wie Salzsäulen rumzustehen, wechselten die Bandmitglieder ständig ihre Bühnenpositionen. Dazu kamen Breakdowns und Tempowechsel was das Interesse steigerte. Insgesamt war dies eine tolle und zu gleich intensive Performance mit einem verdienten Applaus.
Setlist Avalanche of Blood
Intro
Forza
The Core
Evil in White
Her Decision
Vuschsen Mei
The Way We Choose
Deja vu
Die nächste Band wäre Arcturon gewesen, aber aufgrund einer Umstellung durften die Italiener Five Days of Rain ran. Die Jungs aus Alessandria befanden sich in einer ungünstigen Lage, da der neue Sänger gestern die Band verlassen hatte und man ohne Frontmann nicht auftreten kann. Anstatt die Flinte ins Korn zu werfen, übernahm der zweite Gitarrist den Gesangspart und zur Überraschung aller Zuschauer meisterte er diesen Job mit Bravour.
Ihre wuchtige Mischung aus Death Metal mit einer leichten Deathcore Schlagseite kam gut an und es herrschte viel Spass bis Schlagzeuger Filippo Balza ein Missgeschick unterlief. Schon beim ersten Song flog eine Schraube aus dem Hi-Hat raus und das Drumpedal flog wegen dem wuchtigen Spiel fast raus. Deswegen ging auch das Basedrumfell kaputt und die Folge war ein längerer Unterbruch.
Der Grund dafür war der angestaute Frust über den Ausstieg vom Sänger. Jedoch vermochte Techniker Roberto da Tata das Problem mit Klebeband zu reparieren. Leider war dann der Auftritt zu Ende, aber der gute Eindruck blieb.
Zu guter letzt durfte der Headliner Arcturon spielen. Die Melodic Deather aus dem Oberbaselbiet waren schon mit Rotting Christ auf Europatour und geniessen auch in der Region Basel einen guten Ruf. Dies kam ihnen zu gute, denn die meisten Zuschauer waren jetzt wegen ihnen im Lokal und feierten die Jungs ab. Entweder waren headbangen angesagt oder Moshpits folgten. Sänger Aljosha Gasser treibte das Publikum an und seine Bemühungen wurden belohnt.
Zudem wurde mit "Vision" ein neuer Song vorgestellt, der auf positive Resonanz stiess und mit viel Applaus bedacht wurde. Nach der regulären Spielzeit war noch nicht Schluss. Es wurden Zugabe Rufe laut und mit "Foolish Lambs" wurden die Zuschauer zufrieden gestellt. Ein super Auftritt, der sicher noch lange im Gedächtnis bleiben wird. Zum Leidwesen wurde "Virus" nicht gespielt was ich schade fand.
Setlist Arcturon
Journey
The Eight Thorns Conflict
Gryfius
The Empire Shall Burn
Theodicy
Pleasures of the Earth
Vision
The Dissenter
Glorious Passion
Foolish Lambs
Abschliessend bleibt nur noch zu erwähnen, dass das Catering bei den Bands grossen Anklang fand und auch der Merchandisestand konnte sich sehen lassen. Ein grosser Dank geht an das Purple Park Team mit Silvan, DeadlineBooking Switzerland und den Bands!
visit us at FACEBOOK >http://www.facebook.com/GryphonMetal