Destroyer with great performance.
German Dew-Scented mark their 20-year anniversary and unleash their ninth studio album, "Icarus" with such a unique determination, which makes of this band one of the most unforgettable Thrash metal acts. In spite of all line up changes, Dew-Scented are here stronger than before. After all, Dew-Scented are on the right way to become a battleship and a symbol of genuine European Metal. The line up is always composed by very good musicians, Leif Jensen is always the frontman and mastermind, so actually, once again, you should have everything you need from this band. Anyway it is interesting to notice the major participation of Marvin Vriesde (Severe Torture - Blo.Torch), this time no more as live guitarist (like in 1996, 2002 and 2005 tours) or as guest like in Issue VI album. Vriesde is now in the line up with songwriting duties, beyond assembling the rest of the band. Already when the band played in Dietikon while they supported Nile and Melechesh, the Swiss audience was involved by the enthusiasm of the band's concert. It was clear that Dew-Scented were about to strike back and the metal scene simply loves them. Dew-Scented strike back indeed with "Icarus".
Beautiful guitars sound in the instrumental intro "Hubris" which triggers "Sworn To Obey": "Sworn To Obey" is relentless and merciless, with massive guitar force and splendid vocals which are perfectly calibrated. This song is a bit catchy but very far from every commercial catchiness. To tell the truth it will be a furious, speed grenade when played live. So, already in the very beginning of this new album Dew-Scented take no prisoners. Rabid beast is "Thrown To The Lions" which will become a classic of the band. This track has incredible violent riffs. And Leif Jensen commented this way: "Lyrically, the edge was to portray the truly barbaric bloodlust in ancient times at gladiator fights and the brutality of the so-called 'damnatio ad bestias.' That's some of the most extreme punishment in history, especially since it was turned into such a public celebration ritual! It's definitely a gruesome topic that effortlessly supports the heaviness of the song… and the subliminal tortured screams on the second lead-guitar part are quite intense, too!"
More paced yet extremely heavy is Storm Within spiced up with some oriental scent, while "Gleaming Like Silver" is in full classic Dew-Scented style, with guest vocals of Rob Urbinati of Canadian thrash metal veterans Sacrifice.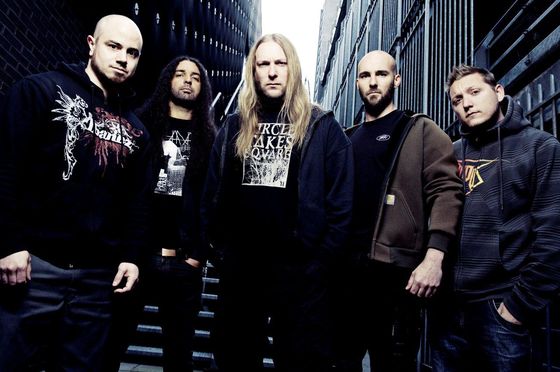 Compact thick riffs are raised in the uptempo paced By My Own Hand, in which the guitar work is gigantic and the drums are unbreakable. By My Own is for me one of the best expression of modern Thrash and although less chromatic than Cities Of The Dead, is a wonderful piece of extermination. I already adore it. When played live it will be a challenge to stand and survive it. The Fall Of Man is a fist in your teeth but its roots are deep into valid compositive loops and the guitars are very interlocutors, while the drums are once again extremely explosive. Awesome in this song is the slowing down in the bridge before a loud guitar solo. Retaliation/Final Breath guitarist Dennis Schneider can be heard in this song.
With Reawakening Dew-Scented become less violent but extremely brutal and bone- breaking. Reawakening is overhuman, brutal without escape. A great piece of damnation. Dan Swanö (Edge Of Sanity, Bloodbath) lends his vocals as guest and sings in duet with Leif: the result is infernally fantastic. Commented Dan Swanö : "After touring with them, mixing with them, it was about goddamned time that I also sang a nice tune with them. The interplay between mine and Leif's vocals worked out perfectly. Like a duet between Satan and the Devil."

Destined To Collapse is a Thrash overdose in which the Thrash rythmus is so perfectly focussed in a relentless speedy way. It's a breathtaking ride.
The brilliant A Final Procession can become the next Cities Of The Dead, it's addicting and it is the classic track that cannot be missed live. Of course, for me, it was love at first listening. Up/midtempo, new, sonically modern and interesting, with unpredictable passages and a superb fast bridge. Excellent composition, a track that you must hear again and again at once.
Perpetuated is the last grenade of this album and connects with the line of the first half of the album, violent and straight-forward, but, when you less expect it, a brutal slow-down crushes everything in perfect cocordination with the second half of this cd. Perpetuated too has guitarist Dennis Schneider as guest.
"Icarus" (again the title of this album begins with the letter I) is in no way a weak album of this band, on the contrary is a straight- in- your- face destroyer, in which instruments and vocals offer a great performance.

Rating : 9/10
written by dalia di giacomo

visit us at FACEBOOK >http://www.facebook.com/GryphonMetal