Guitar, bass and coordination of the whole rhythmic phalanx. this can be the overview of The Domination Tour 2007 in the Swiss Pratteln. You may say it's no news. On the contrary, cause all the bands in the bill have shown different ways of expression concerning guitar playing and coordination among the instruments, but the common point was to reach the goal to offer a pleasant and compact manifestation of pitiless unpolluted metal balancing technicality with harmony . This edition of "The Domination" is, in my opinion, far better than the 2006 one. Inspite of the noteworthy shows by Vesania, Dew-Scented, Aborted and Cryptopsy seen last year in Zürich, this current edition is more exciting. One consideration above everything else: the 7 bands of the current Domination , this is to say Rotting Christ, Malevolent Creation, Incantation, Mystic Circle, Neuraxis, Harm and Inactive Messiah, are able to provide an endurable evening. I'm becoming a sworn enemy of mammoth trains, but this bill proves that even "big" size can be good size. Merchandise: quite optimal, with a satisfactory selection of what is more important: long sleeve's and/or sweatshirts and girlies for each band. The much awaited, bright new MC Doomsday X merchandise is very well designed and of good taste, as well as Rotting Christ stuff , supporting the album Theogonia, and the merchandise from Incantation.
The running order is as well disciplined as the bands. Greece is the torch bearer. The show is opened by the five-piece Greek Inactive Messiah and closed, headlining, by the Greek melodic Black metallers Rotting Christ. To some still unknown, Inactive Messiah are anyway growing a lot; people active on myspace, like i am, and/or active in the scene, have made already somehow acquaintanceship with them. Inactive Messiah actually deliver good ideas, only, in my opinion, they should decide where to go. They should produce a better mixture of the styles or , on the contrary, a sharper choice between the styles (the more goth oriented and the more extreme oriented), Although their style has been identified as electro- nu death metal, this evening i don't perceive much nu in their performance (nu????), neither much electro from the moment that the concert, in soul union with the whole colour of the Domination, is very hard rhythm oriented. Anyway some new wave-pop - modern gothic facsimile chords cannot be avoided, mixed with melodic energetic riffs and severe vocals, which anyway are kept in low volume at the beginning of the concerts. Some comment i've heard is the following: "this band is nothing special", yet i find this opinion too draconian . The name of the band is super (better than the ex one Womb of Maggots), as well as some catchy good cadenced riffs and some ideas, especially in the first and in the last track presented. The show is short, around half an hour, but it's an invite to pay attention to the Greek scene.
Inactive Messiah
The Norwegian act Harm is luckier cause the audience begins to grow in number.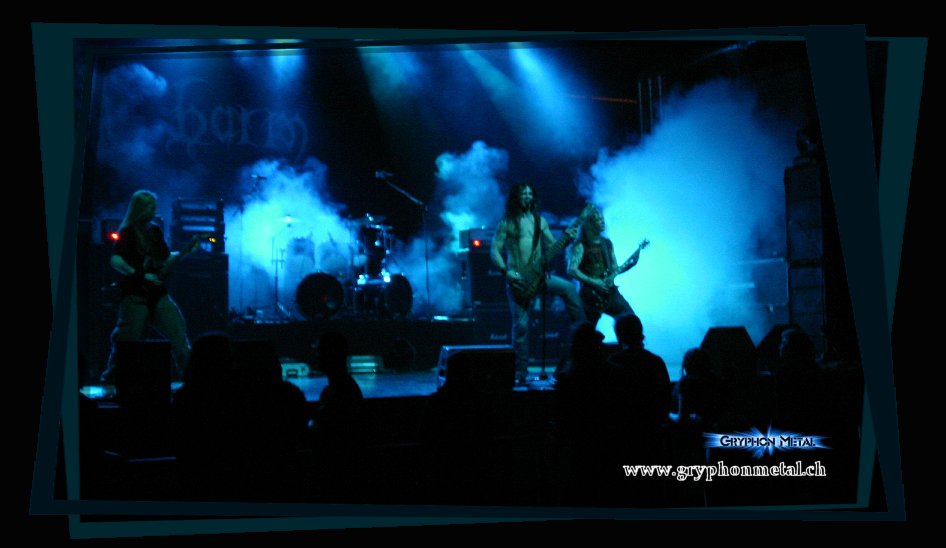 The death/thrashers summon an intense force with rasping uptempo and good technical changes, the more melodic passages come out unpredictably from the vehemence of the violent rhythmic lashes. Planet God, Qvalt and Reflection are among the best tracks in the setlist, discharges of fast involving thrash. Interesting ideas from a Norway that appears once again to be definately much more than Black Metal only. Their show is quite short too, but is the definite unleash of a metal evening with classic mood and refreshed allround strings and drums that fill the air and give atmosphere.
Although i knew Neuraxis as a very incisive and admirable band, the show of this evening surprise me further. Very active stage acting, superior playing, self-confidence and will to enjoy the extreme metal in an intelligent way.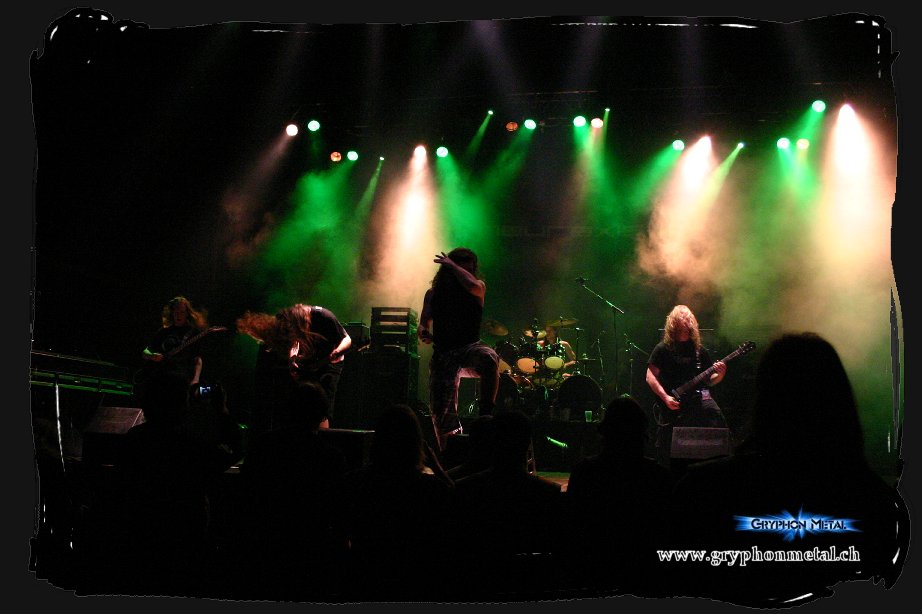 The Canadian Montreal-based act, that has surely something in common with Kataklysm and that can truly be appreciated by all who love the Hyperblasters, have developed anyway their style and their mark with addictive surprising unpredictable riffs. Take Unite as example for this. The melody is built in an incredible interlace and appears and disappears behind the curtains of a pitiless scenario. It's music that makes us think without forgetting to let us bang. Live member vocalist Alex Leblanc takes the duty to front the band in a satisfactory way. Here to the coordination among strings and drums is protagonist .
Time for Black Metal when the German Mystic Circle erupt with their unholy hosanna's to the gates of Hell.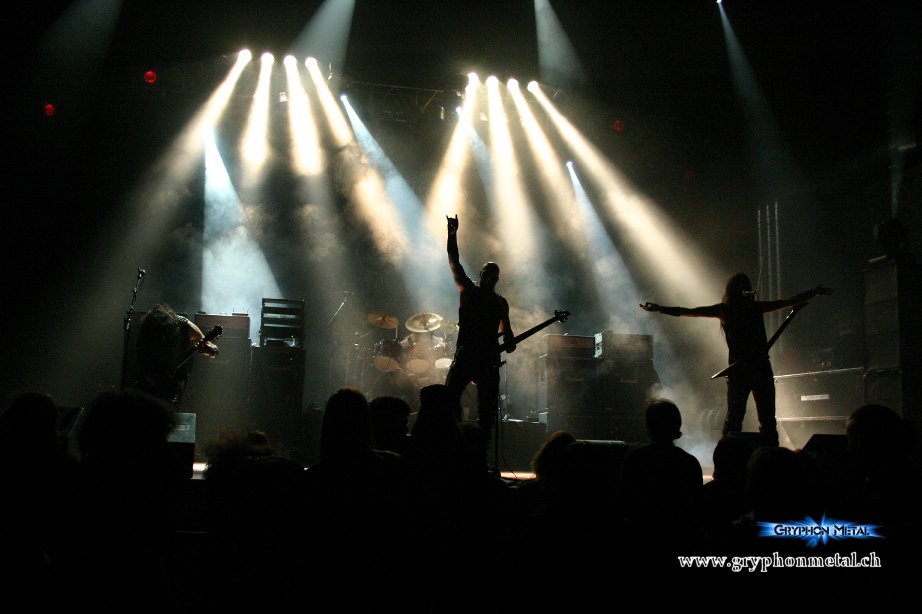 Is God dead? ask the 4 "Mystic": indeed in 4 members with a guitarist more and a new drummer, their show becomes lively and intense. Mystic Circle has always been a band that i like and that i enjoy to hear live even more than from cd. Why? i don't know. Maybe because their shows better represent the union between old school metal and well styled demonic darkness. Or maybe, it's because you should be in a particular mood in order to go on listening to their songs. Unfortunately everyday life not always allows you to be in that mood, so are other bands or other genres that remain the quotidian companions. I enormously appreciate their material (last year, I've found the album "The bloody path of God" simply awesome and it is), but then it's live that i prefer to listen to their stuff. GurD is another band to which i cultivate this kind of behaviour. Therefore, welcome Mystic Circle live! Without any hyperbole Beelzebub and Ezpharess lead the refreshed group that has reinforced their style without changing it. This is to say, the best that a band can do. Strings and powerful drums are directed towards fast picking and malignant kicking, while bassist and singer Beelzebub performs with clear ideas and steady perseverance. The repertoire gets nitid relief, like The Bloody Path of God and Open the Gates of Hell, that should be considered as two dark evil hymns. But there is an element that underlines the show and lets it turn into a very elegant one: light. Cool combination of lights, quite often monocolour or just decently changing, where the white and red tones are in dominance. In particular, the white rays throw an unreal light upon all things black on the stage, upon the backdrap too.
Just before the beginning of the tour, Incantation announced that former member Jim Roe would have filled in for drummer Kyle Severn, but it's again with solidarity among all instruments that the evil trio can let their Death metal resonate pernicious with a compact carpet of sound.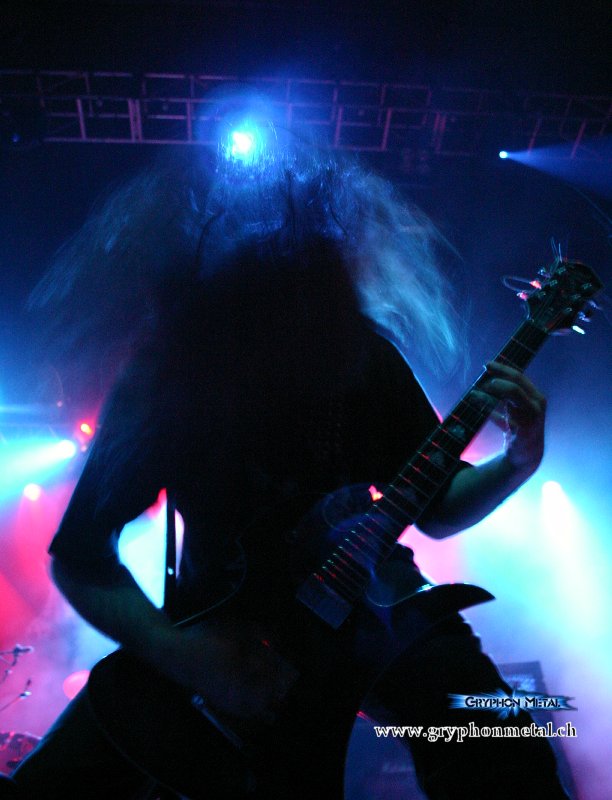 Although in 3 only they develop indeed a great amount of brutal sonic malignity (never forget the book of dead oh yes). Death Metal again and a very dedicated one. Interesting, not always easy, balanced between melodies, riffs and classic abrupt aggression . Mastermind John McEntee 's low growls are totally anthropophagic . In his stage acting i see some affinities with Node's Daniel Botti, although vocals are very different. It's that sense of evil prophet that i notice and that is fully underlined by the frame of this stage. If vocals are mostly incomprehensible (as they should be), All chords are on the contrary well distinguishable, the complex work of the strings and the class drumming. Many times they colour their notes with an apocalyptic oppression. Among the highlights: Oath of Armageddon. This general atmosphere would have been even stronger if there would have been another guitarist.
Less emotional and fierce as they usual are, but very compact and disciplined, Malevolent Creation deliver a good solid concert that actually underline the passages of their songs.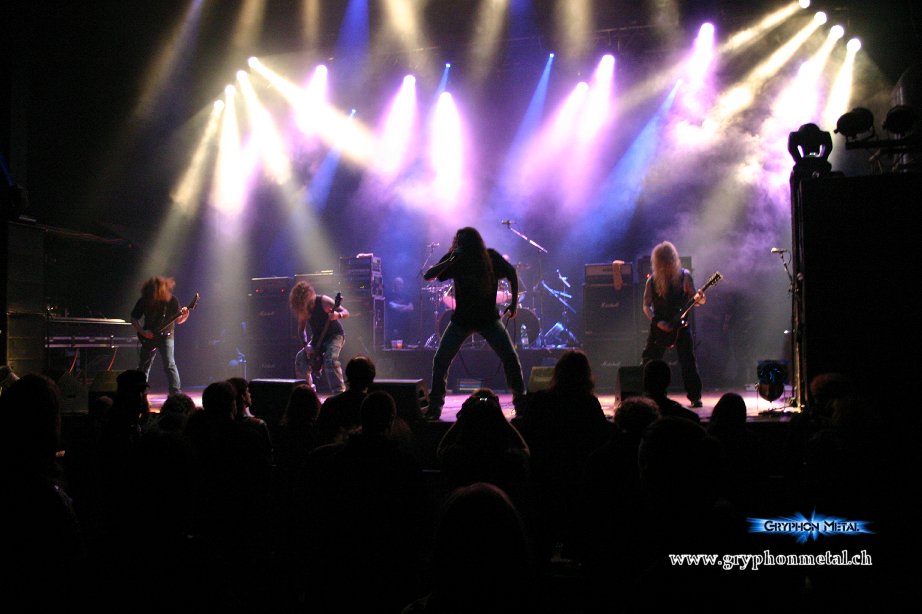 And this in spite of some technical problems that anyway have not required any stop of the show. Another example of how the rhythmic section can be an ineluctable pillar. Dave Culross proves to be an incredibly good drummer , driving the MC " tank" (as Mr. Fasciana says) and this historical line up, that has also recorded the upcoming album, (Brett Hoffmann, Phil Fasciana, Dave Culross, Jon Rubin and Jason Blachowicz) is very reliable being all together the true soul of the band, able to make renewed common front. The optimal impression i had last year, has been confirmed. And again i appreciate a lot Bret Hoffmann as MC singer: no matter if singing Manic Demise, Multiple Stab Wounds or Blood Brothers or newer stuff. He is the re-found frontman (nothing against Symons eh) Let's wait now for Doomsday X. ...and i must tell it another time: cool new merchandise.
But The surprise is Rotting Christ. I remember them hieratic, almost sacral, occult shamans of the dark evocations. Now i see them again in Pratteln after some time and i don't recognize them: they seem younger, stressing more their guitars, and very lively on the stage.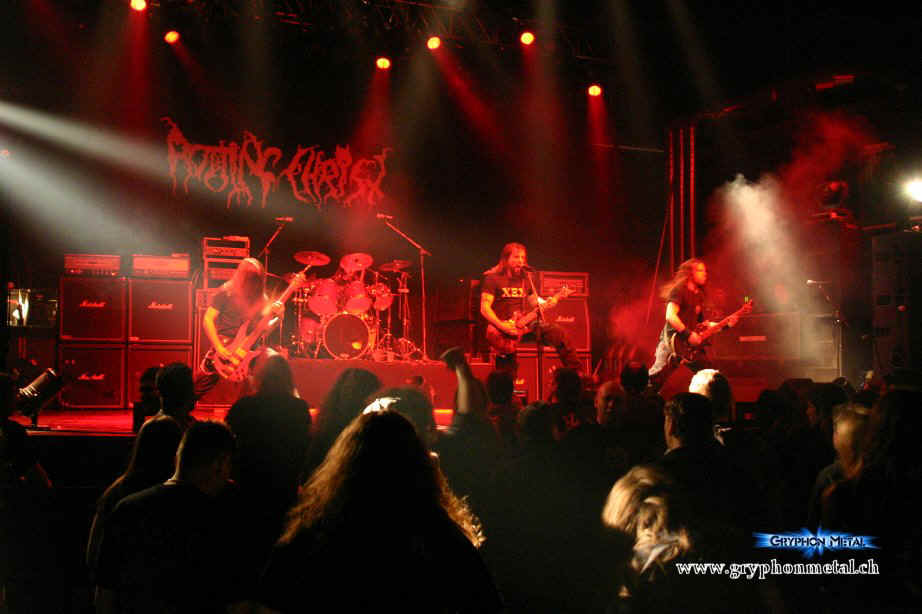 The line up change has brought some new fresh wind at RC home. Is that sacral inspiration that made Rotting Christ' melodic black so unique, intense and awesome, now lost? No, fortunately not, although i miss that unholy quasi-religious feeling, that Sakis Tolis band gave during the concerts too. Do i like these new Rotting Christ? Yes, i do, but with some nostalgia. I still need to digest this new look. For another band i would have probably jumped for joy, but not exactly now. I only need time, cause i liked very much RC as they were. here too i would like to underline the proficiency of the guitars and the very attractive merchandise with "gold" logo.
Finally, please let me praise a superb song well played by Rotting Christ tonight, ΑΘΑΝΑΤΟΙ ΕΣΤΕ, for me, the highlight of the whole evening.
dalia di giacomo