Ad Majorem Satanae Gloriam
Xes Haereticum is the sixth full length composed by the Black Horde, the "Hellgium" musical satanic force: the band "driven" by Lord Sabathan and Nornagest, 2 artists who fully believe in what they do. I presume, for them Black Metal is something to live as a vital religion, instead being " only " a form of extreme music. I wouldn't be surprised if they would practice in some ritual chamber, after all their link to the Ordo Templi Orientis , placed in their brand new (and nice) website, could explain pretty much. XES Haereticum is a pleasant and aggressive adventure in notes through the world of occult, expressed thanks to an enormous musical force and a remarkable melodic capacity. XES Haereticum is not only fire, is not only an "ensemble" of ecstatic virtuosos in black and red, it is not only a doom-y sinister menace. It is agile heaviness, demonic tremolos, screamings, exact passages on the strings; it's not only lava it's a war machine applied to Black , it's a violent and compressive wrath, able to unleash steamhammering rolling galloping's and riffing's, supported anyway by enjoyable melodic phrases, hook-lines and , at times, by a touch of atmospheric ethnics too. All this makes XES Haereticum accessible to many metal targets, but attention! XES Haereticum is also a gate to reflections about superior forces that root back in very ancient times. Therefore i suggest this album cause it has brilliant tracks, where Black is united with sparkling heaviness, cause it shows a certain catchiness and mysteric atmospheres, but i suggest it also because it is an album that invites to reflect about obscure laws.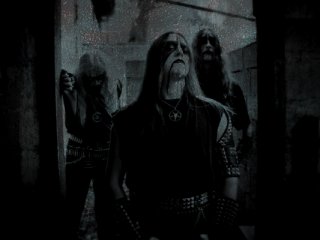 The technicality is outstanding: it is not cold or empty, on the contrary it is passion. Concerning the sound, in my opinion, the result is more than satisfying, really very good, i could also tell that the power out of the boxes strikes you with incredible detailed and three-dimensional rage. The fact i don't like that much is that the low sounds and the double bass drumming are a bit blowing directed straight on your thorax and head, instead to display all the energy on the ground. This feature appears very clear to me in the track 8, Night Stalker, where the mighty rhythmic work remains halfway in the air, helped also by the nice lead melodic solo which enhances the aerial shot. The greatest surprise is anyway delivered by Seven Plagues, seven Wrath (XES Revelation) where all the Enthroned peculiarities melt in oriental Arabic/Middle East flavours that bring us back to ancient biblical Egyptian visions full of rites and fears, to Amon, to cults and worships which still exist under other shapes and names. In Seven Plagues, Seven Wrath, Black Metal meets also a very moderated "club - feeling" with danceable hooklines these last being supported by almost gothic backing vocals. Influences from Rock play their role too.
However, all tracks are impressive but enjoyable. The fast opener Crimson Legions does justice to its task being a true " open- the- gates -of -hell" killer that will put in rapture fans of Mystic Circle and Belphegor. The instrumental technique is excellent as well as the evil screaming is. The following and punishing second track Dance of a thousand Knives goes on keeping the high mayhem level with more underlined tremolo's and solo's a bit in US style, but offering some chords that remind to Celtic inspirations too. With Last Will XES Haereticum proceeds incredibly hammering, running in full optimal gear. Last Will too will appeal a lot to Mystic Circle fans. The technique and the sound inspiration is so varied without being chaotic , completely mastered and well mixed together, where all starting points come back then always to the main refrain. But it's with Blacker than Black that XES Haereticum adds a "seductive" touch: the excellent Blacker than Black goes more in direction Old School, and delivers a fusion between Black and Heavy metal, which is totally cool. It's from this brilliant Blacker than Black, with its tempo changes from mid to hyperfast explosions, with its blasphemous vocals and its catchiness , that the album proves to be definitely attractive. Vortex of Confusion opens in a delicious melodic way just in order to shoot then the suffered inferno with giant bass drumming, backing vocals, superb melodies, square snare and cymbals attacks, outstanding bass'n guitar, winning loops, and final enthralling panzer hook-loops. The instrumental track A.M.S.G (abbreviation for Ad Majorem Satanae Gloriam) throws us into a dark and menacing world with mystic appeal, steamhammering riffs, and melodic psycho lead guitar. Though in a different style, they are able to arise the feelings in the wake of Runemagick. Blasphemous and erupting, Enthroned go on with Daemon's Claw, that is pretty a hard awakening, like the title suggests. Hyperheavy, almost blasting, and catchy, Daemon's Claw will have many Death and Melodic Death fans at its feet.

The Hellgium horde calls with wrath but also good taste and dynamic good mature melodies. Enthroned call us with a stuff that should sound great live, in the hands of such a good live band indeed . It's that "call of the wild " WE cannot resist.
rating: 9.4/10
---


© laboratory -
XES, which read reversed in English gives the word sex,

is in relation with 666 and in relation with the Name of God versus the Name of the Beast
The Greek alphabet has numerical values. The 3 Greek letters used in Rev. 13:18 referring to this 'mark', were:
X (=Chi) 600;
Xi (shaped like a curled capital E) 60
s (Sigma) 6
obviously 600 + 60+ 6 ....
The 1st and 3rd letters could also represent the first and last letters of the title "Christos" and the middle letter could represent the symbol of the serpent , strictly connected with the ancient Egyptian Mysteries