review by dalia "gryphon_spirit" di giacomo____
Intelligent heavy Crossover/Nu/Hardcore for all those who love the genre(s) and engagment in music. A massive Energizer without compromises, but fully enjoyable. Lore's vocals are super.
---
Who among you remembers the sweet child that was protagonist of the intro of the album Shadows? That child, Shasa "Patatina", singer Lore's lovely daughter, is grown up in the meanwhile, and now she appears(in company of her doggy) on the cover and on the booklet of the band, completely fascinated by, and involved in Falling Silence's music. Couldn't be otherwise , coming from such musical intelligent and engaged environment . Lucky she! But lucky also all who love an original energetic and reasoned crossover/hardcore/nu. It is not exactly my chalice of blood, question of personal tastes, nevertheless Falling Silence's music always awakens my sincere interest and admiration. So i can imagine how they can impact on the listeners that , on the contrary, swim feeling at their ease in crossover/nu waters. Dog's Life , if compared with the previous Sahdows, shows even more maturity and confidence with soundscape and instrumentation, and above all, Dog's Life is really recent (2003), delivers 15 tracks, while Shadows was mainly a compilation featuring songs written between 1998 and 2001 , which reflected various earlier creative moments of the band. And currently Falling Silence have finished to record a bright new promo called "Another Day, another Dollar". This gives an idea of the great creative jump of this Swiss band from Ticino. Eh well yes, there is also an Italian Switzerland , whose importance is rising day after day, and not only concerning underground bands but concerning venues and gigs of first importance too. So there is energy in the air, there, where Italian is spoken, but no fear!, this album is expressing lyrics and feelings mainly in English, though other languages belonging to the Italian (one song) and the Iberic area (2 songs) are not forgotten. And lyrics are for sure one of the strengths of Falling Silence. mainly written by Lore, very critical on our society and ourselves , these lyrics mantain anyway a spark of courage among the desolation. It depends from us only. After all, everyone "looks for an answer" and everyone is "waiting to die". So why not making something good out of all this? With no arrogance , simply throwing the f*cking presumption away and coming down the pedestals. Aren't we all nothing but lost animals, at the end of story?
"we think to be master - and deceive to control all - but we're just ridicolous souls - who wander through our disasters" (from Dog's Life)
"this is my life a hopeless life but i will try to go up forever" (from Lost Animals)
"to stop and take the time to think over - could help us understand how changing is important - f*ck hypocrisy! music reflects us - " (from This is our Rage)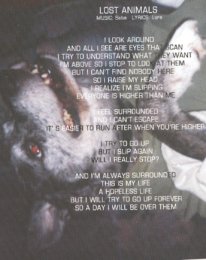 Under the musical point of view, Dog's Life is far to be a commercial easy listening, nevertheless has many catchy and overwhelming passages that make this album very brilliant . Dog's Life, in whose intro we can hear an energetic Shasa lovely reproaching the crazy gang, is a nu /crossover angry attack that pumps up the blood from the very beginning , and opener title track Dog's Life can make the joy of all fans of the genre . Falling Silence are extremely hard, percussive, heavy , many times merciless, nevertheless never brutal or blindly violent. On the contrary many passages slow down the songs giving variety to the rhythms and well executed tempo changings. In general the whole album is an energetic galloping into the crossover land matching imo both European and American taste
In The same Way for everyone you can see even trace of Modern metal, while distorted effects and hyperheavy rhythmed riffs are the protagonists of Sientate un Momento .
Angry obsessing and stop start-y, And the Beauty of Black covered everything delivers real catchy bursts of pure energy and a cool lead solo. Lost Animals shows the same temperament . A great rhythmic work is emerging from the whole album, and in particular from Special Thanks to the Shit, that is a real hammer, with merciless crunchy and mighty, trendy riffings and a winning refrain: fully modern and metropolitan it is simply a killer song.
Psycho modern effects open One against all that bursts into an infinite charge of powerful emphasis .
Straight to the point but with much care and attention to the details Dog's Life delivers other killer loopings with Burning the Pedestals and above all with The Back of the Medal another peak of this release, in which you can listen to a great bass work too.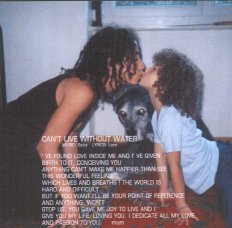 14 not very melodical tracks (though sometimes there are thin melodic exotic lines) but always enjoyable, catchy and massive, contribute to make this album a pure energizer that anyway invites you to reflection. But why i say 14 attacks, while the songs are 15? hehe right, when you don't expect it, Falling Silence gift us with an energetic melodic acoustic song that closes the album . And is a beautiful love song dedicated to the one of highest form of feeling: the love that always gives without asking , the love of a mother for her daughter: Can't live without Water- " 've found love inside me and i've given birth to it, conceiving you, anything can't make me happier than see this wonderful feeling which lives and breaths". This is the best hope one can have.
And now an important consideration about Lore's vocals: always up to the task , energetic, wonderful, nervous but round, with temperament and strength. Many compare Lera's voice with Guano Apes. Well the timbre is similar , but Lore has a far better elasticity and flexibility. I can only support the choice of the well known underground portal neroopaco.it that has proclaimed Lore as 2003 best female singer.
Even if something here and there could be still improved a bit , the album is really very good under every point of view: soundscape , vocals, lyrics, with a good booklet and a good production. For me personally , it's just a pity that they don't play Death. It's crossover/hardcore/nu , but ehi , thumbs up! This is music born for beating up and breaking everything, for shaking off our golden apathy and egoism! I find myself to listen to them rather often though it's not my music , so i can imagine that if you like this style and, in general, if you think that music is not only empty entertainment, you will enjoy this album a lot, an album that will bless you with an enlivening force which will make you start a conscious and an "unconscious search" !
Rating: 9/10