---
Town: the beautiful Vevey in the French Switzerland (canton Vaud). Venue, Rocking Chair, one of the most important of the French speaking Switzerland indeed. Date: 20th May 2005. Weather: excellent; after many rainy days, the sun smiles over the lake Geneva, the second largest lake in central Europe . Another gig in Vevey like 2 years ago, at the time of the Symbol of Life tour. Now there is a new presence: the 10th album, Paradise Lost (X), has been recently released in Europe, marking the definitive return of Paradise Lost into the metal circuit. In this tour, The legendary English quintet will be supported by Society 1 from the USA and by the valuable and acclaimed Orphaned Land from Israel. It is nice to warm up the 16th PL concert that the GM headquarter attends, meeting the lads, interviewing guitarist Greg Mackintosh (third interview with Paradise Lost) , seeing again the guys of the Rocking Chair and having such a great time together with our dear friend Ann from Yorkshire, UK (yes, The land!) responsible of the Say Just Words (I and II) fanzine. If we consider the concerts from Greece attended by our Dimitris, from USA attended by our Matt and the nice contribution of German and Italian fans , it' s a huge number of live events that GryphonMetal.ch and I Despair fanzine have proudly presented around the Masters of Gothic Metal. This report of the 2 day event from Switzerland is dedicated once again to all Paradise Lost fans in the world.
on these nights we shine
love ain't all the time we learn
i'd never wanted it so
21:40. The American Society 1 hit the stage with picturesque violence. This band has already been observed by gryphonmetal thanks the report of our Matthew already in 2002, from that report i got the impression Society 1 are somehow original. Matthew said "I was very entertained by this bands performance. ... If they ever go to Europe, I really recommend seeing this band, rather it be for the music or just for a good show". I couldn't hope in a better occasion. At that time, in 2002, i wouldn't have never believed that they would really land on an European tour together with the famous "Halifax" Paradise Lost.
It is true: they are somehow original. The first impact is that they are very "colorful", very dynamic, and interpret very well the American way of being damned, rebels and agitated. Quite immediately it's clear that their music is nervous. I wouldn't use the term schizophrenic. No , no, this concept is very far from Society 1, in my opinion. They are simply really nervous, really too emphatic in what they do, a bit sick maybe. This behavior shows advantages too: they cannot remain unnoticed, and this is their goal actually. Rather ambitious, they put their strength on a more than lively stage acting, in particular concerning their frontman: Matt "The Lord" Zane from California (wizard of the Gen X Porn style, who is even able to deliver live suspension shows) Consequently the music, so haunting and so obsessed, becomes a bit secondary. They mix elements of Industrial and Modern metal with a bit of Death and some Type o Negative verve. The result is at times excellent, at times on the contrary too noisy and confused and stressful. Anyway it's after all the image of "The Lord" that impacts in excessive foreground on everything. The word frontman is an euphemism if you want to describe "The Lord" 's performance. Not only his mobility makes the part of the lion, but, even more, the message which is presumed to erupt from his semi-naked and sex obsessed anger: the call to action. So speaks the lord in the official bio: " "Everyone knows the power of music. It will be used in the future by political leaders to a much further extent than it is now. They will have no other choice. The world is one big charade of show business so this is a perfect way to begin and influence people from a young age. I am trying to do more than make you feel or think. I want a call to action. People who refuse and just sit in their rooms having fantasies of great things will no longer suffice. If there is no development and a substantial effort to the cause you might as well die now. I have no use for you." Well what i see on the stage of Rocking Chair perfectly match this propaganda. The Lord, supported in an exquisite way by his companions in struggle: Sin on guitar, Dirt on bass, and Berzerk Kirk on drums, can propagate all his theatricality, and courageously and very enthusiastic like only Americans can do. Ok. The fact is that no one is shocked, even not that surprised; entertained, surely amused, but that's all. . The purpose might be noble, but the shocking era and the fucking attitude are dead. Basta, finito. Moreover here we are in the old continent, where every " agitprop" (in the wide meaning of the word and not surely in its political signification) is seen with a bit of irony or even suspicion, while a sex impact is no longer anything particular indeed. So Matt "the Lord" Zane's show really runs the risk to appear a bit like a kitchy thing.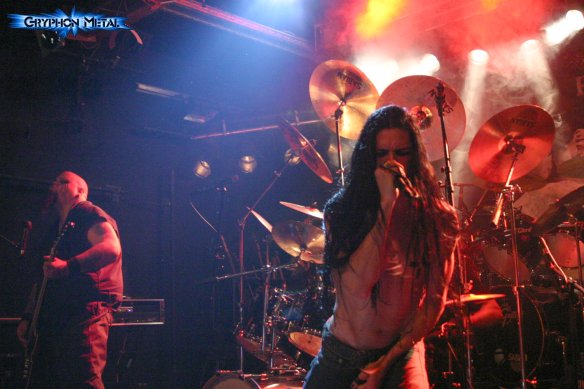 It is not easy in front of a disenchanted " French" audience that has seen everything and discussed about everything during all its history. Society 1 are able anyway to make their gig, all in all, valid and enough appreciated, at least , as entertainment in fact. The more the concerts proceeds and the more the audience is positively involved. Important to notice is the drummer's way of playing with those 3 frontal cymbal placed enough high like an arch on the drum set. The result is a very dynamic rotation of arms that adds a touch of personality to the "dry" drumming and in general to the already mephistophelean figure of Berzerk. Bassist Dirt, thanks to his make up and body reminds me of an evil " genius in the bottle" and provides a punctual bass line as well as backing vocals. He is the less dynamic in the band, nonetheless his presence is marking, and... his tongue too. Guitarist Sin, from a musical point of view, is the one i appreciate more in the band: he provides for interactive enhancement and solid guitar riffs but also many good solos are shot. Sweat is running like rivers, cause there is no doubt about the big amount of physical work that the bands actually must produce in this show. This effort lets its traces on the voice too, but in any case the energy is high till the end of the gig. On the contrary, less physical is the response of the crowded pit. We will see that tomorrow in Winterthur they will get a very good impact instead. Among make up, adhesive tapes on the nipples, and provocative and lustful gestures, The Lord doesn't forget to launch incitement for applauses to Orphaned Land and Paradise Lost, and even tries an interactive dialogue "avec les Français" in English, "do you understand what i am saying? And asks about connexion of death, killing and love, so starts off the song "I love her" , the song whose lyrics tell
"I need your life to heal
I lead your life to hell

I love her because she's dead
Cold dreams of love fill me head"

At the end of the show he still reminds the crowd that they are Society 1, and, sounding almost like a menace instead than a promise, he tells more or less that they will be back here in Europe and that, in the meanwhile, we shouldn't stop to make 2 things (otherwise we are already dead i presume) a) don't stop fuck! b) don't stop fuck shit up (if i have well understood) (?) . The major moment of the show is the acting during the final song (that should be Everyone dies- Rock Stars don't count ) sung with the pants open . Tomorrow in Winterthur we will attend an optimal version of it. The song i have preferred for its heaviness, though too frantic, is Lord
Raising a bottle of whisky and apparently drinking from it Lord Matt and Co. greet the crowd that is applauding but surely not yelling for more.
Final consideration: check out their official page...more than interested in porno-things they seem attracted by practices of magick and of symbolism. Notice anyway that imagine of Lucifer crunching the "3 traitors"...
The stage is scrupulously prepared for Orphaned Land. This one is their debut tour in Europe. The interest around this band is evidently remarkable. We have practically a full home now. And this interest has been well rewarded cause Orphaned Land will deliver a valuable concert, where music and feelings come in foreground again. Orphaned Land are immediately well welcomed and Ocean Land is the optimal track to start with. It's immediately clear that their music is very interesting, rich in various elements combined together fluently (later we will see that this can be a problem though). The basic soundscape is undoubtedly metal in European style but it supports many typical Middle Eastern sonorities , plus incursions into Prog and melodic Death. Singer Kobi Farhi represents, with great elegance and dignity, the spirit of Israel, an Israel in harmony with Arab countries and a folklore and in harmony with Europe and with the old continent 's taste, like it should be. Israel like a bridge between two worlds, one expression among 3 monotheistic religions. Today i don't see the Palestinian traditional headscarf , but tomorrow Kobi Farhi will bring one on his right shoulder. Kobi Farhi sings with much attention and, as in the spirit of the band, is able to pass from a rasping to a clear voice as well as he is profiting from the backing vocals contribution of many of his band mates and from remarkable duets clear/growls with guitarist Yossi Sa'aron.
The band is very compact but versatile too, each member can express his own personality without compromising the deep general unity. I hardly recognize guitarist Matti Svatitzki, with blonder hair and without bard, but damn, he plays that well. A very Nazarene and metal image goes without any uncertainty to bassist Uri Zelcha , who together with Matti , delivers also the most metal optical image of the band. It is impossible not to notice Eden Rabin's joy and involvement on the keyboards. By the way, these keyboards are very versatile, but never intrusive. Many folk elements must be delivered through the help of a computer, but you really don't care, cause everything's is mixed in best way with the live performance of strings, keys, drums and vocals. By the way drums, who the hell is that drummer so precise, exact, serious and so damnably "colourless"? Ehi man, show a bit of life, sursum corda! Concerning the setlist , the songs extracted from their latest album "Mabool - The Story Of The Three Sons Of Seven" (released in February 2004), represent the biggest part of the concert, nonetheless stuff from previous releases is played as well, like A neverending Way. Hence, Orphaned Land are successful in two goals: representing the Middle Eastern origins and giving the usual "excursus" of career that in a live show cannot be missed. Kobi Fahri asks the audience" have you ever listened to a band that comes from Middle East?" Middle East like one spirit one soul and presents the band with the determination of simplicity: "We are Orphaned Land, we are from Israel and is a pleasure to be here tonight ! " After all singer Kobi has a certain Holmes-ian gravity, isn't it? Orphaned Land are quite lively and hard, spreading a carpet of different melodies and mighty riffs. There is only one negative point actually. And the negative point is the Orphaned land's strength can suddenly become their point of weakness. Apart the fact i personally cannot stand Prog, i think anyway that Orphaned Land's music is, at times, simply enthralling and awesome, while at other times can become boring. It is not easy to insert Middle East atmospheres in Metal , but it's not that the problem, the problem is that the songs are really too rich, sometimes too long, at times complicated and full of too many aromas. You can enjoyably understand all this for a while, after then it's tiredness. Though the crowd tomorrow will be more enthusiast towards the Orphaned, the audience of Vevey has been very supportive with The Kiss of Babylon and Halo dies, and in particular with Norra el Norra ( a very significative song for this band) but well the last track was one track too much. Orphaned Land stop in the right moment where still only sincere applauses can be gathered. I presume that the fun would have ended shortly afterwards. No encore, but this only positive, cause the good atmosphere created by the Orphaned remains in our mind agreeably, together with the excellent melody of Ocean Land .
setlist:
Ocean Land
El Meod Na'ala
The Kiss of Babylon
Halo Dies
A Neverending Way (el norra laila)
Norra El Norra
Ornaments of Gold


A setlist of 19 songs, while the average was 17. and among these 19 songs, 9 are brand new stuff , from the album Paradise Lost , their 10th full length. There are rivers of words spent about the new Paradise Lost album and gigs. But only few admit that to have considered Pl like doing everything else than metal was a bitter mistake. Swallow it now please. Even more annoying are those so called extreme guys who are only able to write about PL's "past" glory. I consider them disrespectful for the extreme music they praise (i am myself an extreme listener), and i consider them so blind or better said so deaf not to realize how much the new album approaches the Icon sonorities, and how PL have shaped the Gothic genre starting with Gothic /Doom /Death passing through electro metal , Gothic Rock and striking back now with a album of Gothic Metal in transparent beauty. After the good pumping up of the previous bands , i know Paradise Lost will find the best condition in order to top the already brilliant concert done 2 years ago here on the same stage, and this time with the excellent new stuff . We can say the venue is full, and that Paradise Lost are much awaited. After a flawless preparation of the stage with related sound check, it comes the moment that the band hits the stage in the dark like usual and like usual acclaimed.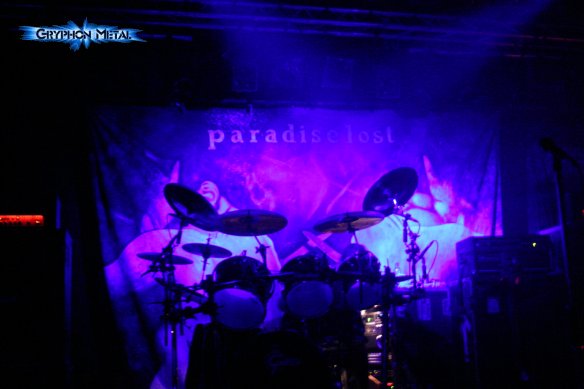 The back drape representing the cover art by Seth design of the new album slowly glows and turns into deep blue tones. Don't belong opens the show with its intense , slightly tormented melody just to develop a rhythmical cadenced burst of guitars. It's undissolved between heaven and earth, not very mournful neither happy. And Nick gives force to his voice more than to his presence, letting the guitars taking it all. I must say in all objectivity that Don't belong is a good opener and makes its job perfectly when we deal with a live show too. the thing that i wouldn't never believed is that Grey, placed immediately after Don't belong, would be so successful. and sounds well too. after all they are no fast songs and i thought that to put them together would have not created much movement. False, cause they appear both brilliant, and the concert is actually increasing in intensity. Moreover Grey sounds even better now that the band is well trained and routinized on the new material, than what it appeared in Wolverhampton this last December , when it was played in preview . Paradise Lost play absolutely heavy'n hard delivering a proper metal show, in spite of the recent accident happened to Greg. Only Nick still have to get that ounce of pluck in order to fulfill the picture. But anyway his performance concerning singing is unquestionably very good. I have the impression that during Don't belong there is a kind of echo supporting him, but from then on, his voice is in continuous crescendo. Perfect the volume and the self-consciousness. Like i told in Wolverhampton, anyway the Nick i see, is a total new Nick, more relaxed, more resolute. Even meeting him today afternoon outside the venue i got the impression that a great temperament is still back along with the new/old look perfectly suitable to him. The concert goes on very well with Erased, more metal and less disco, Redshift, the unique Mystify. A dry So Much is lost is again the only trace of Host. I have a remark to do concerning Symbol of Life, where the final cadenced riffing is not played so strongly like it should be. Songs like Hallowed Land are cult and Hallowed Land is listened like a religious manifestation, together with the new and rocking Accept the Pain invites to non stop- headbang. No Celebration and For all you leave behind are emotional strikes. As I die, with its formidable bass lines, remains the immortal masterpiece of Shades of God that walks hand in hand with Shine that is so moving , so delicate. Enchantment takes no prisoners and acts also as second intro. Close your Eyes combines rough rasping riffs with melodies suitable to marble domes. One Second has left that gloomy and sad dress in order to get a resolute, massive face. Important thing to be said: like 2 years ago Greg Mackintosh's guitar sounds superb. Cutting or Mournful is guitar sound is breathtaking and unforgettable. Cool to use the Fender guitar. Vevey is a place that Greg likes very much and i see for the second time that his whole performance is brilliant here. i cannot say that this is the best Greg i have ever seen, though i am truly tempted to tell so. Concerning his stage acting and way of playing he is able to reinvent himself every time, getting a complete original complete style. He is one with his music, again and always.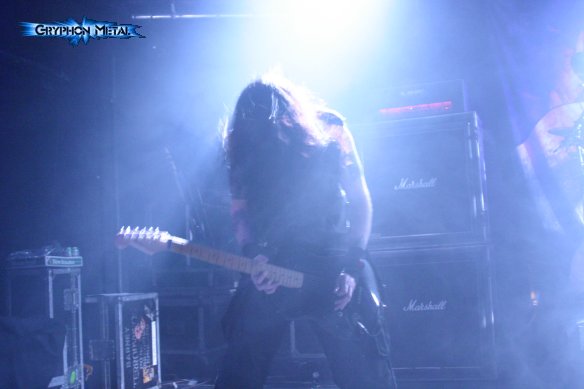 From Steve and Aaron we have that first class engagement we are used to. Jeff's performance is good and guarantee for a long propulsion, but under a human point of view i cannot forget Lee's sympathy and his groovy sound. Without Lee is not completely the same thing. Jeff has a not easy task in a not easy place, he's doing actually his best but still i cannot merge him with the rest of the band. A little suggestion to Jeff if i may allow myself: please, remain sitting, even when you have the best intention in order to be incitative towards the crowd. It is quite strange to see someone standing "over" Nick's head ;). Audience: on the contrary to what it will happen tomorrow, there are few true headbangings tonight, but much exuberance, many applauses, much single along and much movement, dancing, full rapture and many many headbanging just slightly drawn. The encore is called loudly. Paradise Lost come back quite soon with further 3 songs: Forever After followed by the doomy and touching Over the Madness whose sadness is immediately cancelled by Say Just Words. Ahh...Vevey!!
setlist:
don't belong
grey
erased
redshift
mystify
so much is lost
symbol of life
hallowed land
accept the pain
no celebration
for all you live behind
as i die
shine
enchantment
close your eyes
one second
----------------
forever after
over the madness
say just words