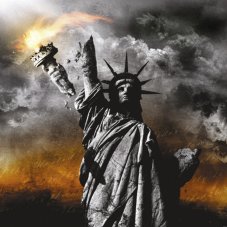 Article. I.
Twilight Of Civilization
1. The End Of The World
2. Chains Of Humanity
3. Into The Wasteland
Article. II. In The Darkest Hour, There Was One
4. The Lonely Dead
5. Divinity
6. Under This Flag
7. To The Fallen Hero
Article. III. Devolution
8.Welcome To The Apocalypse [Preamble]
9. Constitution Of Treason
10. Crucify Your Beliefs
Byron Davis – Vocals
Doc Coyle – Guitars/Vocals
Dallas Coyle – Guitars/Vocals
John Outcalt – Bass
Corey Pierce – Drums
GOD FORBID: "IV: Constitution Of Treason" god forbid

European release date: September 19th
Produced by Jason Suecof (Trivium) at Audiohammer Studios and Eric Rachel (Atreyu, Dillinger Escape Plan) at Trax East.
Cover Artwork: Travis Smith
Band Photo: Clay Patrick McBride
This is one badass album. Hard , brutal and very aggressive
I'd like to start out by saying that this is one badass album. I would also like to add that this was a hard CD to write about. This isn't the typical concept album where there's a story behind it like something that King Diamond or Dream Theater would do. Most critics frown upon albums like this mainly for the sole purpose of the average listener can't just stick the CD in and turn it to track 4 and just be blown away. This album isn't like that. With Constitution of Treason, anyone can easily put in this disc and turn it to whatever track and just rock out, hands down.

The End Of The World has a pretty typical metal intro with elec/acoustic guitar with the storm of distorted heavy guitars and punishing drums in the background about to take over. And when it does, it demands the attention of the listener. The drums just become overwhelming along with the insane guitar that could tear anyone to shreds. The chorus of this track also showcases Byron's melodic side of his vocals that make it's rare appearance compared to their previous efforts, but we will see more of this throughout this album! And I can attest that they sound, just-plain-fucking-awesome! The guitar harmonies towards the end of this track with the solo fit the song just perfect. Great track!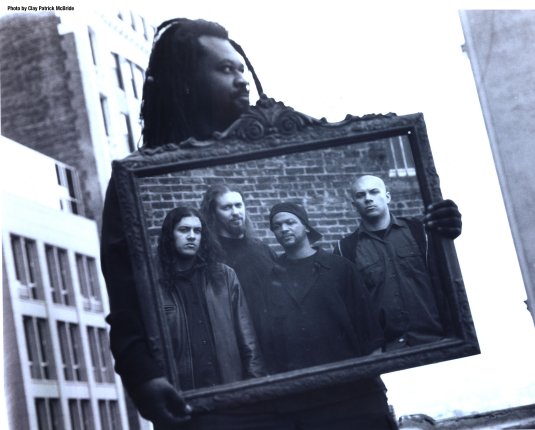 Into The Wasteland sounds like all the other songs on this album. To sum it up with only a few words, I'll say that it's, hard, brutal and very aggressive. Does it rock? Yes and no, I could see my self kicking everyone's ass in HALO with this song in the background. The Lonely Dead is at the beginning of Article two and as cool as this is to listen to, I'd have to say that this track too has an awesome intro much like track 1. Only this track gives off the feeling that something horrible has just happened and it puts the listener into a different mood. It also seems as if Byron has stepped up on a soap box and is preaching to the masses to this song which is very unlike him to do judging by most of the other tracks I have heard. Byron also shows off more in this track than he does in others, his awesome new melodic singing voice which again is a nice change up from his hard-core scream. This track is well worth listening to and I personally think it's the best on the CD. The next track, Divinity is just mind blowingly aggressive. I could seriously see a very violent pit opening up to this track if they'd play this live. In this song, the guitars a bit more melodic like something one would see in a melodic death metal band. I also have to mention that this track contains a lot of drama in it to which adds to the concept part of the album. And the last track, Crucify Your Beliefs summed up in one word is aggressive. It totally puts the finishing touches on the rest of the CD.

I'm not going to say much on the production of the CD. It sounds superb. The production was fantastic and above par. This album gives off a lot of drama which is something that band can gain overtime through relentless song writing and practicing. The producer did a very good job with this. I wouldn't change the mix in anyway shape or form. Everything sounded the way it should have.


rating: 9.5/10