Grave is not just another Death Metal-band. Grave is one of the best and most important bands from Sweden. Their comeback-album "Back From The Grave" was a very good piece of old-school Swedish Death Metal, but only now Grave are really back. "Fiendish Regression" is surely one of their best releases ever and a must for every Death Metal-fan.
Let's first say something about the production: I think it's not possible to create a sound more fatter, more brutal but clear and more intensive like the Tätgren-brothers did it for "Fiendish Regression". The sound is dominated by aggressive and loud rhythm guitars which are supported by pounding and powerful drums. And each song is perfect to headbang,
But there's something new in the style of Grave: Still, a lot of the songs on the third album in the post-Sandström-era are in heavy midtempo, with tons of groove and uncountable great deep riffs. And of course there are the typical fast and virtious guitar-soli from time to time. But there are also some fast and blasting crushers which destroy everything and which make the sound of Grave more variable and create an alternation in the music.
Let's come to Ola Lindgren's vocals: He doesn't growl too deep like other bands from Sweden, for example like Vomitory, no, he is more shouting than really growling, and this sounds totally old-school and sometimes a bit reminding to the Thrash Metal vocals-style. An important thing with Grave is that they always sound honest and authentic altough they play the same sound for many years and this fact reminds me to the German band Destruction.
But back to Grave: The only thing which isn't too good on "Fiendish Regression" are the vocals. Not the style – this is superb, like I said before – but they way they are recorded. Sometimes, they're just too low and because of that, they are suppressed by the guitarwall. But anyway, this album needs to be liked, because it has a very special flair and kind of an old-school charme.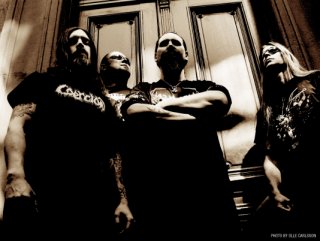 Well, let's have a look at some songs now. "Bloodfeast" and "Heretic" are surely some of the fastest songs Grave ever wrote. But the highlight of "Fiendish Regression" is clearly the second song "Reborn". A great groove-monster with the best riffs on the album.
Conclusion: "Fiendish Regression" is absolutely the best album after the comeback of the Swedish Death Metal-legends and I don't have anything more to say except for that I'm going to listen to this masterpiece once more…
rating: 8,5/10