The full length cd of this band is just in my hands...and I think that this is a jewel...a precious jewel that has been made with years of hard work! A deep album, full of melancholic rock, gothic, Lovemetal.....but a cd realized with absolute precision and passion.

An album that leaves a deep mark in the deepest part of the soul, and it's a like a fantastic dream that becomes music, and a rose is already blooming in this spring ...a beautiful rose that will conquest you in the deep of your heart...

This is emotional music made by this young band from Portugal ; 3 years ago I listened to a band ..."Blue Obsession" that amazed me for the ability of the musicians able to create very emotional message, near to HIM's music concerning the charm, but played with a very strong personality; I made a small review and I can't but remember a song of that cd....(see reviews)..and now that band name is "Icon and the black rose"

Now, after 3 years, many things are changed, not only concerning the line-up; Only the singer , Johnny and the bass-player Seal remained in the band, and they 've grown up, concerning all musical aspects!!! A better approach in all senses, a search in order to find an unmistakable charm for their songs! It has been found thanks to the fact, they play their music from the bottom of the heart, and moreover I canít but say that the band gets a very good technique.

First of all, I notice that there's much more care in the composition approach, and this album is the result of years of hard work....a work which is complete under every aspect: atmosphere, sound, arrangements, the way to compose their music and so on......

The songs of this album are like a travel into a fantastic dream, full of romantic dark charm, and it seems that never ends;...please this is the door of the dream,....Welcome here, where the romanticism joins the darkness, and a "Black Rose" is blooming......This is the title of the first song

A mid-tempo song in which the good rhythmic-parts are supported by very charming vocals !!!! HIM meets Paradise Lost but also a certain kind of melancholic hard rock...., but these are only influences... I can't but admit that their sound is full of personality and an unmistakable charm that involves all songs!!! The rhythmic session is able to give emphasis to the melodic parts; Johnny begins to show his fantastic voice! And this is only the first song...

The second song is one of the deepest song I 've ever heard!!!!!!!!!!! "Endless" is characterized by deep vocals and an unforgettable deep refrain; Guitars create an enthralling riffing into a romantic rhythmic supported by dreaming keyboards that give a cold, romantic atmosphere to the song.... My impression is that they've found an unmistakable way to make unforgettable and deep melodies; This song is suitable for sensitive people!...For all those who need deep emotions!!!!!!The sound is a mixture of Lovemetal and modern Goth ....!!!Electro loops are used in a perfect way, and I notice a perfect guitar sound!!!!

"Crucify my Love" is another heart-attack song!!! Try to listen to it, and I'm sure that Razorblade Romance will be a remembrance!!! A romantic refrain that would have been perfect for a HIM album. Jo"o sings with an unforgettable expressiveness and the band is able to create an amazing mood....these are simply emotions!

"Dreams and silver Tears" is another emotional song in which I notice the depth of the composition approach!!! A deep melody sung with a unique intensity, Johnny's low tones touch the sky and the refrain is what HIM would have had invented........this is the example of what I've said before!!! They've found a perfect personal style, romantic, cold and deep!

"AngelĒ. As I told you in my preview-review , this track is something special...A song characterized by a melancholic Rock mood and modern Goth....The refrain (that , concerning the mood, reminds me of Supertramp song's Better Days) is another unforgettable one!

Track nį6...and a tear is falling from my eyes......

"Remember" is a song taken from the Blue Obsession promo made in 2001!!! It has been re-arranged, but the charm and the mood is just the same!!!! A real Lovemetal song full of passion. Lovemetal is the only possible definition!!! The refrain of this song is a touch of romantic sadness...a caress from the soul... something untouchable. With a female vocals that gives the magic touch!!!! If reading this review you think they're a HIM clone band, you are getting wrong!!!! Sometimes their sound reminds of Valo's band, but the charm of their music makes a personal mark. An unmistakable mark!!!!!!

"You are crying for help, you try to reach out for my hand but I wont be there,
ĎCause I don't care and Iím leaving you to drown in tears"


Track nį7 "The sweetest Emptiness of Love"

This is my drug...It's one of my favorite song ever!!!!!!! A song that combines Lovemetal, Depeche Mode, Paradise Lost (One Second album) in a perfect way!!!!! A passionate obscure melody, full of sad romanticism and a fantastic arrangement!! Johnny sings with passionate and, at the same time, romantic voice: a mixture of Depeche Mode , HIM, Paradise Lost, but with an amazing personality!!!......an unforgettable song!!!!!! Only this song is worthy the price of this album!

"Itís the sweetest emptiness of love
A bitter poison is everything that Iíve become
And every single tear I owned has run dry on this face
Now that you are gone"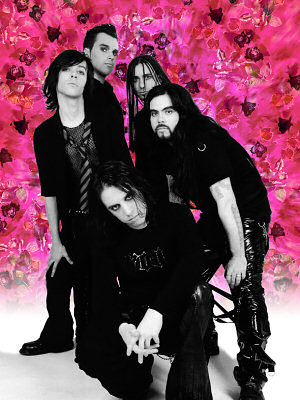 "Black Cage" is pure Power-Goth!!! I can't but remember of Paradise Lost concerning Johnny's vocals, in particular in the fantastic refrain!!!!! Another unforgettable refrain, in which female vocals appear in order to give more emphasis!!! I notice a very good arrangement, in which keyboards make a dreaming and impetuous atmosphere!!!!Moreover I underline a good work made by guitars that are supported by a perfect rhythmic session!
The track nį9 is an acoustic "dream" that is a very melancholic song in which Johnny sings with unique intensity....I notice only a sad atmosphere that can also remind of Come undone (Duran Duran)...a sweet and cold moment into an acoustic atmosphere.
It's the moment of a famous cover!!! "Running up the Hill"; the well-known song from Kate Bush is re-arranged in a perfect way, in according with their style!!!! The arrangement puts in evidence all the ability of the rhythmic session which underlines the melodic parts!!!!
"Set me on Fire" is dark, melodic and Goth!!!! Paradise Lost meets HIM!!! A song that will be loved from all those who appreciate PL latest release! Johnny is able to alternate low-deep vocals with romantic and crying parts.....a very fantastic singer!!! The keyboards are well arranged concerning both sound and theme song!!!!
The album is closed by another Goth-Lovemetal dream! "Diamond Baby" ....when the heart rules the mind...
"Itís late at night and I canít sleep
Feeling the entwined streams of silver tears
They are running down my cheek"
"All the way, all the way, like a razor
Come on and wash your hands on my blood baby
Come on, come on, you are my lady, come on
Just come and wash your hands on my blood baby"
A melody that seems to be written around the depth of these words; an intense final part that will let your heart throbbing...
In my opinion Johnny is what a singer must be!!! He shows the soul into every note he sings, and he is supported by musicians that feel the same sensations...Johnny is also able to interpret melodies through the right use of the metrics. In few words, he gives the right stress and emphasis to the lyrics and, in this way, lyrics enhance in their turn, the aforementioned melodies, like in a mutual game.
The fantastic artwork gives the perfection to this album.
This is the first time for me, since I write reviews for full length's, but, without a shadow of doubt , my rating is ten out of ten...!!!!
Icon and the Black Roses: you'll hear about them. Very...very soon!!!