Immersed into the wildness.
Italian metal …thanks to MKM is emerging in a great way, and after the previous experience with Club Inferno (another side of MkM ). This cool band comes out with an adrenalinic album!!!
The style is destructive and is inspired by bands like Lamb of God and Arch Enemy….great riffs, great modernism, but also technique!!! The production is good and it's an important element …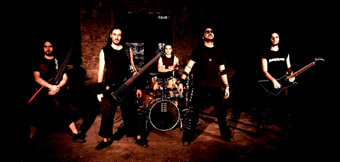 The singer is up to the task, and in my opinion, the difference between this band and SuperbiA consists in the approach….SuperbiA goes to Prog and looks for great different solutions…Inallsenses goes more to deathcore, for the rest these bands represents for me two important names for the future from this label….
The main element is the impact created by a walls of great riffs that are the essence of the songs…
Bart is a great drummer, and the band always finds interesting solutions….
Although the style played gets about the same approach …I notice the ability to find good melodic solutions…"They Suck Your Soul", "Psychokiller" , "In The Gash" show the great power of the band, that doesn't look for different solutions but is able to create killer songs in a great way!!!!
If you like to be immersed into the wildness of the modern death metal, this album is created for you…and only for those who like a full extreme impact!!!
Great band….
8,5/10
Salvo Russo 21.11.2010
Salvo Russo is editor for gryphonmetal.ch since 2001
He is based in Italy, reachable at this e-mail address nightofdreams@hotmail.it