The search of different solutions.
From Sicily to Sicily…Another great band from the Italian island!!! This debut album comes out thanks to the trust given by MKM that has offered them this important opportunity….
Metal full of technique that is owned to the 80's metal sound but get the essence, from the modern metal…
It's difficult to make comparison even if it's impossible not to notice shadows of Cynic, Pantera, Dream Theater, Dark Tranquillity…a product that needs to be appreciated not with only one listen!!!
SuperbiA is able to make good melodic parts that are supported by the great rhythmic session formed by the genius of Antonio Amodeo and Dino Fiorenza, able to give to the songs a technique that doesn't get limitations….
The guitars are perfectly harmonized; Tommaso and Antonio Randazzo find great melodic solutions mixed to great solos!!!...Not the least, Gemini's voice is great to give the perfect approach both for what concerns growl , scream…and also wild but a bit cleaner parts!!!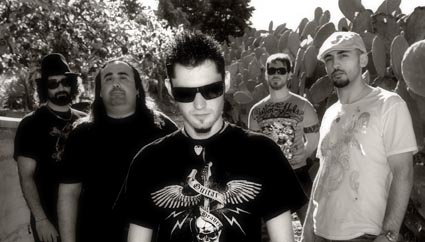 Now the songs…there's a certain kind of homogeneity in their style , although every song is characterized by important and different solutions….it's a great attack with "Black Sun" a perfect mix between old and new metal…., "One Last Sun" gets more modern elements into a great and powerful song…"Embracing the evil" shows a great prog metal attitude mixed to death metal….incredible!!!!
"Lost life" shows a great sense of musicality by the study of a structure very articulated that in my opinion doesn't get the same charm for what concern the melodic approach.
There's also space for an Italian song!!!! "Silenzio e Vuoto"….what a great song!!!! modern death core metal!!! A song ready to be played in their live show with an incredible impact!!!! The riffs machine of the two guitarists is supported by the powerful of the rhythmic session, and the vocals shows are simply perfect !!!
"Before Dying" is more cadenced ….numetal mixed to prog-death!!!!Yes…it's difficult to explain what the band is able to create into this song!!! The band gets no limit…and finds inspirations from different metal styles with a great sense of maturity!
"Panta Rei" and the next "Alpha & Omega" are two great kill songs full of modern riffs, in which the band is still ready to create a great impact thanks also the prog attitude that is prerogative of these great musicians …
The album is closed by the amazing "Paranoid Insomnia" that is an incredible great song that thanks to the great keyboard support is able to create an atmosphere in which the band shows "open mind " and the search of different solutions without to leave the mark of the band.
Another great band from Sicily, that is supported by a fair production and good arrangements. If you like the styles mentioned in this review, you'll not be disappointed!!!!
9/10
Salvo Russo 21.11.2010
Salvo Russo is editor for gryphonmetal.ch since 2001
He is based in Italy, reachable at this e-mail address nightofdreams@hotmail.it