Can you explain the dark look for a music that is mainly Hardcore/Crossover?
Well……..i always said and always I'll say that our out-fit is not a look!!!! But a kind heart, a character, to live, to think, to hate, to love, to kill our Fake Idols… Why all of this?…because of we are brought in this "sunny" World….
Trieste is the cradle for many inputs, due to the various languages, nationalities and European cultures. Is this background important for No Reason? And why this American attitude?
You are right! But as well as you can to know we are five Dirty men, and a mix of our bland makes come out also an aMERICAN pinch of trand…….we use many different styles and i'm proud to tell you that N.R. loves European old and new musical school, since from 80' till this bloody century!!!!
Song New brand Generation ends with these words: "I wanna disappear and let it all turn back!". What does it mean actually?
For the New Brand Generation "I wanna disappear….." it sounds too less….you know my ego it's been lull since i was young with any kind of apparent defect….the Big "Sister" I mean the T.V. wasn't so profuse to dominate the mind of human beings…
But in this last ten years we've seen the media manipulate so many times the Public opinion in one's Favour!!!! I really Hate the television newscast, today!!! George Orwell is my personal G.O.D.
Do you consider coherence as a virtue or as a handicap?
Yeah!!! I see many handicap bands who's trying escabotages to make many many money….you know Titty, Bottoms, Pussy, fakes manikins creeping as snakes on the rain (the cleancing rain could open their minds) on a "video clip"!!! I'm busy very busy about that! 'cause they are aware from their real musical possibilities!!!!
And the "virtue" is the real handicap for groups like us to open a narrow way out!!!
But we well Fight, Fight, Fight….till Our End.
What does it mean to play an instrument and/or singing for you?
Play some instrument means liberate yourself, express your passions! And the same if you sing you can reach to sail into yourself put outside your real face, when I'm sing I'm so shining bright that you can feel whit your hands how love I give in what I believe…
Please, tell us something about the performance of yours, you liked the most till now.
The lastest One, First May!!!! If you like I can show you my Beauty-Case or tell you of many cosmetic products…….
This is a side that we love….for some guys we are faggots but I like to hear say that!!! It makes me laughing too………….. you know our choice to make our shows theatrical "like a Greek tragedy" born from our own "Animo", so you can see and taste a freak gradguignolesque, grotesque, darkest Show……………
Planet "fans": how is No Reason's relationship with them? Do you have a solid group of fans and friends?
The No Reason fan is a part of Us, i mean that, if them goes to see N.R. on stage it's because they are afflicted for the same emotions…….. and they feel to be like Us.
I've to be honest with you...it's not so easy to reach a solid group of fans for N.R., because we are more underground than Underground is………..
We're not so easy to understand.
Do you have idols among the most famous artists of Rock and Metal?
This is the question I Love!!!
The Idol is not correct to use for this being!!!
My best God is Michael Trent Reznor, first and above everything!
And Mike Patton for his sickness and of course Devin Townsend too!!!(I don't add any word!!!)
Which are your biggest fears? And, on the contrary, which are your nicest moments that give you joy, fun and life energy?
My biggest Fear is myself…… feel it spreads into My Mind deeper and deeper like a Cancer that noone can't Stop!
Joy, fun, good times to make me feel shining is my own love profusion I get from Sinner.
Which is the central element of your music?
The Sixth element of course?!? The music!!!
Rise and join our strengths to make blow introspectively the Listener.
Create the line -up of your ideal band!
Well…well…well… with and any stupid compromise… Doktor Avalanche at the Drum, Tweaker programming looping samples, Sascha Conietzko synths, Twiggy at bass, J. guitars, and Mr.Anemone all Voices!!!
Please choose!: Christ or Antichrist?
Them both!!! I can't split each from other, if I have to criticize one of them!
I can choose nihilism!!!
Imagine you get a deal rather soon: preparation of album(s) apart, do you think No Reason is ready for touring? And if yes, why?
I can answer for all No Reason now with a dry Yes! That's all what we expect in this short life. I and we can to know it could be hardest for the first times to touring but is what we Fight for….
A song that transcended hate:
"Vor der Kaserne vor dem grossen Tor
Stand eine Laterne, und stebt noch davor,
So wolln wir uns da wiedersehn
Bei der Laterne wolln wir stehn,
Wie einst Lili Marleen, wie einst Lili Marleen.": any emotions?
Aus dem stillen Raume, aus der Erden Grund
Küsst mich wie im Traume dein verliebter Mund
Wenn sich die späten Nebel drehn
Werd' ich bei der Lanterne steh'n
Wie einst Lili Marleen'
Wie einst Lili Marleen'
More than one… Aus dem stillen Raume, aus der Erden Grund this explain how many important is believe in something. Closing eyes to reminde what is the first imagine in what you believe, you trust to feel… you could be closer with your Soul.
Now our last typical gryphonmetal question: The Game. The Game of the Tower is reserved for the bands we interview for the first time. There is a very high tower and, on the top of it, three bands are waiting for you. You have to kick down two of them saving only one: for you the 3 bands are: Lamb of God, Ill Niño, Static-X.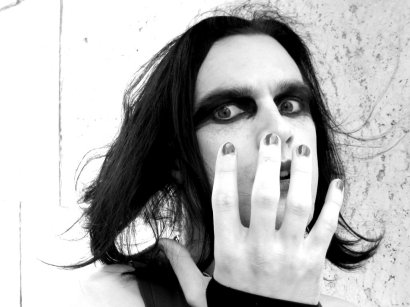 I hope the Tower you mean could be highest than anyone should imagine!?! Right!!!
But you're not right with me you don't leave me so many chances!!!!
Anyway I'll answer keeping only Lamb of God, creature produced from Devin Townsend….only for respect!!!!
Thank you so much, Mr. Anemone!!
The joy to answer it' been all mine!!! I would like to thank You, and all the Crew of Gryphonmetal for the far-sighted work you make…