Rock meets pop, melancholic vision that could be near to soft-gothic metal and an evident love for Garbage
The sweet voice of beautiful Ana will bring you into sensual visions listening to this new Lab's album. After the good previous one "Devil is a girl" (see the review), the Finnish band confirms the quality already showed and comes out with this new album that will make the joy of all those who likes this indefinitely style; Rock meets pop (No Doubt) but also melancholic vision that could be near to soft-gothic metal but also a touch of alternative rock and an evident love for Garbage.
The sex-appeal of Ana can remind of Gwan Stefani (No doubt) and I can't but affirm that sometimes Lab remind of this famous band also concerning the music played. On the whole I notice a lot of influences that are well mixed by this good.
The opener track is a cool song whose groove seems a mixture between H.I.M and Garbage!!! A sad refrain is sung by Ana, for this good song, that is ready to amaze you by its unmistakable fashion!
"Danger" is another sad song that remind of No Doubt. A very classical and melodic refrain , perfect to put in evidence the sensual Ana's voice that can't but remind of Gwan Stefani.
"Love like Hell" is another melancholic pop-rock song full of melody. Its cadence is typical of bands like H.I.M. but the sound and the arrangement is surely nearer to classic new pop-rock (No Doubt, Garbage).
"Insane with Love" tries to involve me with its sweet wildness but at the same time melancholic approach, but the song doesn't find the perfect groove in the refrain. "Raining Dogs" is pure melancholy and sadness into an alternative rock song in which the band shows good ability to create a good groove thanks to the rhythmic session able to realize very anxious parts that are perfectly interpreted by Ana.
There's still sadness and cry with "Who's she?" that involve me with its unmistakable old fashion, that is perfectly sung by Ana. It's the usual but successful song composed with its "damned" charm.
About all arrangements are easy but very well made without the presence of electronic loops; it's simply sad rock.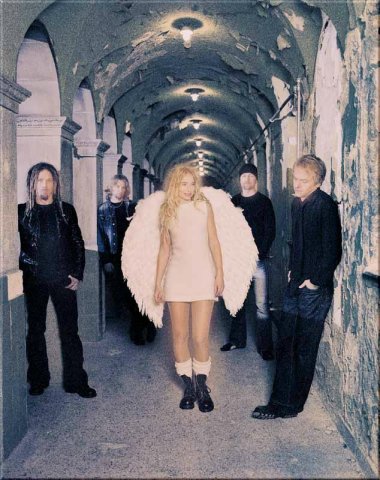 "Godness I'm a Godness" uses the same compositive approach, even if the song doesn't seem up to the task. A boring melody that has been realized without the right inspiration.
"Torture for two" is a reflexive song that gets the usual sadness and the same cadence. Another nice song but nothing amazing. "Dog super Hero" is a song that seems can be compared to the opener track for its groove. A good track that confirms the good ideas of this band.
The celebrative melody of "Did you ever hate me" confirms the romantic vision of this band; An easy but agreeable track that will be the joy of all those who likes romantic songs!!!!
The album is closed with "Where Heaven ends" that is a soft-rock song full of sex-appeal ...and it's thanks to Ana. A deep and romantic voice that lead the romantic melody of this song.

All songs are good but the only defect of this album is that the compositions are made with the same method, and from the first track to the last track the songs get the same cadence and the same style. Of course I can't but repeat that the album gets a good quality as regarding arrangements, melodies and production, and for this reason if you like all the bands mentioned in this review , LAB will not disappoint you.