I fear that hype is what is killing Karmacode amongst Lacuna Coilís longtime-hardcore fans
I was worried about this CD coming out, mainly because of the hype that was created around Karmacode on other websites and message boards. In history, Iíve always seen hype as a road to disappointment. Do I have to remind Gryphon Metalís readers on what happened to the movie Star Wars Episode 1 or Coal Chambers ďChamber MusicĒ CD? In case the reader wasnít around or just canít remember, both pieces of work were disappointing to the masses. Although I personally liked Chamber Music, anyone older that 10 years thought The Phantom Menace sucked. Hype killed them both and I fear that hype is what is killing Karmacode amongst Lacuna Coilís longtime-hardcore fans that have been supporting them for many years.
With all due respect to Lacuna Coil, every album sounds completely different from its predecessors. ďIn A ReverieĒ sounded different from their self titled album as did the ďHalf-LifeĒ ep sounded utterly different from IAR and so on. It wasnít a surprise to me that Karmacode was going to sound totally different from LCís top selling album, Comalies.
Cristina Scabbia has mentioned in several of her interviews in print and on line, that for this album, they were going to attempt to blend the American style of metal with the European style of metal, which she claims to be more passionate*. To be honest, I became a little worried because there are few bands from America that are any good. For example, Nevermore, God Forbid, Megadeth, Machine Head, Testament, and maybe two or three others without sounding off. These bands are very distinctive in metal. To blend vulgar riffs (like Fear Factory) with melodic guitars (LC and Dark Tranquility) would be like putting a Fiat engine in a Ford Fusion. Sure, the builder might be able to get it to work but it wouldnít be too practical. I was a little skeptical but I gave it a shot and let me explain what I heard from an American perspective:
L
et me explain what I heard from an American perspective
Fragile
I heard something very familiar, thatís Christinaís chorus singing with a very odd bass line. Marco Zelatiís bass lines are usually very straight forward and for the most part usually go along with the guitar and just blend in with the background. In this song, heís sounding more like Fieldy from Korn than any one else. Heís slapping his strings along with the kick drum throughout parts of the song and itís actually quite annoying to hear. Some of the other things Iíve noticed about the song and of the whole album actually is that the guitars sound different. Since, ďUnleashed Memories,Ē the band have been using custom made guitars to record and tour with. Including the bass was custom made. Now the band has signed an endorsement deal through ESP/LTD guitars which areÖAmerican made. A good chunk of ESPís clientele include American Metal bands like Metallica, Megadeth, Soulfly, Machine Head ect and European melodic death metal bands such as Dark Tranquility. It comes to no surprise to me that Lacuna Coil sounds a bit heavier than all their previous albums. To me, this isnít a good sign because Lacuna Coil is a gothic band and gothic bands arenít supposed to be this heavy.
I did like the way Andreaís vocals started out when he screamed, ďWhat? Damn, youíre right!Ē It put the song more in perspective and actually grabbed my attention away from the odd bassline. The chorus is even better! Andrea yells out, ďHeís watching me!Ē With Christina singing something else in the background, it made the song very catchy.
Our Truth
I thought this was an okay song. I really didnít think this should have been the first single off the album. Andrea is hardly singing on it. The singing is mostly focused on Christina. Iím still not sure what to make of this song, Iím scratching my head as to why this one was chosen, and it isnít very catchy. It is heavy in parts but boring in others.
What I See, should have been the first single off the album. The guitar riffs for this song are catchier than they were in Our Truth. Not to mention that the chorus was sung in such a way that people would remember. This song is also melodic in its own sense and in my opinion, sounds like a Lacuna Coil song. Not as American sounding as some of the other tracks. I rather like this track, I highly recommend it.
Closer
Closer starts out with this bass intro that has flange, delay, and reverb stuck on it. It sounds cool, but itís unnatural. This song doesnít sound anything the band has produced before. When I listen to this song, I think of bright sunny days. In other words, itís an upbeat song. The song is played a bit faster than what they normally play. Which is unusual since Lacuna Coil is a gothic band by all means and it is unusual to play fast and upbeat like they are doing in this song. But I like it though, but it doesnít sound like an atypical LC song.
Enjoy The Silence
I hadnít heard Depeche Modeís original version of this song before I listened to Lacuna Coilís version. However, when I heard LCís version, I really liked it. I was looking forward to listening to DMís version. I went out bought DMís singleís collection CD with this song on it. I was excited to hear it, and to be honestÖI wasnít impressed. I thought DMís version was rather dull compared to LCís. I thought the singing on DMís version was very smooth but sung without heart as opposed to the way that Cristina sung it. I though LCís version was grander in sound and a lot fuller in sound. Granted, LC has two guitar players that are distorted which adds that extra dimension that DM doesnít have. One other thing worth mentioning is at the end of LCís version, Andrea and Christina sing ďEnjoy the silenceĒ as the song is fading out. Which isnít done in the original version of the song and I thought it was just beautiful the way they sung it. I thought LCís version was quite superior to DMís. I know there are people that will disagree with me on that, but itís just the way I feel about it, I donít get the goose-bumps when I hear DMís version that I do when I hear LCís.
Quality:
The mix was damn near perfect. I wouldnít change a thing except the way it was recorded. This CD had Pro-Tools written all over it and it was a bit cold sounding. Just in quality and not in the mix. The mix is amongst one of the best I have ever heard. Everything is of utter perfection.
Final thoughts:
To me, it was as if they were covering another band
I felt that Andrea didnít scream as much as he has on the other Lacuna Coil CDís. I believe he is trying to sing more to complement Cristina and I think he should stop it! I think he should go back to screaming like he did on In A Reverie. I also think the band should consider their past work before doing another CD. The other stuff they have done in their past was by definition, gothic: slow, dark, depressing, sad, but extremely artistic. I liked the up beat song LC did, but to me, it was as if they were covering another band. I hope the band goes back to its gothic roots on their next CD, one can hope anyway.
* Decibel Magazine No. 14 December 2005 Amy Sciarretto
rating: 7,5/10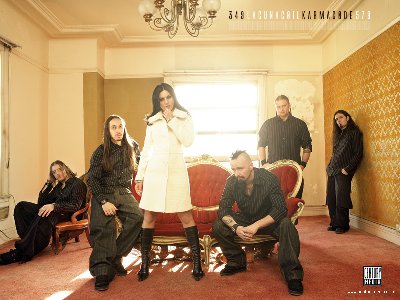 ---