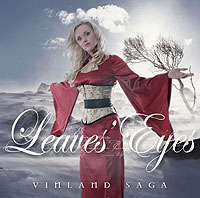 1. Vinland Saga
2. Farewell Proud Men
3. Elegy
4. Solemn Sea
5. Leaves' Eyes
6. The Thorn
7. Misseri (Turn Green Meadows into Grey)
8. Amhrán (Song of the Winds)
9. New Found Land
10. Mourning Tree
11. Twilight Sun
12. Ankomst
Liv Kristine Espenaes Krull – Vocals
Alexander Krull - Vocals, Programming
Torsten Bauer – Guitars
Mathias Röderer - Guitars
Chris Lukhaup - Bass
Moritz Neuner - Drums

It's all very clear, almost too clear, the drums are too perfect, the guitars…the whole mix is too perfect!! It doesn't sound natural.
I should point out that although bands like Leaves' Eyes and Theater of Tragedy might be big on the other side of the pond from me, they are not so known here in USA. No one has ever heard much of Liv of Theater of Tragedy or Leaves' Eyes with the exception of the few that are into underground music.
But, without further adieu, here's what I think about Liv and Leaves' Eyes. I really liked the vocal overdubs or choir on Farewell Proud Men, it sets the stage for the rest of the song and the lyrics in combination of Liv's actual singing and the violin backtrack really go hand in hand. This track was put together by trained professionals, to me this sounds like a drive by shooting with all the precision, to me this track is just too perfect.
Elegy is easily my favorite track, it was my favorite track before I knew they were going to put out a single of it. Liv's vocal range is just amazing. In the chorus she hits this high D note and hold it and it just gives me Goosebumps, the lyrics are also catchy as hell though (the album is focused on the legendary Leif Erikson colonizer of Greenland around 1000 A.D). However, if I could say something bad about the song, it would be one of the vocal lines "The silent tears of a woman make a warrior cry." I'm sorry but this is really lame. The song is awesome with the exception of that part.
Liv also demonstrates her vocal ability in he next track Solemn Sea, in the beginning is this beautiful vocal demonstration that is well worth listening to. This track also features her hubby on vocals as well, which gave a new dynamic of the band I really do not like. Separate, they sound great but when they combined the two vocal styles, it didn't sound right. There has only been one band that has pulled that off successfully and that's Lacuna Coil. But, Alexander's death metal vocal and Liv's trained songbird angel type vocals just do not match. In the actual track Leaves' Eyes I could have sworn sounded like a country song. I say this because there were certain ways Liv sang that is comparable to how a country singer can sing. The other tracks on this CD in a way sound similar to each other, they all have deep keyboard parts that are a bit over the top and Liv's vocals, although sound great and she changes them up from time to time, hasn't demonstrated to me that she could grow.
The actual sonic quality on this CD is just ridicules. It's all very clear, almost too clear, the vocals are as professional sounding as I ever heard, the drums are too perfect, the guitars…the whole mix is too perfect!! As bad as this sounds, I don't like the mix. It doesn't sound natural. The mix is flawless in quality and it's the perfect mix, but…it's way too organized. The guitar playing, the drumming were all done to perfection but yet none of their actual skills were showed off. There wasn't much for guitar solos, and the bass was buried yet again in the mix.
The bad part about all this was, when I re-listened to Midnattsol and compared it with Leaves' Eyes and I was a bit disappointed. Um, although it is just my opinion I would think one would do something completely different than what another family member is doing. In comparing Midnattsol and Leaves' Eyes, from my observation are clones of each other, although I do like Midnattsol's guitar sound better they at least sound natural. Liv is the better vocalist by far in terms of technicality and timbre. However, if Carmen Espanaes progresses with experience, she'll beat out her sister in no time. Leaves' Eye's songs are slightly better, but I do not see the growth I see in Midnattsol.
If you're into the whole epic-storytelling-metal, then Leaves' Eyes is your band. Just…too manufactured and too perfect for me. I do suggest picking up the Elegy single though.
rating: 7/10
---