MINISTRY OF ROCK
I day - 05.07.2002 II DAY part one - II DAY part two - III DAY
review by dalia di giacomo
photos © by Stefan W. Vogelaar
the public use of these photos is strictly prohibited without written permission
more photos are now no longer online and available only on demand
PRESENTATION AND FIRST IMPRESSIONS
GOTTHARD
THE CURE
PRESENTATION AND FIRST IMPRESSIONS
The first day of the Ministry Of Rock Open Air in Frauenfeld (CH) is starting under the very good sign of a beautiful day with the dream temperature of 27°C. Only one cloud is alone in the blue sky (unfortunately
at evening it will have a lot of grey companions, but patience!).

This festival (ex Frauenfelder "Out in the Green" Open Air) is becoming very popular in Switzerland and, methinks, no longer in Switzerland only. The acts that will appear on the stage are absolutely number one in the Rock/Metal scene: but the cool thing is that
not only world famous stars are welcome here, but also well known Swiss
bands and interesting newcomers.
3 days of top performances stay in front of us. This for sure! Here are the acts that will play on the main stage: Rammstein, The Cure, Dream Theater, Soulfly, Clawfinger, Therapy? and Backyard Babies.
Bands that are so well known in Switzerland, and nowadays abroad too, like Gotthard, Dada (Ante Portas) or Subzonic are present as well. Growing bands in the Swiss scene will appear on the main stage too, like Maja (from Ticino) (see CD review+ gig report), Px-Pain (from Zürich) (see Pro-Pain gig in Sursee), and Roach (from Zürich). These young bands are the soul of the new musical Swiss presence. Moreover , like already mentioned above, brand new "Newcomers" have the possibility to meet the big audience through a contest final which will take place on the second stage of the Ministry: the "Rockbeiz" stage.
OH , before I forget : the main stage is AWSOME!
Ok dear readers!! But now I would underline that the infrastructure of this young but already well organized Open Air is really impressive! it is worth 300% to visit it, still in these days, or , for all who didn't know or planned something else, next year, cause it is kicking ass! Simply so! Everybody is feeling good and free here, never mind if a gothic -looking one, or a rocking cow-boy type.
And the most important things are the many services offered:
A place exclusively for children
Good camping places
The cool ROCKCITY. Oh yes! With its: lot of bars + infopoint + Palm beach Club + Surf & Board Tent + Alpenrock Bar + tipis + Chillout Zone + Markets + Food selling points with specialities from all over the world.
I would also add that press and media in general is located in a comfortable pavillion.By the way press pavillion: short before their performance on the main stage, singer Steve Lee and guitarist Leo Leoni of Gotthard "appear" among us, cause they have to give a video interview for VIVA-SWIZZ Television. Ohhhhhhhhhh!!
---
GOTTHARD: ATMOSPHERE AND "LET IT RAIN"
21:15 h people is crowding the place in front of the main stage: soon Gotthard will play and Gotthard are here in Switzerland a kind of "national musical heroes" and moreover they are well known in germany and Italy too, as far as I know.
here the audience , with view taken from foto pit, as you can see a lot of persons are waiting for the "Mountain Mama" group.
And finally the waiting ends: the acclaimed Gotthard appear: heavy drums, the first rocking notes and let's go!
Already from the very beginning, Gotthard are determined to offer a top performance: as one of the most beloved bands of Switzerland, they know that they have to give their best for this "first" Ministry Of Rock. And indeed they are not disaippointing and with conviction and energy shoot their hits, the one after the other, and people is enjoying it more and more: here the rocking atmosphere, created already from first notes.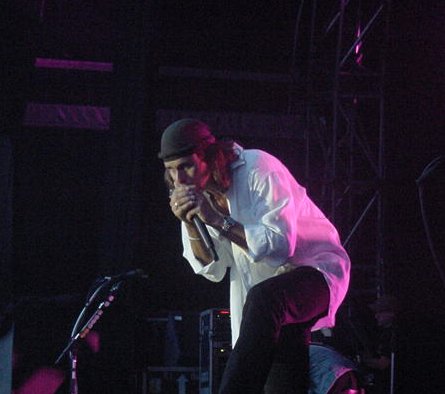 The opener is "Sister Moon", followed by "Make My Day", "Come Along" and "You"
"all I want is you, you , you!"
and people is shouting , clapping their hands , singing and dancing, appreciating so much this typical rock atmosphere, which sometimes let rember the good Def Leppard and Scorpions, and no one cares if this music can seem a little bit old fashioned. Everybody's raptured. Well rhytmed songs alternate with romantic ballads; while the night is falling the first lightfires begin to dance.
Gotthard are offering a very good gig, both under instrumental and vocal aspect. Among the songs which found the best impact there are for sure: "Hush", "Blackberry Way", "Everything can change", "One life, One Soul", "Let it rain". The most intense moment is when Steve Lee , accompanied only by an acoustic guitar played by Leoni, is singing a "medley" of some of their unforgettable songs.
When Gotthard begin to play "Let it rain", the first rain drops are falling indeed: Pity , after a so sunny day! And rain doesn't stop, but ask me if someone cares. The performance among rhythm, guitar solos, energy of the band, good vocals and light effects is too interesting and involving. .
Do you think that no encore will take place? Ahh, cool , you don't think it! Bingo! Cause the acclaimed Gotthard, after a simply cool show, are back in order to kill hearts definitively with hits acclaimed like hell like "Heaven", "Mighty Quinn" and "Homerun", proposed again.
Final fire effects, like this "fountains" coming from the edge of the stage and from above, are the conclusive magic touch of a performance full of feelings. For their audience, Gotthard have done their best. Who could expect from them something else? Noone here anyway...
---
THE CURE (photos only)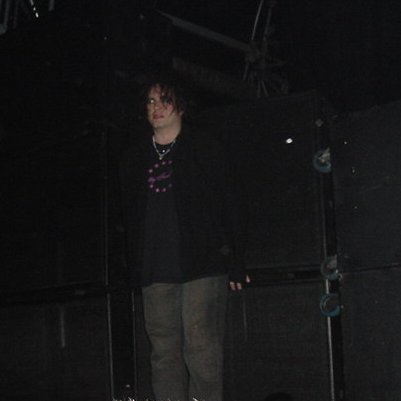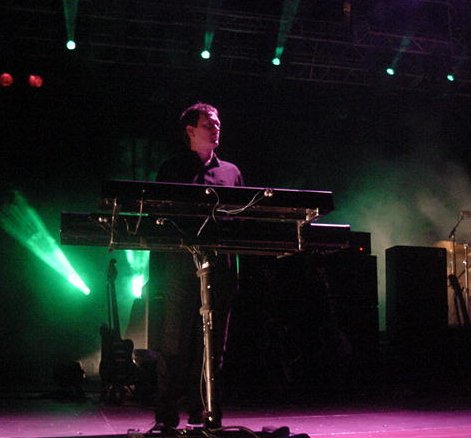 zum Seitenanfang

top - inizio pagina