MINISTRY OF ROCK
II day - 06.07.2002 (part one) I DAY - II DAY part two - III DAY
review by dalia di giacomo
photos © by Stefan W. Vogelaar
the public use of these photos is strictly prohibited without written permission
more photos are now no longer online and available only on demand.
MAJA
BACKYARD BABIES
THERAPY?
CLAWFINGER
---
SOULFLY
RAMMSTEIN
---
MAJA: PROVING TO BE A COOL BAND
Second day : and what a day! A program of fire is waiting for the Ministry Of Rock visitors , who will have the possibility to see in action some among the biggest acts of the Rock /metal scene. Not bad eh? Eh no! A day to enjoy from the morning till late at night. Only rain could disturb this brilliant "marathon". Let's hope, but the sky is severe. Anyway 10:20 and I'm really happy at the idea to see again band Maja . I remember well that they gave a very good gig in Sursee some months ago, we will see if they are able to confirm today this impression. And here they are: on the stage! "Wine" is the opener, followed by "Bata".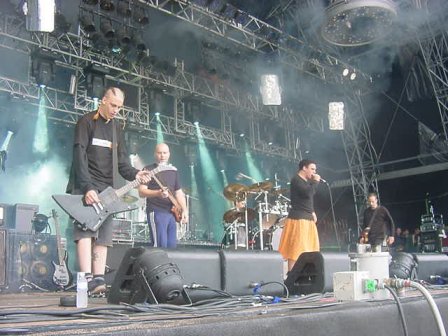 I recognize them all, but ehi a moment? What's happened to the long blond hair of guitarist Jonathan? Now he's showing a kind of tribe hair style, with long plaits here and there on a for the rest shaved head. Maybe is the "Soulfly-effect", who knows? Err... it should be more a Korn effect.... Anyway important is how he is playing. Jo Learned is wearing again his famous skirt, so everything is ok and the world in order. really in order, cause they are playing cool ! Energy, mobility and determination. Jo has developed a distinctive style in the way of singing and moving. Crowd is taking an interest in their music, so fresh, energetic , rhythmic and nervous. And more and more persons are joining the initial group of listeners, so that a good audience has gathered in front of the stage in short time. Bassist Mike is jumping here and there, totally enraptured by the music, as well as guitarist Ste . Jo is showing a goood powerful voice and is giving a cool performance: I don't know , but Maja are able to let seem other forms of metal totally antiquated, and , though making melody is not their best virtue, their songs (with nu-metal , ska and experimental elements) are succeeding in sounding catchy somehow. "Mouse", "Spinning" "Free:" "My Sister" "Play", "Atomic" and "Maja" are the tracks presented. The crowd was growing and applauding, consequently the encore is well-deserved : and Bata is presented once more: Congratulations. Gig was cool, played with joy, and a big quantity of irresistible energy: Keep up the good work Maja!
INTERVIEW WITH MAJA
---
BACKYARD BABIES: NOT THE BIG SUCCESS
15:30 Backyard Babies let rock and roll with class and a lot of engagement their music on the stage, presenting also tracks from their album "Making Enemies Is Good". But unfortunately the crowd, though obviously large, wasn't that much more in comparison with the audience Maja had this morning, for example. Many persons, it's true, above all those in the first rows, are simply enthusiast, others are dancing like foolish, but maybe these ones are rather drunk instead of being true Rock and Roll lovers. People seem to be interested yes, but, at the end of story, not so much involved. And a big quantity of persons are crowding the tents, drinking some beer, without feeling the need to follow the "Sex-Drugs-and Rock'n Roll" music of the Swedish band. It's a pity cause the Backyard Babies are putting a lot of energy and good will on that stage, very probably under the eyes of Therapy? members. Nicke and Dregen are also greeting Switzerland and the Swiss audience, saying that is so cool for them to play here, for the second summer. Mah!! If they are happy , me , I am glad too for them! Only I don't personally consider their performance is having that success one could expect. Maybe the legend of the Sex, Drugs and Rock'nRoll is only a legend indeed, a metropolitan one...we will see, maybe there will be a third summer...
This is the setlist: BMG, Brand New Hate, The Kids are right, Payback, heaven 2.9, Highlights, Ufo Romeo, Star War, Ex-Files, The Clash, Love to Roll, Powderhead, My demonic Side, Look at You, Made me Madman, pet cemetery.
---
THERAPY?: FU****G GREAT!
17:00 It's the moment of Therapy? and actually there is a very large crowd waiting for them, it's clearly the moment where the Ministry of Rock fever - level is becoming higher. everybody seems ready for a good dose of therapy, anyway and even without calling a doctor!. Incredible! So, let's see how these Therapy? are. Will they win the audience? Question mark.
Weather seems to get better, and the four-pieces Rock'n Roll band is on the stage, with a crafty expression on their faces. the typical expression of the persons that are doing what pleases them and are eager to see who will survive the test they will propose. Ok ready we are! I already told it. Some smoke effect , just for saying "we have a smoke effect" and let's start with "Gimme back my brain" ! Woow! This Rock'n roll is really different from that one of Backyard Babies: it is simply implacable and merged with metallic sounds. At a first impression, these terrible boys are catapulting the classical 60's Rock'n Roll mixed with some pop- punk flavours, in the newest metal world, making it heavy, merciless and naughty. The songs are catchy and sound excellent played live, all members are extremely good mooded and want to have a great time with their fans. many people in the crowd are already jumping and jumping on the wings of this rhythm: simply vitamin for their ears. I notice that the more enthusiast are the youngest one. Bassist Michael is jumping with his a little bit ironic smile, spitting here and there from time to time. Energy level 300%, while Andrew Cairns is singing and playing in a sensational way. Guitarist McCarrick during the gig also plays his electric cello, producing rather high-notes violin- like.
Here the whole setlist: "Gimme back my Brain", "Hellbelly", "Die laughing", "Joey", "If it kills me" " I am the money", "Church of Noise", "He's not that kind of Girl", "Stalk and Slash", "Isolation", "Nowhere", "Potato Junke", "Master", "Knives", "Screamager".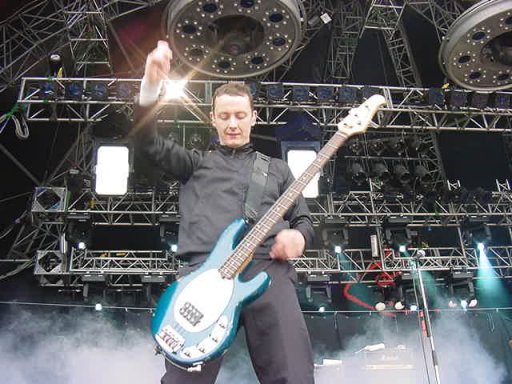 A rasta-fari hat is thrown on the stage and Martin is wearing it for a moment and it was cool cause the band really knows how to entertain, moreover bassist Michael is often indicating persons in the audience direction, smiling at them, like he would say: "you are OK". Anyway the Irish are concentrated, more than one can think.
Simply fu****g great! Great feeling, great music, great performance. So are Therapy? playing great? Question mark. Yes great! Exclamation mark.
---
CLAWFINGER: STRONG IMPACT
18:30 The already electrified crowd is greeting and acclaiming Clawfinger, who are on the stage now. Unfortunately they cannot start with full speed cause a little problem is affecting the amplifier of the bass guitar. But no fear, thanks to the professional stage management and staff, the problem is solved really very soon.
So Clawfinger are free to let free (not bad, not bad...!) all their energy and brilliant sound. Tons of aggressive heaviness and power. Obsessive, angry and full of rhythm, this music is shooting on the human plethora a lot of exotic influences, mixed with rap, techno, metal, crossover and a touch of melodic passages. Zak Tell is so self-confident that he is more interested to what the crowd is doing and expressing than to his brachial voice, the voice is coming out from his throat in any case and without problems. Joke Skog with his "Super Swede" T-shirt seems to have a lot of fun. Bassist Andre is headbanging a lot, and practically percussing is bass guitar. And, on the whole, everybody seems to have a lot of charge. Zak is jumping in the photopit and also near the people of the first raw, shaking hands and taking an "anti-racist" flag, really suitable for the song "Nigger", that is an anti-racist song, he explains. Hypnotic, with a lot of good loops, their songs go fluency the one after the other like water into people ears and mind. No sound problems, every instrument well balanced, like practically every band has showed, thanks also to the superb sound system of the Ministry Of Rock. And it comes the time when Zak, after have scanned well the crowd, everytime he was perched, is asking: "Do you want hear some more?" And people"Yess!!" ......."no, no, no, no, no, no.....DO - YOU-WANT - TO - HEAR - SOME MOOORE??"... and the foxy crowd "YEAHHHHHHH!!!". And many other hits are shooted among them "Nothing is going on" and, as last, "The Truth"
"truth tell me the truh the truth motherfucker
tell me the truth tell me the truth tell me the truth
the truth you sucker"
Unfortunately, it is clear that the weather is understanding that the "Moth**f***er" and "sucker" epithets are directed to Jove the rain maker, so heavy drops are beginning to fall down......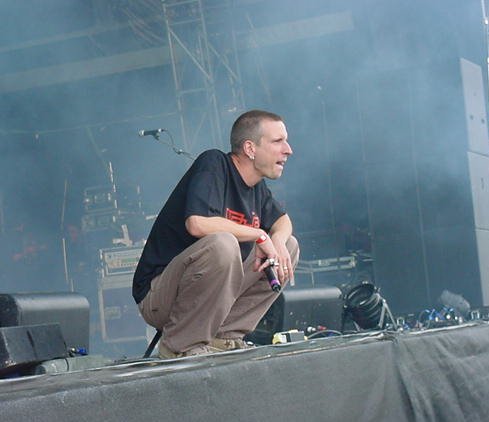 Part TWO with SOULFLY AND RAMMSTEIN
dalia di giacomo
zum Seitenanfang

top - inizio pagina
presentation|news|reviews|interviews|live reports|dates
|links|contacts|suggestions|movies/dvd's|gryphonbook

© GryphonMetal.ch 2001-2006

Niederrohrdorf - Switzerland webimpressum