Another heavy hard hitting platter is sent soaring our way, slicing a path of dark destruction!
Misanthropy is a general dislike of the human race. It is not dislike of individual human beings, but rather dislike of the features shared by all humanity throughout place and time, including oneself. A misanthrope is thus a person who exhibits a general dislike of humankind. -Wikipedia- Cool choice for a name!
Formed in 1998 Misanthrope has many albums and concerts under their belt and to celebrate a boxed set was released in 2004. Which could spell disaster for a band but has had no adverse affects and two more albums have been completed since. Technical and orchestrated at times and also a bit old school, this French band covers the all the bases of metal it seems. With the latest seventh studio album, Metal Hurlant, another heavy hard hitting platter is sent soaring our way, slicing a path of dark destruction! This is being sold as a double CD Digi-pack, though for review purposes I am only doing the first. The second CD has a special guest appearance of You Oshima of Kadenzza, as well as Patrick Rondant.


(CD2:
1-MAITRE DU TEMPS
1-SULFUREUSES CONTESTATIONS
3-LE COMMERCE DU CRIME
4- PLUS DE DESCENDANCE
(featuring Patrick Rondat, guitar solo)
5-THEOLOGIE DU MISANTHROPE (instr.)
6-LE TRIPTYQUE DES ENFERS (instr.)
7-THE STUD FARM OF AMAZONES (Eng. vs)
8-SUPPLICATION FOR GOD (Eng. vs)
Duet version with You Oshima from Kadenzza)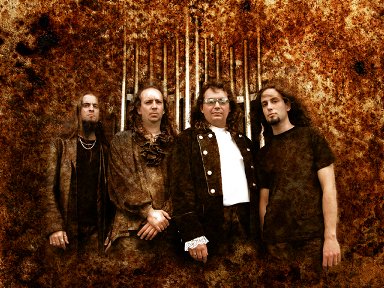 To be honest I was not impressed with the band with the first run through of the album, nothing was really jumping out at me with their work that I haven't heard before in metal, but that is no reason to discard this CD because it is well done. All songs but 4 are heavy and it is mixed but with a cool acoustic beginning, and the title track 7 is the longest song at 8:10.
My favorites from the album are songs 5-LE TRIPTYQUE DES ENFERS and 6-LE HARAS D'AMAZONES. The interplay between the guitars, drums and vocals is great! All songs are sung in French or English, which has been a gradual change from the first albums.
rating: 8/10