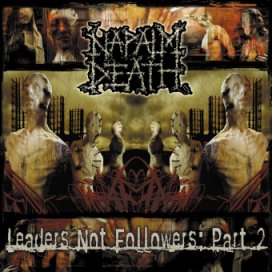 1) "Lowlife" (2:22, Cryptic Slaughter - Convicted, 1986)
2) "Face Down In The Dirt" (1:27, The Offenders - We Must Rebel, 1990)
3) "Devastation" (2:51, Devastation - Creation Of Ripping Death-demo, 1986)
4) "Messiah" (3:29, Hellhammer - Satanic Rites-demo, 1983)
5) "Victims Of A Bomb Raid" (2:30, Anti-Cimex - Victims of a Bomb Raid-7", 1984)
6)"Fright Night" (4:03, Wehrmacht - Biermacht, 1986)
7) "War's No Fairytale" (1:17, Discharge - Fight Back-EP, 1980)
8) "Conform" (1:58, Siege - Drop Dead-demo, 1984)
9) "Master" (2:23, Master - unreleased album, 1985)
10) "Fire Death Fate" (3:18, Insanity - rehearsal demo, 1985)
11) "Riot Of Violence" (4:40, Kreator - Pleasure To Kill, 1986)
12) "Game Of The Arseholes" (1:23, Anti Cimex - Victims Of A Bombraid-7", 1984)
13) "Clangor Of War" (2:23, Massacre - Chamber Of Ages-demo, 1986)
14) "Dope Fiend" (1:36, Attitude Adjustment - Out Of Hand, 1985)
15)"I'm Tired" (0:52, Die Kreuzen - Die Kreuzen, 1984)
16) "Troops Of Doom" (2:29, Sepultura – Schizophrenia reissue, 1990)
17) "Bedtime Story" (2:24, The Dayglo Abortions - Feed Us A Fetus, 1986)
18) "Blind Justice" (1:06, Agnostic Front - Victim In Pain, 1984)
19) "Hate, Fear And Power" (0:28, Hirax - Hate Fear And Power, 1986)

Mark "Barney" Greenway - vocals
Shane Embury - bass
Mitch Harris – guitar
Jesse Pintado – guitar
Danny Herrera - drums
Now 17 years have passed since the mythical first album "Scum" and everything happened in their way for Napalm Death. And here you have the sequel of the first part of a cover ep , a tribute to the leading bands in the Hardcore, Thrash and Death Metal scene. This "Leaders Not Followers pt2" diverges from the part 1 first of all because of its length, as in my hands there is not an ep but a true album! And yet the contents are always the same, well known… a veritable hard blow that doesn't allow for compromises introduces back to the show our English favourites, better than ever!
The CD opens with "Lowlife" by Cryptic Slaughter and already we go headbanging!!! Immediately we find ourselves tasting "Messiah" by Hellhammer driving and powerful indeed! We note out "Victims Of A Bom Raid" (AntiCimex), Fright Night (Wehrmacht) with an anguishing beginning : a breathtaking guitar charge!
My all-time favourite (maybe because it carries me back in time, when I was rehearsing with my first band), "Troops Of Doom" by Sepultura – and Hell rises here! The song is perfectly performed with an evilness truly remembering the malignant atmospheres permeating the first works by Cavalera and friends. Not bad the cover of "Bedtime Story" by Dayglo Abortions(The) particularly calm and yet involving.
The cd ends with the hardcore-grind couple "Blind Justice" (Agnostic Front) - "Hate, Fear And Power" (Hirax), purest sound violence where the Napalm Death devotion towards those milestones of the extreme stage is clear.
Overall this is an album made for (and strongly suggested to) all those who love the essence of the true hardcore, of the evil of death and the riffing of thrash metal… if you're looking for something moving with tearful melodies then change channel, but if you need a good dose of pure adrenaline (yet always old-style) then "Leaders Not Followers pt2" is your album!
rating: 7,5/10