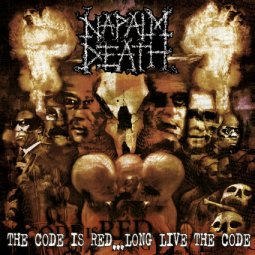 1) Silence Is Deafening (3:48)
2) Right You Are (0:52)
3) Diplomatic Immunity (1:45)
4) The Code Is Red… Long Live The Code (3:30)
5) Climate Controllers (3:06)
6) Instruments Of Persuasion (2:59)
7) The Great And The Good (4:10)
8) Sold Short (2:47)
9) All Hail The Grey Dawn (4:13)
10) Vegetative State (3:08)
11) Pay For The Privilege Of Breathing (1:46)
12) Pledge Yourself To You (3:14)
13) Striding Purposefully Backwards (2:53)
14) Morale (4:44)
15) Our Pain Is Their Power (2:09)
Mark "Barney" Greenway - vocals
Shane Embury - bass
Mitch Harris – guitar
Danny Herrera - drums
guest musicians
Jello Biafra (Dead Kennedys / Lard)
Jamey Jasta(Hatebreed)
Jeff Walker (Carcass)
photo © by Paul Harries
Back with an atomic bomb!
The old godfathers of grindcore are back with an atomic bomb! This time we don't have to face a real change of direction like "Diatribes". Like in the past few albums we just can lean back and enjoy the tipical Napalm trademarks, this time with some little changes now and then, that make of this album one of the best ever released by the icons from Birmingham.

This sort of new freshness goes through every song and the improvement of quality is mainly due to this little changes. Sometimes a little punk and hardcore touch in the riffing, some guest vocal appearances like Jello Biafra (Dead Kennedys), Jeff Walker (formerly Carcass) and Jamey Jasta (Hatebreed) give to "The Code is red..." a real juvenile face.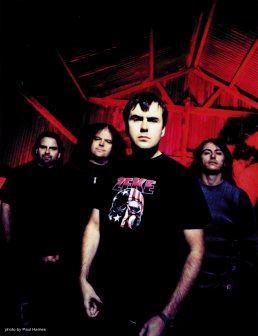 The sound of he new album is very good. Tipical Napalm Death but with more punch as usual and very very powerful vocals. Grunter Barney Greenway really did one of his best jobs ever!
Even with only the lonely Mitch Harris at the guitar the band overflows with new ideas and influences! Although the listener will find the different Hardcore, Punk and Metal influences in every song, the weak chaotic element seems to have left the band, so that the songs are a little bit more easier to follow from the first listening. Everything seems better arranged and part of a precise concept that goes through the very little detail.

After all "The Code is red..." remains a tipical Napalm Death album and this is good so! Many blasts and some unique breaks going hand in hand with grindy guitar riffs, Barney almost vomiting his lungs, Mitch screaming like a berzerker and a one more time astonishing Shane Embury at the bass. Due to their lack of speed the last two songs remain a little bit apart from the rest, but this makes the new album just more interesting as this element vaguely reminds of the way as Utopia Banished ended. As already mentioned, this is definitively one of the best albums Napalm Death ever released, for me personally almost at the same level as Utopia Banished, but this is perhaps a pretty nostalgic way to see things. A very mature album!

rating: 10/10
---